STOP Living With Your Boyfriend!
STOP Living With Your Boyfriend!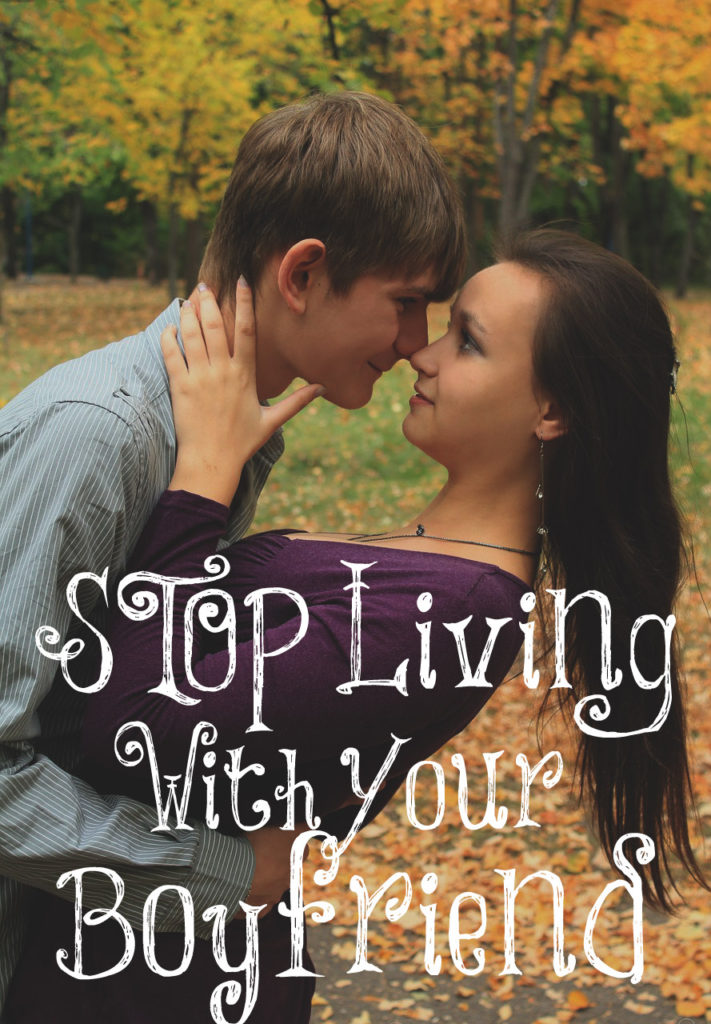 Younger women, God calls you to be chaste regardless of what our culture promotes. Chaste means "pure from all unlawful commerce of sexes. Applied to persons before marriage, it signifies pure from all sexual commerce, undefiled; applied to married persons, true to the marriage bed." Therefore, no type of sexual activity before marriage and once married, sexual activity is only between a man and his wife. Sex is wonderful but it was created by God, not only to create new life, but to be enjoyed and bring pleasure to married couples.
Many young, unmarried couples today live (have sex) together before marriage, including many Christian ones, and think nothing is wrong with it since it is so common. We live by the commands of God, not what is acceptable in our wicked generation. God wants you free from all sexual activity before marriage for very good reasons, so don't move in with your boyfriend no matter how much he persuades you to do so!
Once you move in with your boyfriend, he has little reason to ask you to marry him. You are already there to provide all that he needs: cook, cleaner, maybe financial benefit, and someone to have sex with him at night. Why should he have to take on all the responsibilities of marriage (commitment, provider, protector) when he can easily get the benefits of marriage (sex and a woman who helps him) for free?
The longer you two cohabitate, the more things you will share: rent/mortgage, utilities, furniture, pets, and sadly, illegitimate children. It always leads to one of two paths: marriage or separation. When your highly inevitable break up occurs, you will need to decide who keeps what and who moves out. It is hard to decide who keeps what when you have been splitting everything 50/50 for years. You can't exactly cut your table that you both paid materials and labor into in half, or make larger decisions like how much and when to sell the home you bought.
Hopefully, you haven't already gone as far as having sex, making children together, and moving in with your boyfriend. Even though society, family, and friends may think you two should live together while dating, DON'T DO IT! All of this is foolish behavior and will reap unhappy results. Find a godly, older person who will keep you accountable with your boyfriend. Seek purity in everything! Don't spend too much time alone together. It's not wise to do so.
But women say, "It's cheaper," or "We want to see if we want to marry each other," or "We need to 'try' each other out." Living together while dating each other is very different than married couples living together. You aren't wondering if you paid for the movie tickets last time, or if it's your turn to drive and buy groceries. You'll always have in your mind that you can leave at any time since there's no commitment which is what true love is. Plus, if you have been unfaithful before marriage, it is much easier to be unfaithful once married. There are many good reasons God commands young women to be chaste!
There is something beautiful and precious about becoming one flesh in the bonds of marriage. It's not bondage as our culture tries to convince you. It's freedom! Freedom from fear of getting pregnant. (So what if you're blessed with another baby!) Freedom from sexually transmitted disease. Freedom from fear he will just up and leave you with no strings attached. Commitment is a wonderful thing and the commitment in marriage should be "until death do you part."
Save yourself a lot of time and get a female roommate, if you aren't living at home anymore. It costs less than what you may lose if you breakup, but more importantly, the largest cost by far is falling away from your faith which continuing in sin does to people. Sin hardens hearts away from the truth and then you will begin believing lies. It's a very slippery slope to be on.
IF you have already moved in…
Move out if you aren't married!
Are you waiting for your boyfriend that you live with to "pop" the question? If so, move out until you are married, not just engaged but married. Marriage is a commitment for life. Love is commitment, not doing what you feel like doing or want to experiment with. No, it's a lifelong, beautiful commitment between a man and a woman.
You know how hard it will be to separate the stuff you share, so do it now while you are still dating and are on good terms with each other. Imagine having a conversation about how to get your checking accounts back to just your own name when you need his signature, or who gets the fluffy dog that greets you every night at the door while you still adore each other. Now imagine doing that after finding out he found a new gal. Better to do it now, right?
Still want to marry him? This isn't going to slow down that process. If he for some reason breaks up with you because of it, he obviously didn't intend on marrying you ever. You are free to go find a future husband while you are still young. I believe if a man doesn't want to marry a woman after a year of dating/courting, it may be time to move on, especially if she is over 21 years old.
Finally, if you have already had sex with your boyfriend and/or are living with him, please turn away from this sin, then remind yourself that the moment you believed in Jesus Christ as your Savior, every single sin you ever have committed or will commit was forgiven. Remind yourself who you are in Christ (a new creature in Christ) and begin again to walk in newness of life. Thank the Lord for forgiving you for your sin of having sex with your boyfriend or living with him, repent (stop doing the sin), and begin to live in obedience to the Lord ("sin no more").
His ways are good, dear women. They are perfect. Yes, you may suffer from scars of your past sins but you can move on knowing that you are completely forgiven and now have the power (Christ's power living within you) to do the right thing!
Flee fornication. Every sin that a man doeth is without the body; but he that committeth fornication sinneth against his own body.
1 Corinthians 6:18