Love Homemaking and Time With Your Children
Love Homemaking and Time With Your Children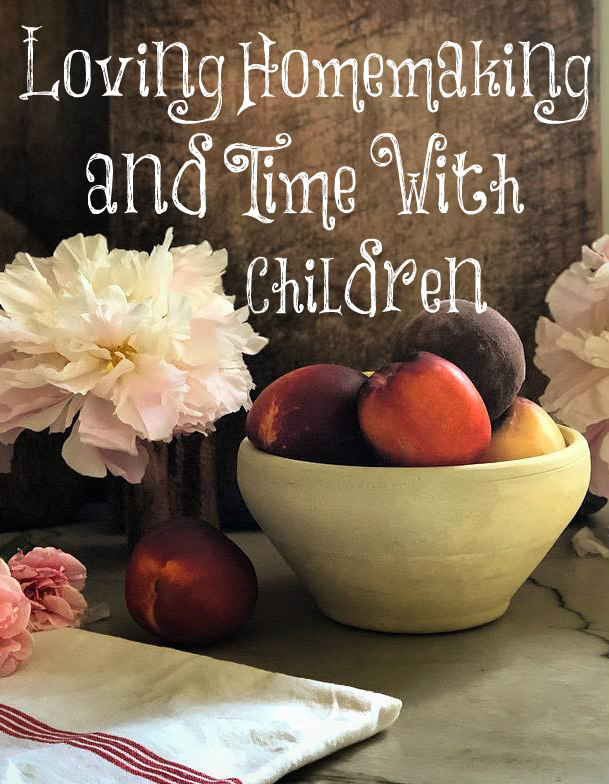 The only time the women in white stood up and clapped wildly during President Trump's speech was when he proudly proclaimed that more women are in the workforce than ever before. I wanted to cry. Dennis Prager wasn't happy about it, either, and wrote his thoughts in the article Not All Americans are Proud That We Have More Women in the Workforce… All it means is that there are less women at home bearing and raising their own children. This is something to mourn rather than celebrate.
The farther a nation drifts from God's ways, the worse it becomes. Feminists are continually trying to convince me that feminism has made it possible for women to choose to be at home full time or work outside of the home but this simply isn't true. As Mr. Prager wrote, "Feminists consider women who eschew a career to take care of their home, their children and their husband to be less than women who place career first." This is why most women who are full-time homemakers feel embarrassment about it at times by the reactions they get from others. "You're wasting your talents and gifts!"
Years ago, when my children were in high school, I decided I was going to substitute at our local Christian high school and maybe even try to get a job there. I was telling a woman this who has always been a career woman and she said to me, "Good. You're finally going to be doing something for yourself." I am? Is this what I am called to do, something for myself? No, I want to live out God's calling on my life, not my own. He wants me to be a keeper at home and care for my family. Thankfully, the job never panned out and in hindsight, I see it was all God's doing. My children still needed me.
"What if every woman in America were in the workforce? Would we be proud of that? By the 'more of women than ever' logic, we should be." This would be tragic! Who would be home caring for the children? Who would be home disciplining them and training them in the way they should go? Who would be there to cuddle and comfort them? It would be a cold, hard world if all women were in the workforce. Homes are to be places of refuge from the storms of life. A mother at home has the ability to make her home a place of peace and comfort for her family. Many are suffering because so many women are in the workforce.
"We know why Democrats [stood]: They want women to eschew homemaking and time with children in favor of work outside the house." The Democratic party has become a party of death. Death to the unborn and just born baby. Death to marriage. Death to families. Death to mothers at home. Death to femininity. Death to all that is good and lovely in our culture. The saddest part of it all is that many in the churches support women leaving their homes for the workplace. This was the beginning of the devaluing of children in our culture.
Dennis Prager ended his article with these questions and I will answer them.
"So, yes, more women than ever are in the workplace. But before we stand and cheer, it is worth asking;
"Are women happier today?" No. More women are on anti-depressants than ever before.
"Are families doing better today?" No. Divorce has become commonplace and it's the children who are suffering the most.
"Are marriages happier with wives at home or in the workplace?" I would venture to say marriages are happier when wives are in the home. Divorce has skyrocketed since women left their homes and most divorces are initiated by women. Working women make money so they can divorce their husbands regardless of the cost to their children, grandchildren, and culture at large.
"Do young people grow up happier and better-adjusted with mothers at home or with mothers in the workplace?" Studies prove that children who are not raised full time by their mothers grow up to be more emotionally unstable and insecure than those who have full-time mothers at home.
"Is society's emphasis on work and career inhibiting more young women from marrying and having children?" Absolutely! Many in this young generation aren't getting married and if they do, they either want no children or only one or two children. Women are putting their careers above marriage and having children. Children are a hindrance to their "dreams."
"Is society better off or worse off when a record number of women leave home to enter the workplace?" It's so much worse off…
Go home, women. Love bearing and raising children. Love your husband until death do you part. Love homemaking and time with your children. (They grow up so quickly.) Rebel against this wicked culture. Obey God. Live in His grace, His mercy, His provision, and His unending strength, and continue to be salt and light to this generation who is lost and floundering.
Thy word is a lamp unto my feet, and a light unto my path.
Psalm 119:105