Daycares and Elementary Schools are Empty
Daycares and Elementary Schools are Empty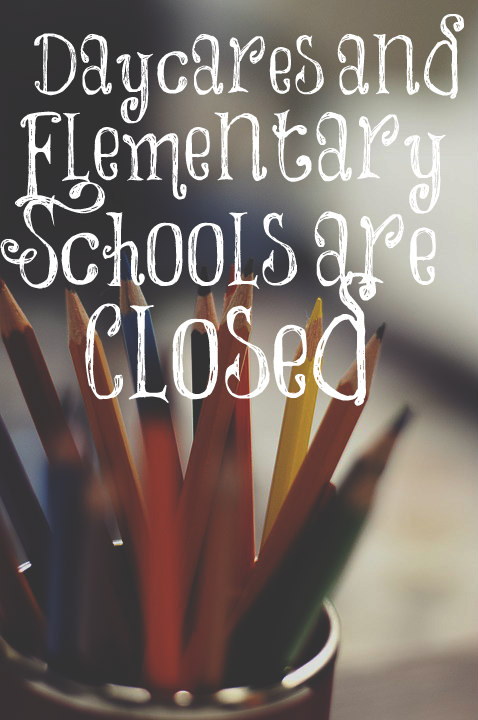 A few people have scolded me for "enjoying" what is happening to America right now. Am I enjoying it? I know without a doubt that God is allowing this to happen. He is sovereign over all. He promises us that ALL things work together for good to those who love Him and are called according to His purpose. He commands that we walk by faith instead of by fear. We are to trust Him and know that He uses our sufferings for His good and His glory. We are also to dwell on the lovely and those things of good report so I do. I am not going to allow this suffering to destroy my joy. Sure, I don't like it but I do know that America has been on a wicked path for a long time and am praying that many will turn to Him because of it. Our eternal souls are all that matter in the end. This life here on earth is a blip.
Almost every day, my husband and I take a walk around our neighborhood. We walk past a daycare and elementary school. I have seen parents drop off their babies and toddlers at this daycare early in the morning and pick them up after dark. There is just no way those children are being nurtured like they would be at home with loving mothers. It's heartbreaking to me. Then when we walk past the elementary school where children spend a large portion of their childhoods, I grieve. I know what they are learning and seeing in this school since some of the neighborhood children who attend and their mothers have told me.
Now, we walk past the daycare and elementary school and they are empty. I am thankful. The babies and children are home full time with their mothers. The children are being nurtured by their mothers if they have good mothers. This is the way that it's supposed to be. I am also thankful that all of the public schools and universities are closed. I am thankful that bars, casinos, and some abortion clinics are closed. Will they reopen? Of course, but for the time, good things are happening and I choose to focus upon these and pray that people's eyes are opened to the Truth.
Every day, I sit for a few hours in front of my house in the sun with a hat on. I read and chat with people walking by. Families are taking walks together and going on bike rides. I am meeting young mothers walking with their children. They will stop and chat with me for a while. When Ken and I take our walks later in the day, there are many more people out walking than there every used to be. Neighbors are sitting in front of their houses with other neighbors and yes, they are sitting six feet away from each other. It's a blessing to see.
If you spend your days watching CNN, you will be depressed and lose your joy since they only focus upon the negative and fear mongering. I couldn't stand that! If you want to do that, you are free to do it, but I am also free to focus upon the good and the blessings. As long as God is ruler of this world, there will be good since He is good. Yes, many are going through very hard times but hard times are not bad. They increase our faith in Almighty God, remind us that this isn't our home, help us lose affection for this earth, and instead, focus our eyes upon eternity where our true homes awaits us.
Finally, brethren, whatsoever things are true, whatsoever things are honest, whatsoever things are just, whatsoever things are pure, whatsoever things are lovely, whatsoever things are of good report; if there be any virtue, and if there be any praise, think on these things.
Philippians 4:8