Trying to Justify Christians Watching "This Is Us"
Trying to Justify Christians Watching "This Is Us"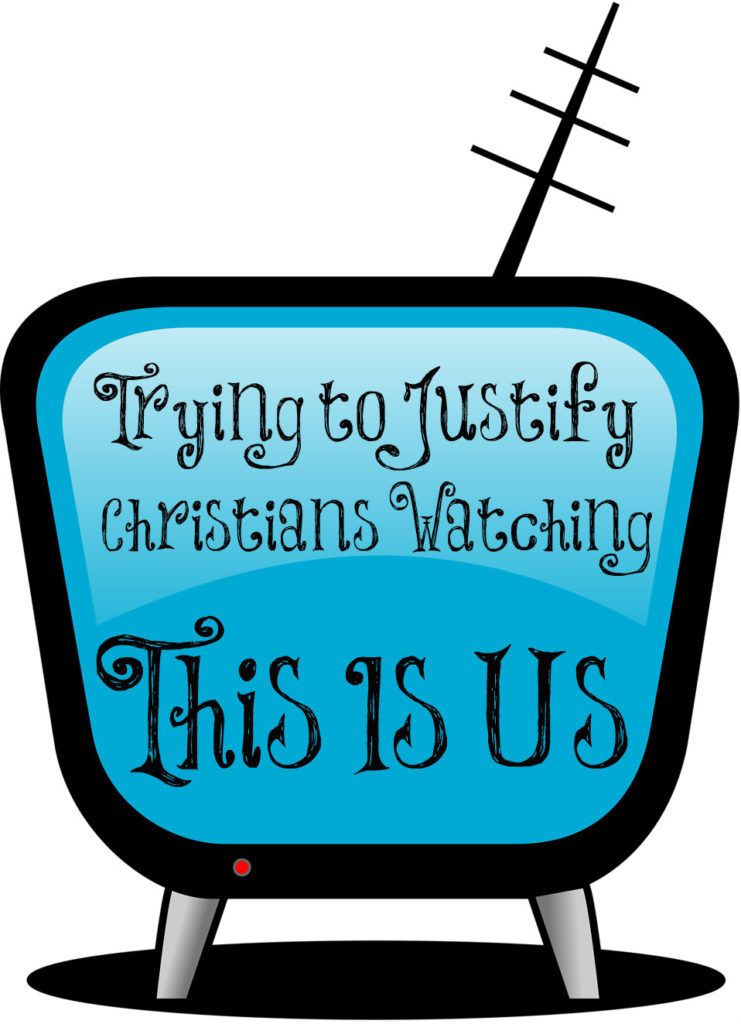 Recently, I wrote a post about not being entertained by sin, I wrote a summary from my experience watching a couple of episodes of This Is Us. (It's a very popular TV show for those who have never heard of it.) I had been told it was a great show by Christians and that it didn't have anything bad in it. It began with nudity, then a threesome. It had God's name in vain, premarital sex, and homosexuality. Basically, it's watching a godless family live their lives. After a few episodes, I turned it off since I knew it wasn't something I should spend my time watching. I shared this on my Facebook page and many agreed with me until one woman. I want to share what she wrote and give my response to each portion.
"We enjoy this show and sure it can do without some scenes. The characters bring us through real life problems and situations adults encounter in every day life. This makes us realize how blessed we are and how graceful and merciful God is. It also helps us to have compassion for those who don't live the same life style or have the same standards we do."
So in order to be thankful for our gracious Lord and have compassion for those who live ungodly, we should be entertained by them? It sure isn't what the Word of God tells us to do. "I will set no wicked thing before mine eyes: I hate the work of them that turn aside; it shall not cleave to me" (Psalm 101:3). We are told to dwell on the true, honorable, right, and pure (Philippians 4:8). Bad company corrupts good morals (1 Corinthians 15:33). "But exhort one another daily, while it is called To day; lest any of you be hardened through the deceitfulness of sin" (Hebrews 3:13). I could give you MANY more but you get the idea. What she wrote sounds good but isn't backed up by Scripture.

"Randall's biological father is gay on the show, so what? We have co-workers and acquaintances that are gay and don't agree with them but don't shun them for it. My husband likes to put it this way: 'If I like black coffee and you like yours with creamer, it doesn't mean we don't like you, can't associate with you or we can't be friends. It means you have your preferences and I have mine.' We are called to love like Jesus did; they know where we stand and that we don't agree. Just like Election, not all have the eyes to see and ears to hear which is why being chosen we need to take the gospel, wrap it in love and gently deliver it to those around us."
Again, this all sounds great but it isn't biblical. Yes, we are to love the homosexuals in our life, but we shouldn't be entertained by it or do anything to help promote it by watching it on TV shows. God destroyed two cities because of homosexuality. Be kind and loving to the homosexuals in your lives but lead them to Jesus. They need Jesus. We can't lead some character on a TV show to Jesus. The main purpose of having a homosexual on a TV show is to normalize the sin Christ died for.
God told Lot if there were ten righteous people in Sodom and Gomorrah, He would have spared them but there were not. Even Lot was "vexed (tormented) with the filthy behavior of the wicked. For that righteous man dwelling among them, in seeing and hearing, vexed his righteous soul from day to day with their unlawful deeds" (2 Peter 2:7, 8). We are called to FLEE all sexual immorality, not be entertained by it or try to normalize it. It's a deadly lifestyle. Jesus loved the adulterous woman but then told her to "Go and sin no more." We are commanded to speak the truth in love. We must never leave out the truth part as so many today want to do.
"It's great to not watch if you feel convicted, but there are good life lessons that can be 'observed from the outside'. It's easy to find the bad when looking for it."
We are told, "Behold, I send you forth as sheep in the midst of wolves: be ye therefore wise as serpents, and harmless as doves" (Matthew 10:16). What does this mean? "For your obedience is come abroad unto all men. I am glad therefore on your behalf: but yet I would have you wise unto that which is good, and simple concerning evil" (Romans 16:19). "Hate evil, you who love the LORD" (Psalm 97:10), NOT be entertained by it.
"From this 'review' I got the impression that you're putting yourself higher than a godless family. With that said, we are all filthy wretches according to God, we are all sinful, and all have fallen short of the glory of God."
On the contrary, once we believe and are saved, God calls us saints, new creatures in Christ, freed from and dead to sin and condemnation, His children, holy, righteous, transferred from the kingdom of darkness and into the kingdom of His dear Son, and sitting at the right hand of God. Please listen to Michael Pearl teach through Romans at "The Door" on YouTube and learn who you are in Christ!
"Being a Bible believing Christian (reformed) we know that we were chosen by God, are free in Christ and cannot be plucked from his hand. Life is messy, not everyone around us is a cookie cutter 'Christian' (which is a very vague word these days). I have seen wonderful examples of marriage, parenting, being a great friend and brother/sister, promoting adoption, to prioritize, listening to your heart (I'm more of a logic over feelings gal though), to be selfless as well as addressing and overcoming problems that us as humans face. Just this wife's take on the show."
No, thank you. I would rather obey the clear Word of God and how the Lord commands that I should spend my time. "See then that ye walk circumspectly, not as fools, but as wise; Redeeming the time, because the days are evil" (Ephesians 5:15, 16). There is nothing redeeming about watching a filthy, nighttime soap opera. I was convicted about watching soap operas when my oldest daughter was five years old and began to watch them with me. Nothing will convince me that I should watch them ever again.

"We should not be entertained by the sins which Christ died." (John MacArthur)
"So I say again, love for others must hate evil. Because evil hurts others directly, and evil hurts others indirectly by hurting you. Evil obscures the beauty of Christ. And Christ is our greatest good. Our greatest joy…hold fast to Christ, and abhor everything that dishonors him." (John Piper)
And be not conformed to this world: but be ye transformed by the renewing of your mind, that ye may prove what is that good, and acceptable, and perfect, will of God.
Romans 12:2