Should We Watch Movies With Sin in Them?
Should We Watch Movies With Sin in Them?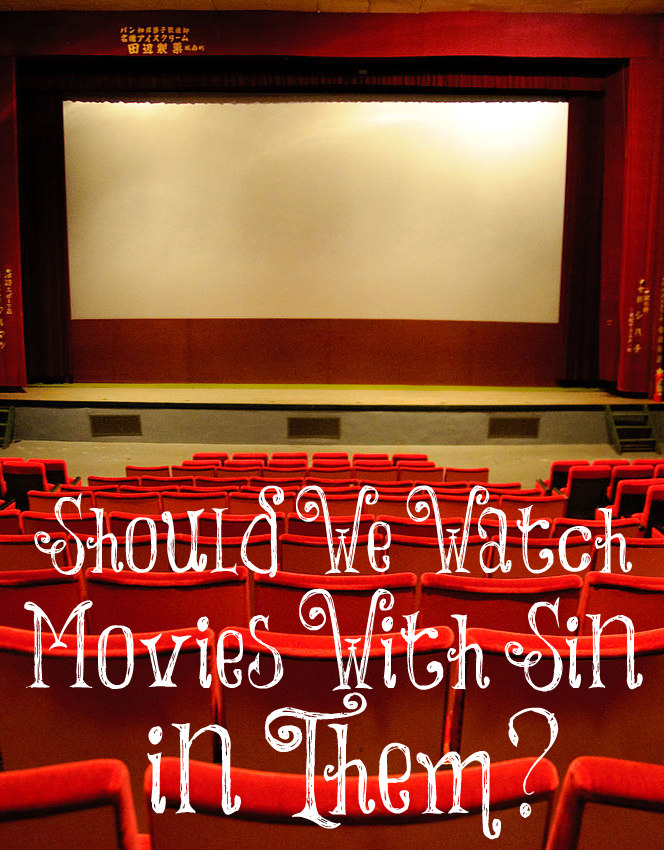 How many of you are boycotting Beauty and the Beast because there is a homosexual agenda by the director? Do you boycott movies with premarital sex and adultery too? Is there a difference and how careful should Christians be in what they watch, thus support? This meme was shared around Facebook: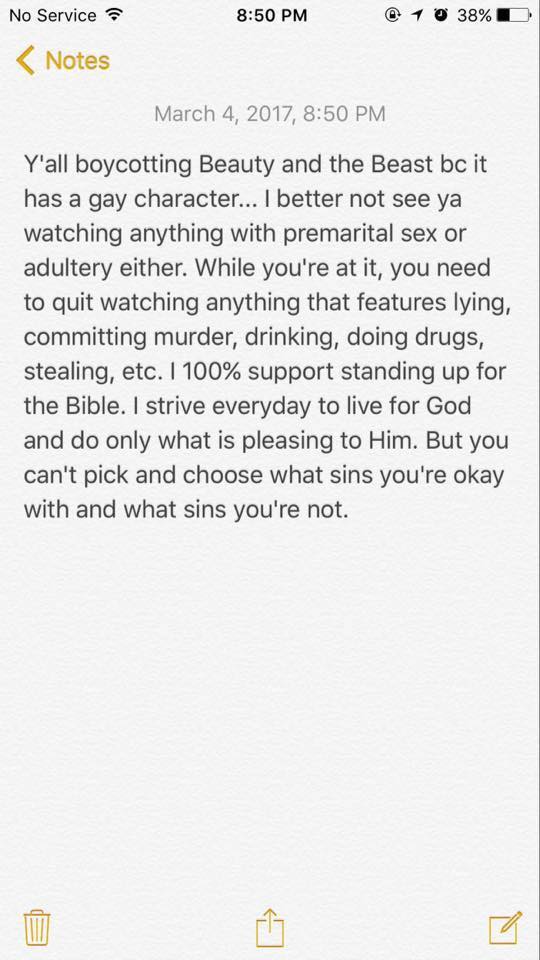 The woman who posted this also wrote, "It must be said. So if you're not going to see Beauty and the Beast, I hope y'all didn't go see the 50 Shades of Grey stuff. Or basically anything for that matter."
The Old Testament has premarital sex, adultery, homosexuality, lying, committing murder, drinking (getting drunk), and stealing. Should we not read the Bible? The difference becomes that we are not shown the sex scenes so no images are plastered in our mind and no explicit details are given (except for the "newest" interpretations of Song of Solomon). All of the sins have negative consequences and are condemned in the Bible. In fact, we are told to FLEE sexual immorality so where does a Christian draw the line?
I don't watch anything with premarital sex or adultery because when you see people having sex, it's for real. They aren't just pretending. I have come to the conviction that I don't even want to watch movies or shows that imply premarital sex or adultery since we are commanded to dwell on the good, the pure, and the lovely. "But fornication, and all uncleanness, or covetousness, let it not be once named among you, as becomes saints" (Ephesians 5:3). These types of sins should not even be named among us, let alone entertain us! When movies begin to show and make us believe that premarital sex, adultery, and homosexuality are okay is the line I draw since they are not okay with the Lord and they shouldn't be okay with us.
When we watch a murder mystery, we all know the murder is make-believe and the entire movie is based on trying to solve the mystery. Lying, stealing, and murder are still considered sins in our culture, as far as I know, and are considered wrong in most shows and movies. Little House on the Prairie had most of these sins in them but it was always shown to be wrong.
Shows and movies with drug use and alcohol are make believe as well unless they are reality shows which I won't watch, except for the Duggars and wholesome family shows like theirs. Drug use is usually condemned in movies but getting drunk is not always. I won't watch movies with people enjoying getting drunk.
Therefore, this meme isn't entirely accurate because if it were the Bible would be off-limits but as believers, we must be very careful what we put before our eyes. Study 1 Peter 1 and 2 if you want to know how God wants us to live our lives. Here are some of the pertinent verses:
Wherefore gird up the loins of your mind, be sober, and hope to the end for the grace that is to be brought unto you at the revelation of Jesus Christ; As obedient children, not fashioning yourselves according to the former lusts in your ignorance: But as he which hath called you is holy, so be ye holy in all manner of conversation (behavior)…pass the time of your sojourning here in fear..But ye are a chosen generation, a royal priesthood, an holy nation, a peculiar people; that ye show forth the praises of him who hath called you out of darkness into his marvelous light…abstain from fleshly lusts, which war against the soul; Having your conversation honest among the Gentiles.
We must NOT go with the flow of our culture, women. We must not compromise with the world because it is on the broad path that leads to destruction. If God calls us to purity, this includes what we put into our minds. All manner of sexual scenes and innuendos affect us greatly because we are sexual beings and this is why God wants us to FLEE them. Just because a large part of the Church is lukewarm today doesn't mean we should be. Yes, it will mean giving up passing pleasures but we must be known for pursuing God and His will for us over pursuing the fleeting pleasures of this world.
"Christian, beware how you think lightly of sin. Take heed lest you fall by little and little. Sin, a little thing? Is it not a poison? Who knows its deadliness? Sin, a little thing? Do not the little foxes spoil the grapes? Does not the tiny coral insect build a rock which wrecks a navy? Do not little strokes fell lofty oaks? Will not continual droppings wear away stones? Sin, a little thing? It girded the Redeemer's head with thorns, and pierced his heart! It made him suffer anguish, bitterness, and woe. Could you weigh the least sin in the scales of eternity, you would fly from it as from a serpent, and abhor the least appearance of evil. Look upon all sin as that which crucified the Savior, and you will see it to be 'exceeding sinful.'" (Charles Spurgeon)