"A Day, No Years, Without Men" in the Workforce
"A Day, No Years, Without Men" in the Workforce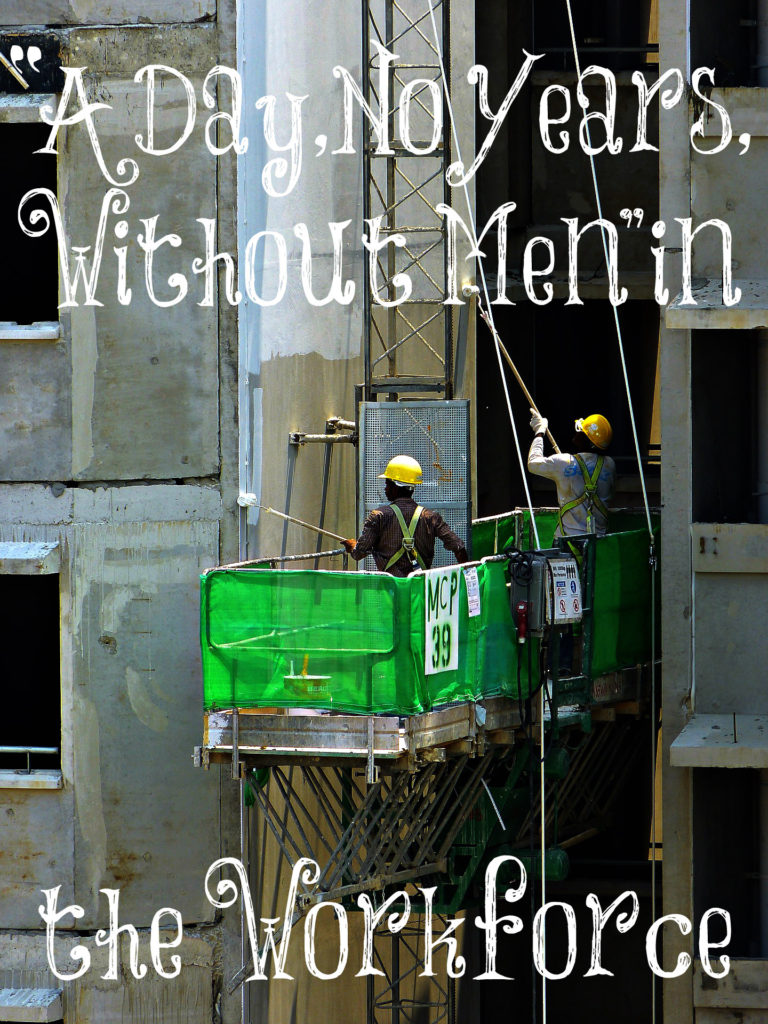 A day, no years, without women in the workforce wouldn't change a thing. Women think they're invincible in the workforce but they aren't. Men can easily and often better replace every single job that a woman has in the workforce. Our military would be stronger without women. Our police force would be stronger. Women make these institutions weaker and now we have these "sexual" problems in the military. Duh! This happens when we mix males and females in close quarters for months on ends and far away from home.
Societies would suffer greatly if men decided to take off a day from the workforce and and they would cease to exist if they took off a couple of years. Camille Paglie wrote, "Only a tiny number of women want to enter the trades where most of the nitty-gritty physical work is actually going on—plumbing, electricity, construction. Women have played virtually no role in the erection of those magnificent towers in every major city in the world. It's men who operate the cranes or set the foundations or wash windows on the 85th floor. It's men who troop out at 2:00 AM during an ice storm to restore power to neighborhoods where falling trees have brought down live wires. It's men who mix the stinking, toxic cauldrons to spread steaming hot tar on city roofs. Last year in a nearby town, I drove by a huge, chaotic scene where emergency workers in hazmat suits were struggling with a giant pipe break, as raw sewage was pouring into the street. Of course all those workers up to their knees in a torrent of thick brown water were men! I've seen figures indicating that 92 per cent of people killed on the job are men—and it's precisely because men are heroically doing most of the dangerous jobs in modern society."
Our society couldn't operate without men! They are the ones that God has given the muscle mass, testosterone, and strength to accomplish many things women cannot do but need. They are the protectors, inventors, and builders of all cultures and God designed it this way. Women who wanted to be like men were deceived by the enemy of their souls!
On the flip side, cultures have suffered terribly when women decide to leave their God-ordained sphere of influence – the home – and tried to take on men's jobs. There's few women left at home bearing and raising the next generation. This is catastrophic on many levels and we are seeing the ugly fruit that it has produced in all the cultures where this is happening. The younger generations have no ability to take care for the aging, much larger generations. Children have lost their way since they are no longer being raised and cared for by their very own mothers. Their mothers have decided their careers and making money is more important than loving their own children.
God has given men clearly defined roles and He has given women clearly defined roles and when they stop doing what they are supposed to be doing cultures die a slow, agonizing death. Go home, women. Tend to your husband, children, and homes. Make them sanctuaries of peace, warmth, and affection for your families. This is the greatest work that you can do because it was given to you by the Creator of everything.
She looks well to the ways of her household,
And does not eat the bread of idleness.
Proverbs 31:27