Is Your Church Like This One?
Is Your Church Like This One?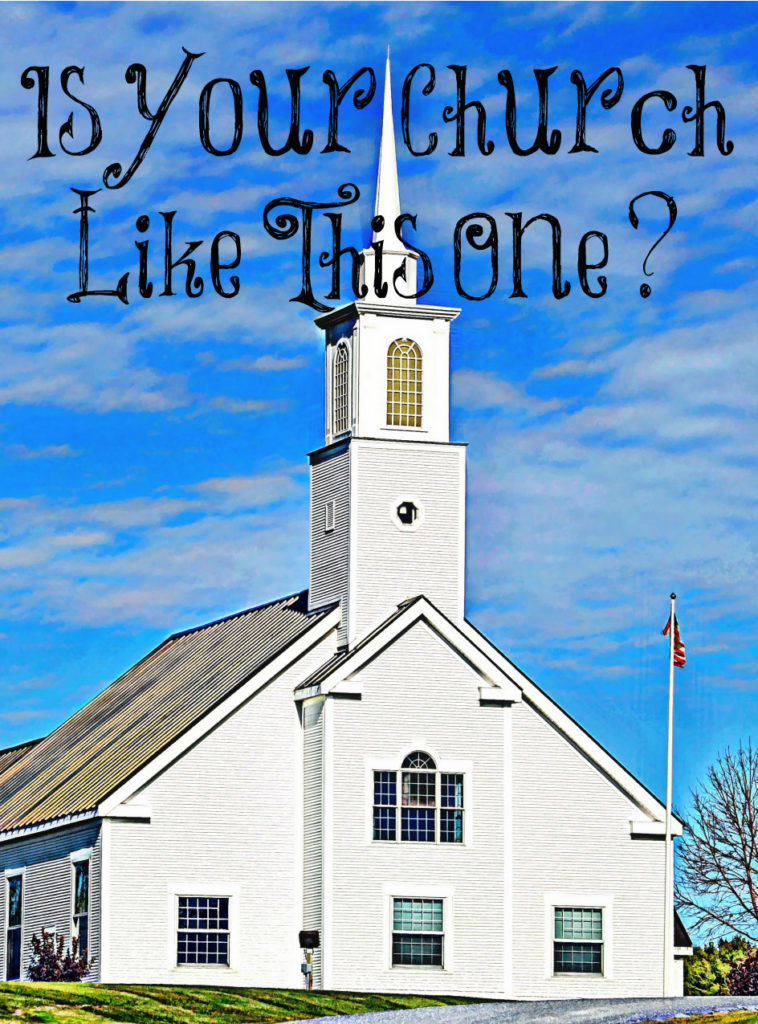 The Church (believers), Christ's bride, should be the "light of the world. A city set on a hill cannot be hidden" (Matthew 5:14). Is your church this way? Just think how powerful the Church would be today if all Women's Bible Studies were older, godly women teaching younger, godly women:
what loving their husbands is supposed to look like and how to go about loving, respecting, and obeying them,
how to go about disciplining, training, and loving their children in the ways of godliness,
to be sober-minded and able to clearly discern between their emotions, feelings, and truth,
about dressing modestly and how men view immodest women,
to be sexually pure before being married and after they get married in all areas of their lives,
to look and act like a feminine, godly woman,
encouraging them to have children and being the ones to raise them at home,
to work hard in the home and teach them to cook, clean, sew, can, etc.
and helping them learn the ways of goodness and kindness in all areas of their lives.
These older women were actually involved in these women's lives and were there to help them when there was a need and the younger women were eager with teachable hearts to learn from the older, wiser women who had raised children and been married a long time. Yes, what if the Church actually obeyed Titus 2:3-5? Marriages would be stronger. Divorces would be few. Peace and unity would more than likely reign in the most of the homes. Many more children would grow up to be godly offspring, as the Lord wants.
Also, just think if all the elder, deacons, pastors, and teachers in the church were strong, godly men and all the women were happy about this. They silently listened and learned when these men powerfully taught the Word of God clearly and without watering it down at all. They were far from being politically correct and nothing in God's Word was off-limits. They weren't afraid to teach the women to respect and obey their husbands, to be keepers at home, and to dress modestly. They would tell the older women to work hard with the younger women teaching them all the ways of godly womanhood.
These men made sure their congregations knew who they were in Christ, all the promises that come from Him, to live in obedience to the Word with the Holy Spirit working mightily within them, and encouraged their congregations to be in the Word and in prayer daily. They wanted to make sure their people went way past the milk and learned the meat of the Word so they would be mature Christians and could easily distinguish between good and evil (Hebrews 5:14). What a powerful Church this would be! Do you go to a church like this? If so, please publish it in the comments so others who live near you can attend. Thank you!
And He gave some as apostles, and some as prophets, and some as evangelists, and some as pastors and teachers,  for the equipping of the saints for the work of service, to the building up of the body of Christ; until we all attain to the unity of the faith, and of the knowledge of the Son of God, to a mature man, to the measure of the stature which belongs to the fullness of Christ. As a result, we are no longer to be children, tossed here and there by waves and carried about by every wind of doctrine, by the trickery of men, by craftiness in deceitful scheming; but speaking the truth in love, we are to grow up in all aspects into Him who is the head, even Christ, from whom the whole body, being fitted and held together by what every joint supplies, according to the proper working of each individual part, causes the growth of the body for the building up of itself in love.
Ephesians 4:11-16