It Was a Scam, We Think
It Was a Scam, We Think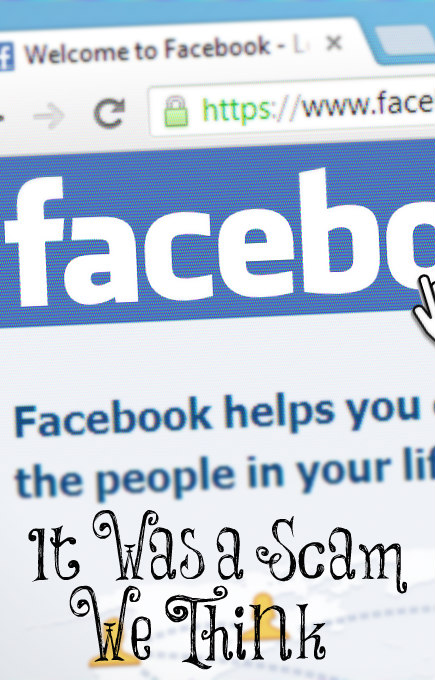 Yesterday morning, I received an email from Facebook supposedly. In it, I was told that my Facebook page "The Transformed Wife" was going to be deleted. They told me I have two days to make an appeal. They gave a link to the URL facebook.com which sent me to a place where I could make an appeal so I did. Truthfully, at that moment, I was devastated. I know in the scheme of everything happening in the world and even in my life, it's nothing at all, but I love Facebook and interacting with people. It's my largest social platform, by far, so I was sad about it all.
I devised a plan to announce it on my Facebook page and ask for comments supporting me since Facebook only allows people to report "hate speech" and other negative things. I wanted Facebook to see that I have many who support what I write. Within an hour of publishing it, I had over a thousand supportive comments. I was so thankful but then the trolls began attacking it and filled my comment section with hate-filled comments. I added some women to help moderate the comments.
My husband was able to reach a technician in India who works for Facebook. He barely spoke English. My husband wanted to find out if this email was a scam or legitimate. This man told Ken that Facebook never sends emails with links on them. This made us suspicious of the email then. Also, as soon as I submitted my appeal and logged into my Facebook account, I received a message from Facebook that someone from Russia had gotten into my Facebook page, so I had to quickly change my password. The man from India told both of us to change our passwords, delete our histories, and run virus protectors on our computers so we did this.
We are hoping and praying that this man is correct. We can't be positive. I do want to keep my Facebook page. I love teaching biblical womanhood BUT if I am deleted from it, I do have a page on MeWe that I would begin publishing on again. I am also on Twitter, Instagram, and YouTube. You can sign up to receive posts from my blog on my blog. I have thought that maybe when I get older and I don't want all of the drama that social media brings, I may want to close them all down and just write for my blog but I'm not ready to do that yet.
Whatever happens, I know that the Lord is in control and I will rest in that. He is good and His plans for me are good. His plans may not be what I want but they're what He wants and His ways are FAR above my ways. He sees the endgame. Thank you for all of you who have written me emails and private messages of support over the years. I l truly appreciate your encouragement. I love hearing your testimonies of the ways your lives have changed since understanding God's perfect will for you. It reminds me over and over again why I love this ministry the Lord has blessed me with.
And we know that all things work together for good to them that love God, to them who are the called according to his purpose.
Romans 8:28