Toxic People Need Jesus Too
Toxic People Need Jesus Too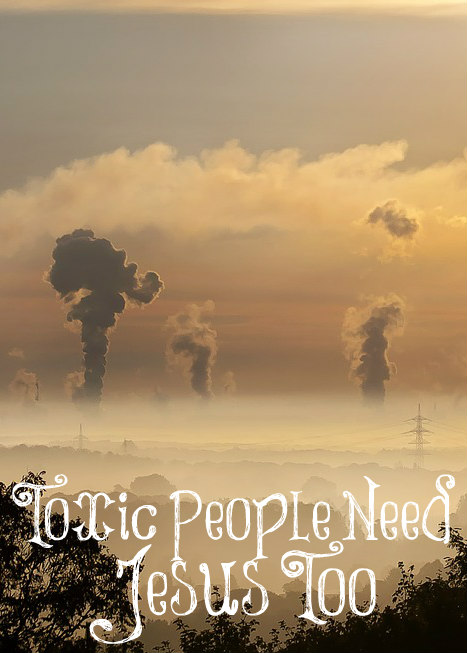 "If Jesus spent three years pouring into Judas' life, what are the implications for Christians and 'cutting toxic people out' of their lives" (Barnabas Piper). I agree with him and I am going to try to argue from a biblical perspective and an illustration. I have heard mostly women write or say this about "toxic" people in their lives and I always wondered if it was biblical.
The Apostle Paul wrote this: "I wrote unto you in an epistle not to company with fornicators: Yet not altogether with the fornicators of this world, or with the covetous, or extortioners, or with idolaters; for then must ye needs go out of the world. But now I have written unto you not to keep company, if any man that is called a brother be a fornicator, or covetous, or an idolator, or a railer, or a drunkard, or an extortioner; with such an one no not to eat. For what have I to do to judge them also that are without? do not ye judge them that are within? But them that are without God judgeth. Therefore put away from among yourselves that wicked person" (1 Corinthians 5:9-13).
In these verses, we are told to not keep company with those who call themselves believers but are living in sin. The purpose for this is not to condemn them but in hopes that this will convict them to turn from their sin and walk in the Spirit instead. It's not to protect oneself but to fear for the other's eternal soul. It's what churches are commanded to do. "In the name of our Lord Jesus Christ, when ye are gathered together, and my spirit, with the power of our Lord Jesus Christ, To deliver such an one unto Satan for the destruction of the flesh, that the spirit may be saved in the day of the Lord Jesus" (1 Corinthians 5:4,5). We know that in 2 Corinthians, this person repented and was restored to the church. This was done out of love for this man.
Then we are told in multiple places to avoid false doctrines and teachers. So yes, ignore them! But God is clear in His Word that we are to love our enemies and even heap burning coals (of love and kindness) upon their heads in hopes of winning them to Christ.
I have a very close friend. She had an extremely toxic father-in-law. He was cruel to her. He never said anything close to being kind to her. Her husband never tried to shield her from him since after all, he was his father. The last time my friend saw her FIL, he had come for a visit and was cruel as ever. When they dropped him off at the airport, she wheeled him into the airport while her husband went to park the car. As soon as they arrived in the terminal, he told her he needed to say something to her so she kneeled down on the hard floor, grabbed his hands, and looked into his eyes. As soon as she did this, tears began streaming down his face. He said, "I want to apologize to you. All I have ever been is cruel to you and all you have ever done is show love and kindness towards me. Please, forgive me. I want what you have." He believed in Jesus Christ as His Lord and Savior, and he went to be with the Lord soon afterwards.
No, you don't have to be with the toxic people in your life continually, but I encourage you to not cut them out of your lives as so many are doing these days. Toxic people need Jesus too. What if all of the Christians in their lives cut them out. Their eternity looks bleak indeed. Everyone needs Jesus. Jesus hung out with "sinners" because He wanted them to know Him. We need to hang out with sinners, too, so they can know Jesus. No, don't participate in their evil deeds but they need to see Jesus shining brightly in you. They need to be loved upon.
After all, we, as believers in Jesus Christ, should be the most loving, most kind, and most caring people in the world. Yes, this may cause suffering in our lives. My friend suffered due to the way her FIL treated her. She suffered for Christ. We are all called to suffer for Christ. This life is short. Eternity is long. We forgive as Jesus has forgiven us.
For even hereunto were ye called: because Christ also suffered for us, leaving us an example, that ye should follow his steps.
1 Peter 2:21
***If you are sensitive, your feelings get hurt easily, or you are offended easily, I encourage you to read "Unoffendable" by Brant Hansen. "I used to think it was incumbent upon a Christian to take offense. I now think we should be the most refreshingly unoffendable people on a planet that seems to spin on an axis of offense." My friend was unoffendable. She put her shield of faith in front of her each time her FIL threw fiery darts at her and those comments were pinged off of her shield of faith straight up to the throne of God.