Kicking Men Out of Our Culture
Kicking Men Out of Our Culture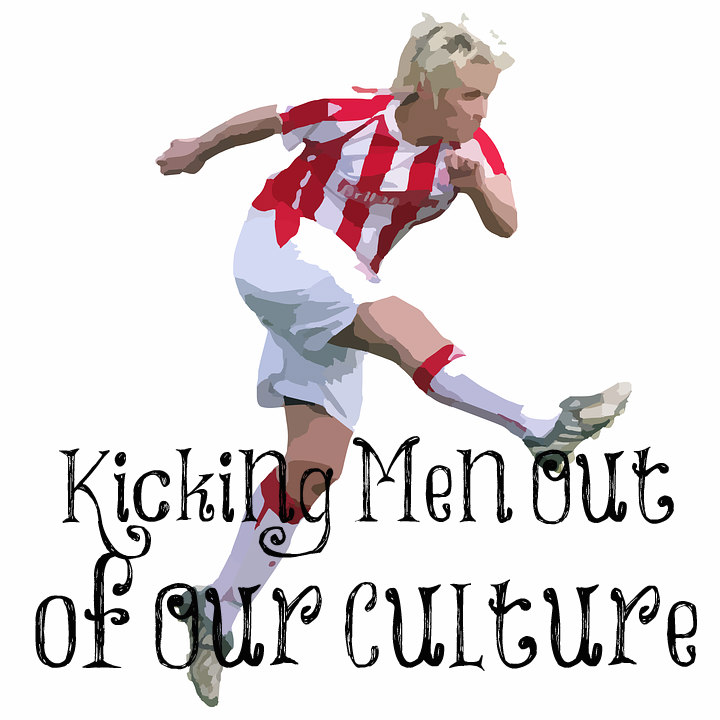 As we all hear of all of these sexual harassment claims against men, we can easily deduct what is happening. It's an all-out war on men. Women think they're better than men so they need to begin taking over everything. President Obama even said, "We need to elect more women because 'men seem to be having problems.'" 
Then there's news that another ceremony, where Hollywood continues to congratulate and worship itself with yet more awards, is going to be run by only women:
The 2018 SAG Awards will be be presented by an all female lineup because women are awesome. "Like many award ceremonies, the SAG Awards usually pairs a man and a women to announce each winner—but this year, only women will have that honor. The lineup is yet to be announced, but the ceremony, which has never before had an emcee, will be hosted by Kristen Bell. The nominations were also announced by women, with Olivia Munn and Niecy Nash revealing the nominees Wednesday morning alongside SAG-AFTRA President Gabrielle Carteris, awards committee chair JoBeth Williams, and awards committee member Elizabeth McLaughlin.
"Men will still be allowed on the stage sometimes, like when they win an award, but with female-heavy ensemble casts nominated for Lady Bird, The Handmaid's Tale, GLOW, and Orange Is the New Black, hopefully we won't have to see more than a dozen suits on stage for the evening."
The feminists' evil agenda is now coming to fruition. "The end of marriage is necessary for the liberation of women. Therefore, it is important for us to encourage women to leave their husbands and to not live individually with men. All of history must be rewritten in terms of oppression of women. We must go back to ancient female religions like witchcraft." (The Declaration of Feminism, November 1971)
These women act as if they're being oppressed and completely innocent in everything, therefore, they must be in control of everything. The Bible states something completely different. "As for my people, children are their oppressors, and women rule over them. O my people, they which lead thee cause thee to err, and destroy the way of thy paths" (Isaiah 3:12) The same old rebellious spirit that Eve had when she ate the forbidden fruit is still alive and active today. What must we do to counteract this evil mindset?
We must do as the Apostle Paul commanded the women to do in the wicked culture in which he lived and wrote the letter to Titus, since there's nothing new under the sun. "The aged women likewise, that they be in behaviour as becometh holiness, not false accusers, not given to much wine, teachers of good things. That they may teach the young women to be sober, to love their husbands, to love their children, To be discreet, chaste, keepers at home, good, obedient to their own husbands, that the word of God be not blasphemed" (Titus 2:3-5).
Don't fall into the trap that these feminists have fallen into. Yes, there are men who do bad things but there are plenty of women who do bad things as well. They are the ones who are divorcing their husbands in greater number. They are the ones who are willingly and freely giving sex to men without the covenant of marriage. They are the ones who are dressing immodestly and being entertained by movies like Fifty Shades of Gray. They are the ones who are leaving their children in the care of others to raise, if they are even having children.
Be sober, women. You don't need alcohol to get you through the day. Be sober-minded and make right judgements based upon the Word of God. Love your husbands and children deeply. Study 1 Corinthians 13 to study what love means. (It's not feelings based.) Be discreet in your actions and act like feminine godly women even in your home. Wait until marriage to have any sexual relations and then don't deprive your husbands. Be keepers at home and minister to your family and all who enter into your home. Be good. Choose to do good and to be good since Christ lives mightily within you. Finally, be obedient to your husband; for this pleases the Lord.
These are God's perfect instructions for you. Obey them and be a light to all those around you. Show them the beauty of God's perfect ways amidst this wicked and adulterous generation.