Leading Captive Silly Women
Leading Captive Silly Women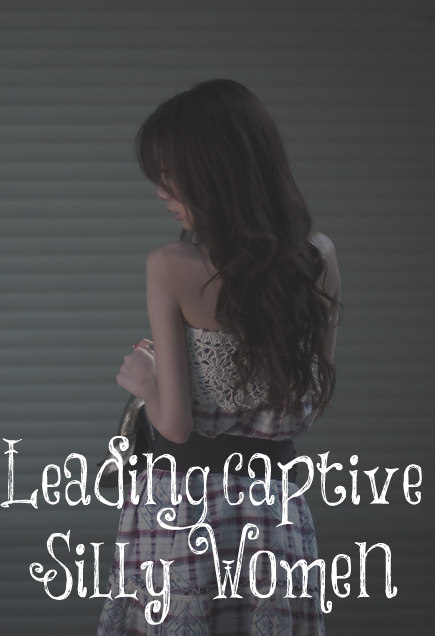 In the last days, we are told that "perilous" times will come because of the increase of sin. We are seeing this in our own nation, sadly. People have become "lovers of pleasures more than lovers of God." Then we are given a warning about what these sinful people will do.
"For of this sort are they which creep into houses, and lead captive silly women laden with sins, led away with divers lusts, Ever learning, and never able to come to the knowledge of the truth" (2 Timothy 3:6, 7).

"And lead captive silly women; the coming of antichrist is after the working of Satan; as Satan attacked the woman, and not the man, and beguiled Eve and not Adam, so these his instruments and emissaries, work themselves into the affections of the weaker vessel, and into the weaker sort of women, as the diminutive word here used signifies; and gain upon them, instill their principles into them, attach them to their interests, captivate them to them, and lead them as they please:"
Yes, we are the weaker vessel and can be more easily deceived. Many women who call themselves Christians are not sound in doctrine. They don't know the Word of God. They don't "study to shew thyself approved unto God, a workman that needeth not to be ashamed, rightly dividing the word of truth" (2 Timothy 2:15). Instead of listening to biblically accurate male preachers/teachers/writers, they listen and learn from other women who teach them things that aren't scriptural.
These silly women also watch godless shows on the television and bring evil into their homes. They don't believe that "bad company corrupts good morals" as their good morals become corrupted by the ways of the world. Silly women, they hate those who teach truth and mock and bully them, instead of listening and learning the ways of the Lord.
"…laden with sins; covered with them, full of them, and so ready to receive any set of principles that would encourage them to continue in them; or else were pressed down with a sense of them, their consciences being awakened, and they under some concern on account of them, and so fit persons for such deceivers to gain upon, by pretending to great sanctity and religion, and by providing them with pardons and indulgences, and putting them upon penance, &c. though the former sense seems most agreeable, and is confirmed by what follows."
What was once known as sinful, they now openly celebrate and try to force others to believe the same, thus leading them astray. They are foolish women who are tearing their homes down with their own hands. They fail to stand as guards in their homes from the attacks of the enemy but allow him full access into their homes instead. "Having a form of godliness, but denying the power thereof" (2 Timothy 3:5). There is no fruit of the Spirit in their lives, even though they speak about how spiritual they are to others.
"…led away with divers lusts. The Alexandrian copy adds, 'and pleasures'; that is, sinful ones; though this may be understood, not of unclean lusts, but of the itch and desire after new teachers, and new doctrines, and practices, which prevail in weak women, and by which they are governed and led away." (Gill's Exposition)
"And they shall turn away their ears from the truth, and shall be turned unto fables" (2 Timothy 4:4).
Don't be a silly, women. Don't follow "new" teachers with "new" doctrines because they heard a "new and improved" word from the Lord. Be a like a Berean who searches the living and active Word to make sure that what you are learning and who you are learning from lines up with the pure wisdom of the Bible. Hide God's Word deeply in your heart so that you won't sin against Him and be easily led astray.
But continue thou in the things which thou hast learned and hast been assured of, knowing of whom thou hast learned them; And that from a child thou hast known the holy scriptures, which are able to make thee wise unto salvation through faith which is in Christ Jesus. All scripture is given by inspiration of God, and is profitable for doctrine, for reproof, for correction, for instruction in righteousness: That the man of God may be perfect, thoroughly furnished unto all good works.
2 Timothy 3:14-17