Learning Frugality Takes Practice
Learning Frugality Takes Practice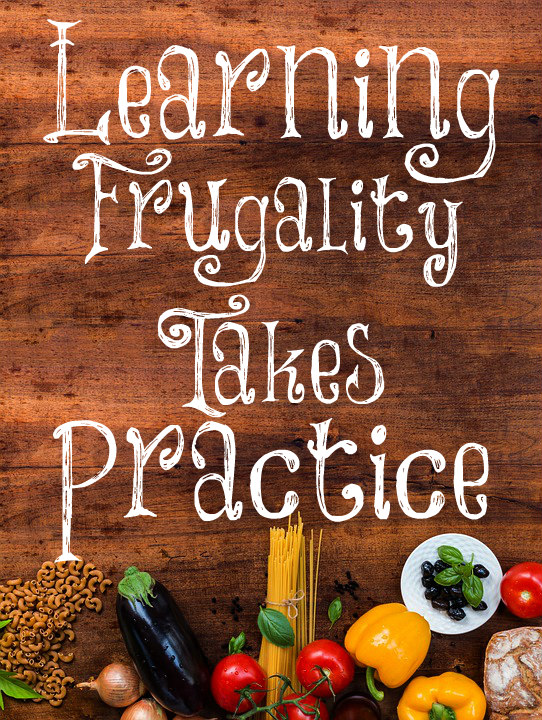 Whenever I write about women being keepers at home, I undoubtedly get a comment that this is no longer possible. Families NEED two incomes to survive, they proclaim. No, but it may take a lot of sacrifice and hard work to be able to make it on one income.
One young woman asked the women in the chat room this question: "How do you ladies who are stay at home wives/moms make it work with one income?"
Many women responded since many survive on one income but I especially liked Dolly's answer:
From someone who knows: DO NOT take on any debt except your home. Whatever you have to do or live without. (I believe college debt is most likely the number one reason why most young women can't stay home with their children.)
Buy the cheapest home you can get that is still in good shape and don't worry about it being HGTV fixed up for at least the first ten years.
 Use wood for heat. It's cheaper than any other source and does not increase in price over time as other sources of heat do (electric, oil, etc.).
Move outside of the city and avoid municipal water and lower property taxes.
Grow as much of your own food as you can and learn to can it.
 Take care of the pennies and the dollars will take care of themselves.
Use one vehicle and do groceries one time per week or less.
Use as little power as possible by opening windows and unplugging things when not in use (toaster, etc.).
Switch to LED lights if you haven't already.
Find enjoyment from frugal activities like making quilts from scraps and thrift shopping.
Make everything from scratch.
Serve all meals with lots of inexpensive sides to fill up on – carrots, potatoes, peas, simple salads, rice, beans. We call this rubber chicken … people will be filling up on sides so much they won't even notice the chicken is actually rubber. lol ?
Frugality comes over time as you learn more and more. At first tips like "make coffee at home" and "pack lunches" felt too hard, and now I wouldn't even stop to think about those things as frugal. Now I'm of the mindset that buying shredded cheese is for rich people! Hahah. I found reading books like The Tightwad Gazette and Miserly Moms really helped me come up with unique ideas to save money.
House and riches are the inheritance of fathers: and a prudent wife is from the LORD.
Proverbs 19:14