Learning to Disagree Without Being Harsh
Learning to Disagree Without Being Harsh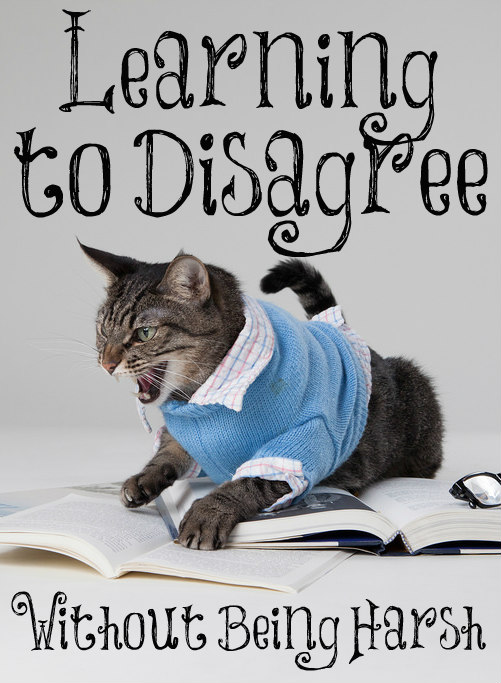 Sometimes, we have some fairly heated conversations in the chat room when it comes to controversial issues like vaccinations, celebrating Halloween or Christmas, healthy eating and living, and other topics that women have strong opinions about. I enjoy these conversations as long as they stay on track and don't become personal attacks or harsh.
As sisters in Christ, we need to learn how to be able to disagree with each other without becoming harsh, mean, upset, angry, or offended so I asked the women in the chat room how we learn to do this since it's an important quality to have as a believer in Jesus Christ. I received some great advice that I want to share with you.
Lindsay: "In any discussion, one of the main ways to prevent the discussion from degrading into a heated argument is keeping the focus on the topic itself rather than the people who take the opposite position. Ad hominem doesn't foster productive discussion. Of course, we can't control whether other people take offense, but we can avoid causing offense by not attacking them personally. If both sides do that, it rarely turns ugly."
Dolly: "If both sides can't respect the opinion of the other, it is something that is better not talked about with that particular company. Unless it is a salvation issue, there is something to be said about holding our tongues."
Shelley: "I suppose sharing your opinion once and then dropping it. Not everyone is built emotionally for polite debate like Lindsay. When I disagree with something and I've already shared my opinion I just try to let it go. I used to feel like I needed to believe the same way as certain people if I looked up to them and respected them. And it made me very uncomfortable to disagree with them. But now I have peace about it!"
Susan: "I think the discussions on controversial subjects that I've seen go well, people have been calm, explained their position without attacking, name calling, etc., and keeping the discussion on the subject and what they have learned about it. Also, try to take the other people's statements in the best possible way rather than assuming the worst. When people start attacking, or taking things personally, it tends to devolve quickly. I think you also have to go into the discussion with the understanding that you are not likely to change their mind, and they have the right to have a different opinion, even if you believe it is wrong."
Verna: "Kindness. You you can speak about it kindly, even if you feel passionately about the subject, people would probably be more interested in hearing what we have to say."
Katie: "I also try to find things in common with the other side and recognize it verbally. For example, in the vaccine debate when it was mentioned that it's clear we all have the same goal: to keep our children safe and healthy."
Judy: "Humility, Respect, and a Teachable spirit. If we are humble,we won't get offended easily. When we show respect to others, conversations go much better. When we have a teachable spirit, we are continuously seeking wisdom and realize that our opinions may not always be right, and there is something that we can learn from each person that we meet."
Lorraine: "I second the comments above! 💖 The only thing that I would add is to not assume that someone who holds the opposite opinion will act or judge like others who hold that same opinion, i.e. you can't throw their actions in the same category even if their belief is in the same category.  It's more difficult online rather than face to face, because you can't read attitude or personality very well."
Cassie: "I believe a place such as this chat room is the best place to discuss such things. There are many different life experiences that each opinion is based off of and some may be able to share insight that may not have otherwise been seen or heard. And what better place to learn such things than in a room full of like-minded ladies who are all striving to become more Christlike."
Joy: "I try to remember that my opinions and actions and beliefs about a topic are just that – my opinions and that almost always, those are shaped and molded by experiences, choices, and environment that I was raised/lived in. I try to remind myself that others' experiences, choices, and environments shaped who they are and why they do what they do. Just because someone doesn't agree with me doesn't mean they have an agenda or are against me. It means their experiences were/are different and almost everyone I've engaged in conversation with on numerous topics feel certain ways because of something they went through, survived, were raised in, or saw someone else they were close to go through.
"I remember when I was 12 I watched a documentary about the death penalty and how the man ended up being innocent but the call was too late and he was dead. I remember being horrified and crying and thinking how awful that was and thinking that the death penalty was a horrible idea because of the people who were innocent (ahhh, my innocence back then I now know this is a rare anomaly). Fast forward 20 years and my best friend's two year old little boy was violently murdered and it was so heinous a crime we were devastated and wanted that man to pay – with his life. It didn't seem fair for him to be alive when precious boy wasn't. This is definitely a great example of why women as emotional beings shouldn't make decisions in heightened states of emotions!"
Robin: "In any discussion, remain on topic without veering into accusatory statements towards others, and avoid stereotyping the people giving opposing perspective. Most of the enormous online debacles I've witnessed have started with a hot topic, and remained civil for awhile, until someone decided to use an accusatory tone towards a person, instead of addressing the actual topic in a civil way."
Put on therefore, as the elect of God, holy and beloved, bowels of mercies, kindness, humbleness of mind, meekness, longsuffering; Forbearing one another, and forgiving one another, if any man have a quarrel against any: even as Christ forgave you, so also do ye.
Colossians 3:12, 13