Women Teaching in Seminary?
Women Teaching in Seminary?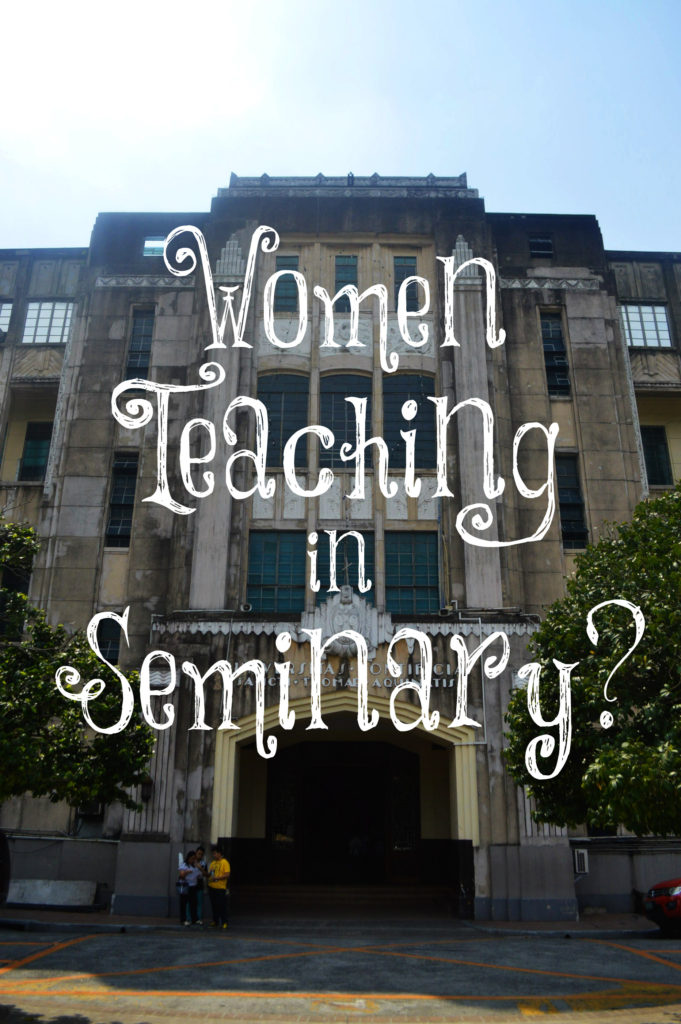 A few days ago, I read an article by John Piper called Is There a Place for Female Professors at Seminary? My immediate response when I saw the title was NO! If women are to be silent in the churches and not to teach nor be in authority over men, they should NOT be teaching men in seminary who are preparing to be pastors and teachers of the Word.
John Piper wrote: "If it is unbiblical to have women as pastors, how can it be biblical to have women who function in formal teaching and mentoring capacities to train and fit pastors for the very calling from which the mentors themselves are excluded? I don't think that works. The issue is always that inconsistency. If you strive to carve up teaching in such a way that it's suitable for women, it ceases to be suitable as seminary teaching." I agreed with him 100%.
The next morning, a woman shared this tweet by Melissa Moore. Melissa is the daughter of Beth Moore and I wouldn't be surprised if her tweet was in direct response to John Piper's article since it happened on the same day: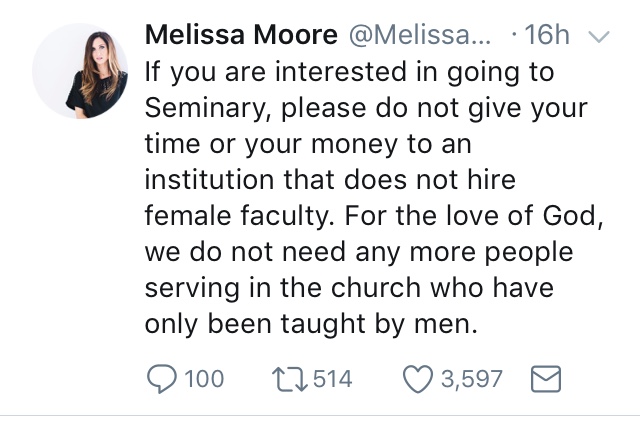 Yes, women, Melissa's tweet is in direct disobedience to God's clearly stated Word and instead, wanting to be in control just like Eve. I'm not even sure women should be attending seminary. They can easily learn the Word from reading their Bibles, listening to capable men of God who have gone to seminary, and asking their husbands at home as the Bible instructs.
There's absolutely nothing wrong with being only "taught by men" since every single book of the Bible was written by men, and elders (those who are called to teach the Word) are to be the "husband of one wife." Jesus was a man! Would she have trouble only learning from Him?
The Apostle Paul wrote to Timothy, "And the things that thou hast heard of me among many witnesses, the same commit thou to faithful men, who shall be able to teach others also (2 Timothy 2:2)." He could have easily added in there to "commit thou to faithful men and women" but he did not. The preaching and teaching of the Word of God was given to men.
The purpose of seminary is to train men to go into the ministry as John Piper clearly stated: "When a student with the pastoral call arrives at the level of seminary preparation, something is different from what was happening in college education and high school education (at least, usually it is). Not only has he moved beyond the adolescent years of transition from boyhood to manhood, but he is now submitting himself to a community of teachers who, by their precept and example, are called to shape his mind and his heart for vocational pastoral ministry."
God does not call women to be involved in teaching doctrine in the churches or be involved in "women's ministries" where women are taught the Bible from popular female preachers and teachers, as Robert Truelove wrote in his article Why Most Evangelical Women are Worthless:
"Jesus wants us to be faithful to our calling and humbly acknowledge that we are just doing what we are supposed to do. Herein is the problem that plagues the typical evangelical woman. She doesn't know what her calling is, she is subsequently discouraged, and lives an unfulfilling life.
"To address this problem we have the never ending series of 'women's ministries'. Women flock to these 'ministries' in the hopes of gaining some sort of 'breakthrough'. They are taught their purpose can be realized by either starting their own 'women's ministry' or working within one already established.
"The entire paradigm of the 'women's ministry' is broken. It's a vicious cycle. Women are trapped in the lies of feminism and find their Christian lives to be unfulfilling. They seek answers from a 'women's ministry' and are ultimately taught they will find fulfillment by involving themselves in 'women's ministry.' This doesn't address the calling of the Christian woman and further obscures it."
As I have stated before, if God doesn't want women teaching men because a) man was created first, therefore, the one that God placed in authority, and b) the woman was deceived, as perfect Eve was deceived by the serpent, why would He want women teaching other women more than what He has specifically called them to teach in Titus 2:3-5? Most of these female preachers/teachers of the word fail to teach any parts of Titus 2:3-5 since these things aren't popular to teach and, most likely, these women are not keepers at home. But this is what God has "called" the older women to teach and He has never called the young women to be involved in "women's ministries" or teach the Word to others.
I agree with Pastor Robert Truelove 100%. Yes, I may be in the minority but it's what I see clearly from the Word of God.
"A Christian woman should be taught to find her calling first and foremost IN HER HOME. The domestic duties of the home are her sphere of Christian leadership, for she is to be a 'keeper of the home.' Her first ministry is to her husband and children as she loves and serves them as a Christian wife and mother. This is WHO the Christian woman ought to be!
"This is the comprehensive witness of the Scriptures. When a Christian woman seeks to 'find herself' outside of the home, it is not piety but rebellion. Such women make poor wives and mothers but it doesn't have to be that way. Christian women who lay hold of their calling by faith, believing in God's role for them, discover their purpose. Contentment and fulfillment will follow."
The aged women likewise, that they be in behaviour as becometh holiness, not false accusers, not given to much wine, teachers of good things; that they may teach the young women to be sober, to love their husbands, to love their children, to be discreet, chaste, keepers at home, good, obedient to their own husbands, that the word of God be not blasphemed.
Titus 2:3-5