Living to Not Blaspheme or Bring Reproach Upon Christ
Living to Not Blaspheme or Bring Reproach Upon Christ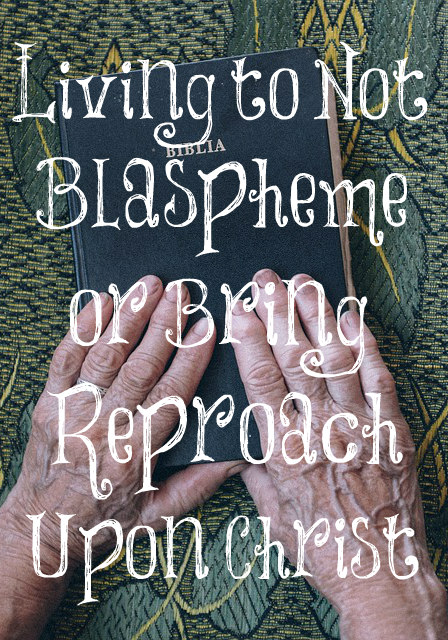 There are two place in the Bible that specifically say that our failure to obey the Word of God by women results in blaspheming the Word of God and causing the adversary to speak reproachfully.
…that they may teach the young women to be sober, to love their husbands, to love their children, to be discreet, chaste, keepers at home, good, obedient to their own husbands, that the word of God be not blasphemed.
Titus 2:4
I will therefore that the younger women marry, bear children, guide the house, give none occasion to the adversary to speak reproachfully.
1 Timothy 5:14
What does it mean to blaspheme the Word of God and cause the adversary to speak reproachfully? First of all, if you love the Lord, you will not want to do anything to blaspheme His Word or cause the adversary to speak reproachfully.
"That the gospel may not be injuriously spoken of, on account of the inconsistent lives of those who profess to be influenced by it. The idea is, that religion ought to produce the virtues here spoken of, and that when it does not, it will be reproached as being of no value" (Barnes' Notes).
If we are not being sober, loving and obeying our husbands, bearing and raising children, discreet, chaste, keepers of the home and guiding the home, we are telling the world that our wisdom and ways are better than God's. We are telling them that His ways are not for today, not culturally relevant, and they don't work. We are blaspheming Him by doing this!
By living our lives as Christ has called us to live them, we are saying to all those around us that God's ways work and they are perfect for us. They will see sober-minded women who think and act biblically. They will see women loving and obeying their husbands and adorning themselves with submission. These women will reverence their husbands and only speak highly of them.
They will see women who love bearing and raising children, knowing that they are precious blessings from the Lord. These women will want to be home raising their children for the Lord. They will discipline, train, and teach them the ways of the Lord so they will shine like lights in the darkness.
"And this they say is what is meant by the woman's being an helpmeet for man, that while he is abroad about his business, she is , 'sitting at home', and keeping his house; and this they observe is the glory and honor of the woman" (Gill's Exposition).
Gill would sure be blasted by most women today by writing what he wrote! He believed that a woman sitting in and keeping her husband's home brought glory and honor to her which is so contrary to what is believed today but this is exactly what God's Word clearly explains to us. Women having careers is praised and honored in our culture but we should expect no less since the world's ways are opposite of the Lord's ways.
"If Christians profess to be influenced by a supernaturally strong and sacred motive, and then fail to do what lower and ordinary motives often succeed in effecting, the world charges the failure on the lofty motive itself, and Christ bears once again the sins of His people" (Cambridge Bible).
It is clear what godly women are to be doing with their lives yet those who teach it are mocked and ridiculed even by those who call themselves Christians. They don't understand that they are really mocking the Lord since He is the one who has called women to these things in Titus 2:4, 5. Thus Christ is made to look weak since they falsely believe their ways are better than God's ways. Oh, how foolish many women are today!
The adversary is eager to exaggerate the faults of a few, and to lay the blame on the whole Church and its doctrines" (Jamieson-Fausset Commentary). Those who are opposed to the Gospel of Christ carefully search the lives of those who claim to love the Lord and His ways. They scour through every word they write and watch the way they live their lives so that they might find some way that these Christians are living hypocritically of what they are saying and believing.
I know some of these adversaries. They read every word I write and try to find anything in my past or present life to discredit me and what I teach. When they do find "dirt" on Christians, they place all of the blame on the Church and God's ways. They love to do this concerning submission and making it into something ugly and abusive instead of God's perfect will for our lives.
"And give no occasion to Jews or pagans (the adversaries of Christian religion) to speak of the church, or any particular members of it, reproachfully, as living beneath the rules of morality and decency" (Matthew Poole's Commentary). But we, as women who love the Lord and want to glorify Him in all we do, are careful to live our lives according to His clear Word. We don't try to water it down or say it's not culturally relevant because we know it is and that it's unchanging. It is the same yesterday, today, and forever.
"That is, either that Satan, the grand adversary of the saints, might have no opportunity to reproach them, and cast in their teeth their unbecoming walk, or accuse them before the throne; or that any enemy of the Christian religion might have no room nor reason to speak evilly of Christ, his Gospel, truths, and ordinances, on account of the disorderly conversation of any that profess his name" (Gill's Commetary). We must not give those who hate the Word of God any reason to speak evil of us. We do this by obeying the clear teachings of the Word but we don't care if we are laughed at and mocked because we know Whom we serve and Whom we have to give an account for our lives. It doesn't matter if we are few in number because we don't compare ourselves to those around us but only to God's living and active Word to make sure we are living according to His perfect plan for us.
"All, of every rank and age, who think they love the Lord Jesus should remember that the 'enemy' is ever watching their words and works; never should they who wear the colours of the great King forget the charge of the King's son, 'Let your light so shine before men that they may see your good works, and glorify your Father which is in heaven'" (Ellicot's Commentary). As you live as godly wives and mothers at home, you are being salt and light to a depraved culture. Those in the world are watching you. They are looking for women who live what they believe and what the Lord commands. You bring glory to the Lord as you live in obedience to Him and those watching may have their eyes opened to truth and their hearts softened by your obedience to the clear commands of our Savior.
"The practical worth of a religion is not unfairly estimated by its effects on the lives of those who profess it. If the observed effect of the Gospel were to make women worse wives, it would not commend it to the heathen; 'for the Greeks judge not of doctrines by the doctrine itself, but they make the life and conduct the test of the doctrines'" (Expositor's Greek Testament). There are too many Christian women who are not submissive, live in contention with their husbands, divorcing their husband to remarry another, raising rebellious children, and pursuing careers. They look just like the women of the world. May this never be said of you, women. We are called to be different than those in the world. Our path is narrow but it's the only path that leads to life. Walk on it.