She Rises While It is Night – Proverbs 31:15
She Rises While It is Night – Proverbs 31:15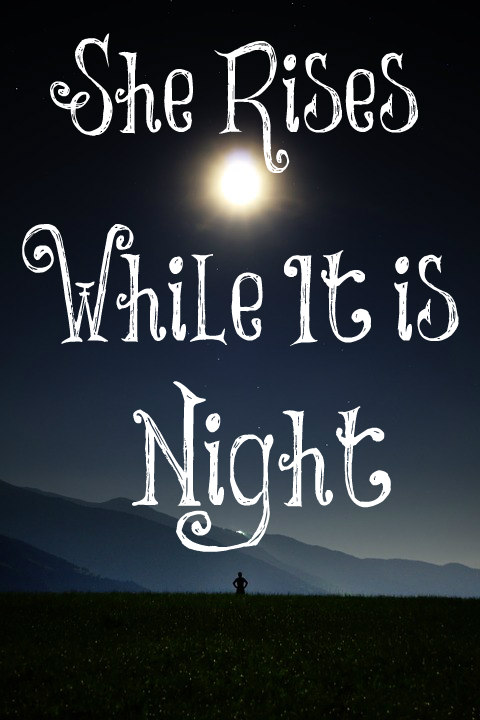 She rises also while it is yet night, and gives meat to her household, and a portion to her maidens.
Proverbs 31:15
"She doth not indulge herself in too much sleep, but is an early riser, before the break of day, to make provision for those who are to go abroad to work in the fields, and to set her maidens their several tasks at home." (Benson Commentary).
"A person will get the best results in every area of life only if his plans are followed by earnest toils" (The Golden Gems of Life). We can not expect to have clean and tidy homes, the clothes laundered and put away, good food shopped for and prepared, and all of the other things required in being a homemaker if we don't work hard and sleep too much. We must not eat the bread of idleness.
Love not sleep, lest thou come to poverty; open thine eyes, and thou shalt be satisfied with bread (Proverbs 20:13).
"Before dawn she is up and stirring, to be ready for her daily occupation…Early rising before any great undertaking is continually mentioned in Scripture (see Genesis 19:2; Genesis 22:3; Psalm 57:8; Jeremiah 7:13; Jeremiah 25:4, etc.; Mark 16:2; John 20:1)." (Pulpit Commentary)
"Awake up, my glory; awake, psaltery and harp: I myself will awake early" (Psalm 57:8)
I have always been an early riser. I love being awake before everyone else, having quiet time, studying, and "giving meat for my household" when my children lived in the home or come to visit. I make french toast, pancakes, eggs and toast, eggs with potatoes, or soaked oatmeal. When my children were growing up, I would make homemade muffins and waffles, too. It was important for me that they eat a good breakfast and while they ate, I would read the Bible to them.
If you weren't taught how to cook healthy, study and learn how to do it. There are many resources available through the Internet, cooking shows, and books. There is no excuse to not be a good cook these days and then learn to enjoy doing this since you are nourishing your family's bodies.
As Nancy Campbell wrote, "Don't look at cooking meals with resignation. Instead, do it with revelation. You have the privilege of feeding your children nourishing food. You are gathering them together around your table again. You are preparing the way to feed their soul and spirit as you read God's Word at the end of the meal. You are teaching them about life and passing on values to the next generation.
There is too much fast food eating in our nation already! It's not healthy eating and it negates valuable family togetherness in the home. If you don't lovingly cook meals at home and pass on this tradition, what will the next generation do?
Make every meal a 'love affair.'"
Children notoriously wake up early. Most children are in bed by 8:00 pm and then wake up by 6:00 am so it's important for the mother to go to bed early so she can wake up early with her children to care and feed them after having a good night sleep. As keepers at home, mothers are the ones who are responsible to care for the needs of their family unless they are physically unable. Make sure to teach your children to enjoy going to bed early and rising early. It's a good discipline to learn.
If you have a poor night sleep, depend upon the Lord for your strength. I have a dear and older, godly friend who can only sleep four to five hours a night yet she determined years ago that instead of grumbling and complaining about it, she would be thankful for the sleep she did get and depend upon the Lord's strength to get her through each day. She is one of the most positive and cheerful people I know, plus she gets a lot done every single day!
"She riseth also while it is yet night,…. That is, before the ascent of the morning, before break of day; a great while before day, as Christ is said to rise to pray, Mark 1:35; while it was yet dark; so the church here: which shows her affection for her family, her care of her children, and fervent zeal for her husband's interest and good…with the wholesome words of Christ, with the good doctrines of the Gospel; these have a certain portion given them, and they rightly cut and divide the word of truth, and give to everyone their portion of meat in due season, according to their age and circumstances; milk indeed to babes and meat to strong men" (Gill's Exposition).
Besides giving actual food to your family, make sure you are speaking kindly to them and showing them by the way that you live your life that you are a child of the King of Kings. My encouragement to you is to read the pure words of the Bible to your children from the time they are small since it is God's living Word rather than children's bible stories written by men. The Bible is what will transform them and we are instructed to hide it deep within our hearts.
Read a few verses in Proverbs and explain it in simple terms when they are small. As they grow older, teach them the doctrines of the faith in Romans and Hebrews. Read through a Gospel and let them be amazed at the life of their Savior. Read Genesis and God's perfect creation; how it was marred by sin and infected everything on earth by sin's consequences.
When they are more mature in their faith, read to them the end of the story – Revelation. Did you know that we are blessed when we read it (Revelation 1:3)? Let them see the marvelous last two chapters in Revelation about the finality of God's redemptive plan for all those who call upon His name and the new earth that we will all will live upon one day. Develop in them an awe and reverence for their Creator from the time they are little children. This is the single most important thing you will do for your children as they live under your roof.
Thy word have I hid in mine heart, that I might not sin against thee.
Psalm 119:11