Switch Submission to Respect?
Switch Submission to Respect?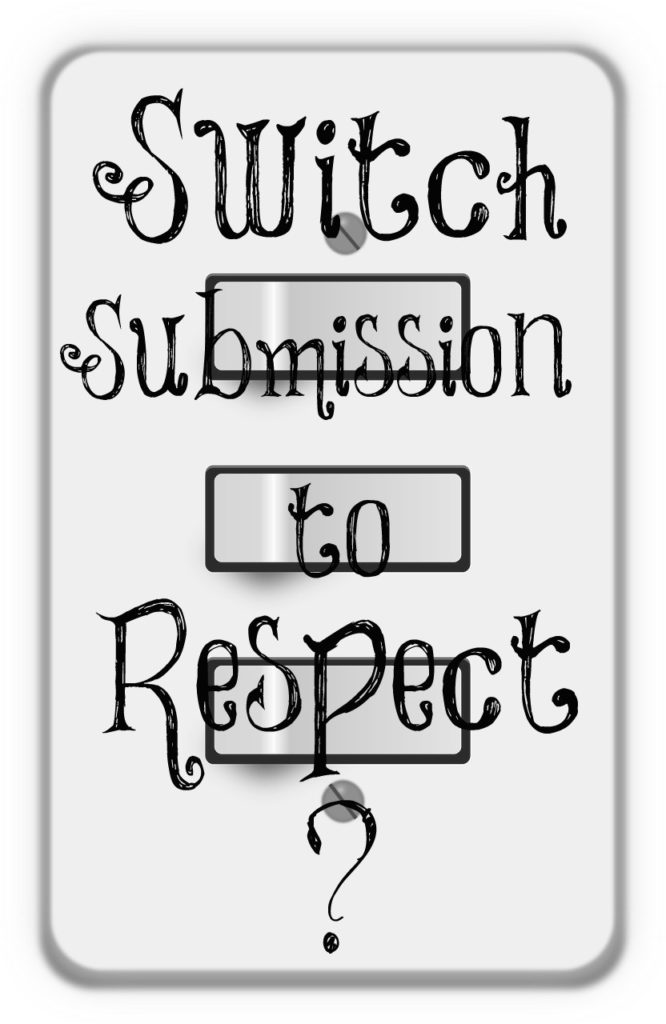 One woman's husband read a post about submission that she had written and responded this way to her:
"I think the word submit is outdated, respect is a much better alternative." 
A very wise woman responded:
"Here's the thing, ladies (and this is coming from someone who is NOT in a Christian marriage, and has lived a life of submission for the past ten years of our 22 year marriage – I'm 51), we can't pick and choose and substitute words in Scripture like that and when we look at any topic in Scripture, it's important to look at all Scripture on it. In this area God is very clear and He's not just talking to wives of Christian husbands and I'll show you why.
God knew what He was doing when He wrote the Bible. He knew what words to use and He was in control. There are words that He used in the Bible for respect (esteem, fear, honor). If He used those words in other areas but not this one, are you saying that He made a mistake? No. It simply serves to 'justify' our lack of giving up control, if we change it.
Revelation 22:18-19 is very clear on this!
Now, regarding submitting to a non-Christian husband, here's what God says about it –
Wives, likewise, be submissive to your own husbands, that even if some do not obey the word, they, without a word, may be won by the conduct of their wives, when they observe your chaste conduct accompanied by fear.
1 Peter 3:1-2
I've counseled and mentored many women and, sadly used to think the way that they do starting out. I often hear: 'I'll submit as long as….' (they don't tell me to do something against God; they don't ask too much; they don't develop a 'god-complex'…).
I'm here to tell you that that is not submission of any form – it's negotiations and it doesn't say to negotiate with your husband. It says to submit and in this case, the instruction has more to do with your relationship with God than it does with your relationship with your husbands.
Why is it that in areas that we don't 'like,' we still conform to the world because it's more comfortable?
Ladies, this is experience talking. Before I totally submitted to my husband, the area of God was a battleground for us. He always tuned it out but, when I submitted to him, as to God (which means completely), God started working in his heart in huge ways.
So the choice is to obey God or not – that's what it really comes down to.
Please, don't try to change God's Word to fit what you think; it's supposed to be the other way around and trust me, that way works better."
Why would we ever falsely believe that we can somehow improve upon God's perfect ways, words, or will for us?