Living Together Before Marriage IS Sin
Living Together Before Marriage IS Sin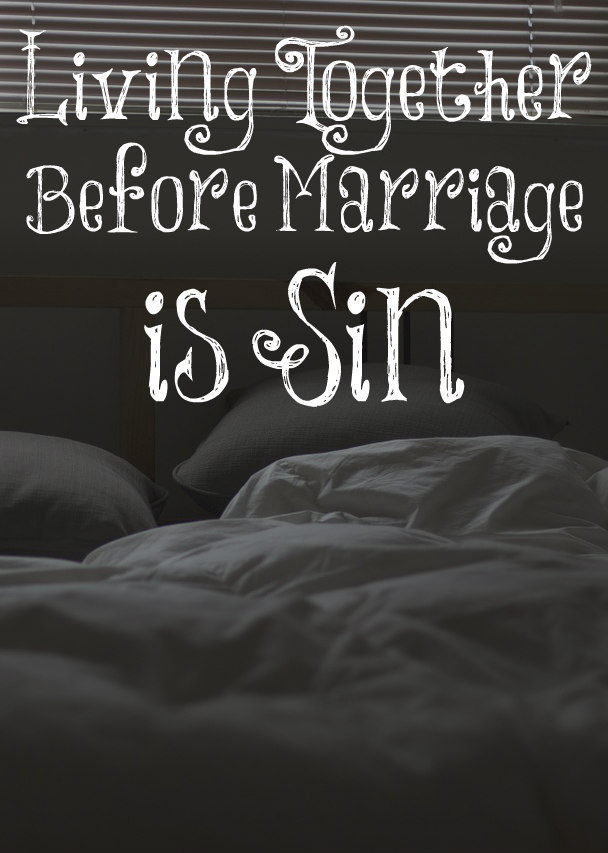 Yesterday, I shared this on social media: "Living together used to be called living in sin. Everyone knew sex outside of marriage was wrong. Changing the name doesn't negate this fact. Sin cheats yourself out of God's best. FLEE fornication!" Of course, many vehemently disagreed with me. We live in a wicked generation. Some said that if a couple is living together, they are "married in God's eyes." Others said that marriage isn't a document from the government but simply a couple living together and so on.
"What is the definition of marriage? People can be married without a marriage license. Two people who live together, and are committed to each other, take care of one another, and are sleeping together are already married in the eyes of God. God doesn't recognize a marriage license, the government does!"
Many no longer understand the definition of marriage. It has been so watered down that they make up their own definition. "Therefore a man shall leave his father and mother and be joined to his wife, and they shall become one flesh" (Genesis 2:24). This is God's definition of marriage. Here's another one: "For this cause shall a man leave his father and mother, and shall be joined unto his wife, and they two shall be one flesh" (Ephesians 5:31).
You won't hear people living together call each other husband and wife. They will call each other boyfriend and girlfriend or their "partner." A marriage is a covenant with God before witnesses (remember, Jesus' first miracle was at a wedding) and proclaiming to those around you that you are committing your lives together until death do you part. We are also commanded to obey the governing authorities and their definition of marriage requires a marriage certificate before witnesses.
This thought of having sex together and being "married in the eyes of God" is a fallacy, too. There is no verse that states this and there would be no need for the word "fornication" to exist if this were the case. When Jesus talked to the woman at the well, "The woman answered and said, I have no husband. Jesus said unto her, Thou hast well said, I have no husband: For thou hast had five husbands; and he whom thou now hast is not thy husband" (John 4:17, 18). Did you notice that he said that the man she is now with (living together, shacking up, cohabiting, or living in sin) is NOT her husband? Having sex and living together don't equal marriage!
In Romans 1:31, we are told that people will be covenantbreakers. They have no regard for private or public contracts. This defines our culture today. Marriage in our culture is a private contract between two people. The rings married people wear symbolizes this fact. The wife takes on the husband's last name in agreement that they are now one flesh (which is consummated in the marriage bed). They share everything, including bank accounts, beds, name, children, and all possessions. This is marriage the way God intended it to be – until death do they part.
Sex outside of marriage causes much harm. Sex was created for marriage, for becoming one flesh, and having children together. We are commanded to keep the marriage bed undefiled for very good reasons. When you have sex before marriage, you are defiling your marriage bed. When you have sex with someone other than your husband after marriage, you are defiling your marriage bed. Sure, the thrill of sex outside of marriage makes it almost irresistible to many, but recent scientific studies have shown that through sexual intercourse, women can carry the DNA of all their male sexual partners for life.
"Drink waters out of thine own cistern, and running waters out of thine own well. Let thy fountains be dispersed abroad, and rivers of waters in the streets. Let them be only thine own, and not strangers' with thee. Let thy fountain be blessed: and rejoice with the wife of thy youth. Let her be as the loving hind and pleasant roe; let her breasts satisfy thee at all times; and be thou ravished always with her love. And why wilt thou, my son, be ravished with a strange woman, and embrace the bosom of a stranger?" (Proverbs 5:15-20).
Do you see that God's Word used the word "wife" not girlfriend in these verses? Many verses in Proverbs warn of the dangers of having sex with someone other than your spouse. It's a very dangerous path to be on, women. This includes having sex with yourself (masturbation). This is stealing from your future husband and can harm the future relationship with him since you are having "vain imaginations" (2 Corinthians 10:5) and most likely lusting after someone else while masturbating. It's self-serving which is the opposite of what God calls us to be and do. Marriage is for sex. Period.
"God only permits a man, through sanctified lawful marriage, to become one flesh through sexual intercourse with his wife, and consequently to become one flesh at the DNA micro-chromosome genetic level with his wife." Keep your marriage bed undefiled (Hebrews 13:4) and you will reap His blessings; for we are promised that we will reap what we sow!
Flee fornication. Every sin that a man doeth is without the body; but he that committeth fornication sinneth against his own body.
1 Corinthians 6:18