Feminism Forgot the Obviousness of Women's Biology
Feminism Forgot the Obviousness of Women's Biology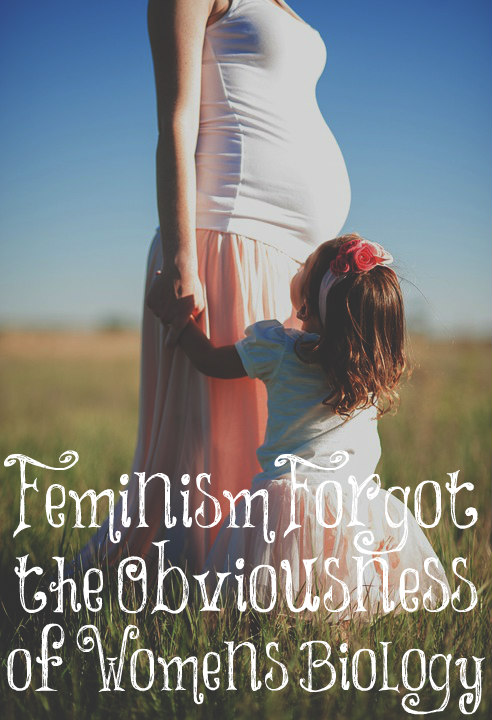 Joseph Spurgeon had a picture of himself with another man at a table with a sign that read, "Feminism Ruins Everything. Change My Mind." Of course, a lively discussion ensued and feminists were outraged. A woman named Zoe wrote, "I'm sorry you feel this way. Feminism is what gave women the right to vote. Isn't that a beautiful thing? Bringing women up, in the eyes of the government, to the same level of their male counterparts? What was ruined there?"
Joseph responded, "It ruined family solidarity. It has resulted in 60 million dead babies. The female vote put people in office that have no business near it. The push for women's suffrage came hand in hand with prohibition and the income tax." Zoe answered back, "Why should men be allowed to do things women can't? What gives you more inherent value?"
The discussion went back and forth and then a wise woman named Rebecca Nugent made this incredible comment that is worthy of a post of its own.
"Zoe, it seems that you are conflating two separate issues. No one is saying that women 'can't' be generals (or any other vocation mentioned). I'm sure that there are women who are quite competent in their field and can best many men. Dr. Jordan Peterson attests that more women succeed and are promoted in the field of law at a faster rate than most men. But just because a woman 'can' do something doesn't mean that it is always wise for her to do so.
"Dr. Peterson (who isn't a Christian) has found over his years of clinical study that women often outpace men in academia and in their field of study, but swaths of them are found wanting around the age of thirty. Why? Because the obviousness of biology catches up with them. They want marriage. They actually find that they DO want children (and often when it's too late). They want a more relational and nurturing existence. They want family.
"What feminism has preached is that women should be ashamed of agreeing with their biology and their psychological/physiological make up and pursue mightily things that go against their very nature. So, they live like men and spend the first two decades of adulthood denying the obviousness of their sex. They are more hardened like men. They are constantly out to 'prove themselves' like men.
"I'm an educated and cultured woman and have spent quite a bit of time in academia and surrounded by those who are entrenched in it. Honestly, I have yet to find one feminists (who has lived her life by the feminist play book) who is truly happy and fulfilled. Just about every woman who has looked out for 'number one' and pursued with all her might her passions and dreams has found herself to be alone and unhappy come middle age. And if she's not alone, she's in a relational situation that will either eventually leave her alone and bitter or in something that is certainly not God-honoring. Of, if she was able to have children, they are usually a mess and in chaos. No one here is saying that women CAN'T be things. The question is if whether or not it is WISE for her to be certain things to the detriment of her children and household.
"I spent many years during high school, undergrad, grad school, and in the early years of marriage working as a nanny. Most of these families had wives/mothers who were constantly 'tending to themselves,' whether it was via a career or just living a sort of Riley life. These were not happy homes with happy children. Across the board, it was so. The root of feminism is to get women to deny the obviousness of their sex, and it has mostly been a scourge on our society."
God certainly doesn't intend for women to compete with men but to be known for this:
But let it be the hidden man of the heart, in that which is not corruptible, even the ornament of a meek and quiet spirit, which is in the sight of God of great price.
1 Peter 3:4