Every Child Deserves to Have a Mother at Home
Every Child Deserves to Have a Mother at Home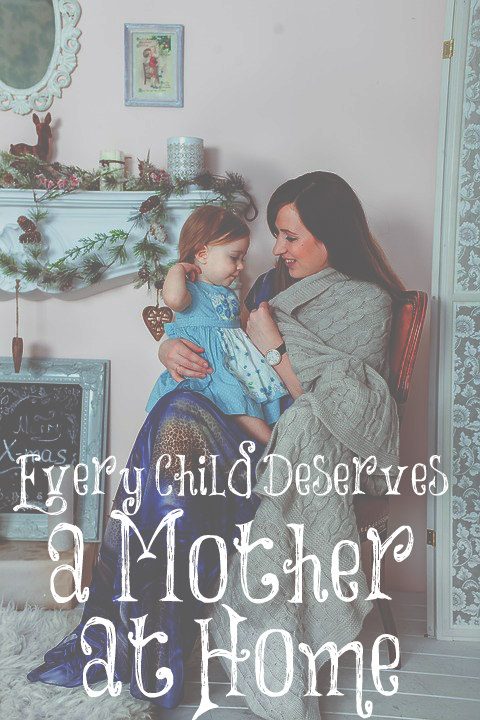 How have women been convinced that careers and money were more important than raising one's own children? That it's okay for children to be raised by strangers in day care and public schools? That it's okay for mothers to feel guilt and be exhausted at the end of every day by trying to "do it all"? That their children don't need a full-time mother? That besides having to make money, they still have the housework and caring for their families when they get home? That this is true freedom according to feminists?
God tells us that women are the weaker sex. He created us to be more sensitive and in tune with our feelings and emotions in order to be home with our children all day. But this doesn't mean that we, as wise and godly women, allow our feelings and emotions to control us. He didn't create us to be in the workforce all day, away from home and from our children. This is against our nature. He didn't create us to do it all.
Careers and money are not more important than raising one's own children. Careers and money aren't eternal. Children are. Their eternal souls should be the priority in our lives. It's not okay for children to be raised by strangers when God commands parents to raise their children in the nurture and the admonition of the Lord. The public schools sure aren't doing this and day cares can't possible discipline and train children in the way they should go.
The guilt mothers feel from leaving their children every day for their careers is from God. They are the ones that are called to be with their children. The guilt that full-time mothers feel for not making money is from culture and not from God. Their value is NOT in a career or paycheck. Being at home is right where the Lord wants them to be.
Women who are trying to "do it all," aren't doing it all. They can't. They can't work all day and then come home and be good wives and mothers. It's impossible. Something always suffers and it's most often the marriage which causes a lot of suffering for the children. Your lives at home with your children will give you plenty to do but you must know for a fact that this is God's ordained sphere for you and that godliness with contentment is great gain. No, it's not easy but nothing of great value ever comes easily.
Your children need you full time. Knowing that their mother is there for them will create great security for children. They will know that they are loved and cared for. That someone in the world cares enough about them to be there for them. This also creates emotional stability in them. There are so many emotionally unstable people these days because their mothers weren't home and they never had the security of being loved and care for.
Feminists have lied to you just as Satan lied to Eve. "Hath God said…" that women are to be keepers at home, they ask. "No, it doesn't mean you have to be home full time. It just means you have to take care of your home when you're home," they claim. They continue to twist Scripture to support their destructive ways. Everything that God commands for women, they twist it to mean something that God didn't intend at all. Yes, God does want women to be keepers at home. This is to be their sphere of work and where they minister to their families. Every home is a better home when it has a woman in it caring for it and for all who enter into it. Hard-working women make homes cozy, comfortable, and inviting. Every child deserves a mother at home to love and care for them. Be that mother for your children.
She looketh well to the ways of her household, and eateth not the bread of idleness.
Proverbs 31:27