Modesty in the Summer Months
Modesty in the Summer Months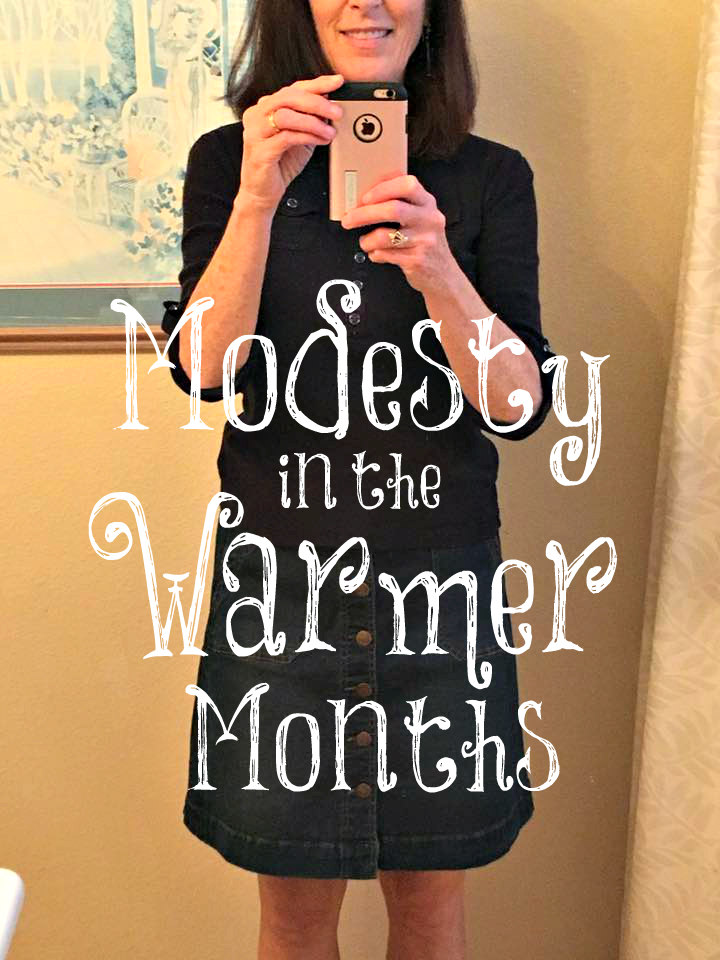 When I began writing this post, I meant to write about the undressing of women in the warmer months which is happening here in California. I decided to do a word study on the word 'modest' and did you know that it appears only one time in the Bible? "In like manner also, that women adorn themselves in modest apparel, with modesty and sobriety; not with braided hair, or gold, or pearls, or costly array" (1 Timothy 2:9).  Modest in the dictionary means "free from ostentation or showy extravagance." Since it appears only one time in the Word, I decided to go to the commentaries to see what the men of old had to say about it.
"Being present and taking part silently—avoiding especially in these services anything like a conspicuous dress or showy ornaments—anything, in fact, which would be likely to arouse attention, or distract the thoughts of others" (Elliot's Commentary). This verse about modesty appears in the context where the Apostle Paul is explaining worship in a church setting. Men are to lift holy hands; women are to adorn themselves in modest apparel and good works, learn in silence with subjection, and not teach nor be in authority over men.
Therefore, what we wear to church should not be anything that attracts attention to ourselves or distracts others from worship, but it seems that it should be this way in our daily lives, too, since our lives should be lived in worship to Him! (I do love how this commentary describes women in the church service; "being present and taking part silently." A good reminder for us all since this is a discipline women must learn and many are rebelling against today as we can see from all the women preachers on the scene.)
"What the apostle especially forbids is that immodest manner of dressing which is calculated to excite impure desires in the spectators, or a vain admiration of the beauty of those that use it: also that gaudiness or showiness of dress which proceeds from vanity, and nourishes vanity, wastes time and money, and so prevents many good works" (Benson Commentary). Our culture is obsessed with clothes. Our closets are packed full with them. Styles change often so we mistakenly believe we must too. Most of us spend way too much money on clothes and on ourselves, yet the Lord wants us to spend our time and money on good works instead. Let's not dress to attract undue attention from others since we are called to be shamefaced. The only thing that should attract others to ourselves is our joy and kindness towards them.
"Good works are the best ornament; these are, in the sight of God, of great price. Modesty and neatness are more to be consulted in garments than elegance and fashion. And it would be well if the professors of serious godliness were wholly free from vanity in dress. They should spend more time and money in relieving the sick and distressed, than in decorating themselves and their children. To do this in a manner unsuitable to their rank in life, and their profession of godliness, is sinful. These are not trifles, but Divine commands. The best ornaments for professors of godliness, are good works" (Matthew Henry). What are good works? Joyfully serving our families and taking good care of them. Helping those in need. Being generous with our time, money, and energy. Praying for others. It's being living sacrifices as the Lord has asked us to be. Let's learnt to care a lot more about this instead of how we look; for true beauty is the ornament of a meek and quiet spirit (being gentle and kind).
"A female may as truly violate the precepts of her religion by neglecting her personal appearance as by excessive attention to it. The true idea here is, that her attention to her appearance should be such that she will be offensive to no class of persons; such as to show that her mind is supremely fixed on higher and more important things, and such as to interfere with no duty which she owes, and no good which she can do, either by spending her time needlessly in personal adorning, or by lavishing that money for dress which might do good to others, or by neglecting the proprieties of her station, and making herself offensive to others" (Barnes' Notes). There needs to be balance. Yes, let's do our best to look neat and tidy. Our husbands do like us to look pretty and clean. Some women go to the opposite extreme and live in sweats and t-shirts all day without even fixing their hair. This is just as wrong as spending too much time and money on ourselves. We are daughters of the King and so let's look like it!
"Your appearance is the first thing people will notice about you and thus creates an impression of who you are and what your influence will be. You are often faced with a dilemma of choosing between contemporary fashion trends and the commitments to purity and holiness of your faith…Just as I assume that the label on a product is accurate, so God's Word challenges me to dress in such a way that my outward appearance is an accurate label for my character." (Pat Ennis)
But as he which hath called you is holy, so be ye holy in all manner of conversation.
1 Peter 1:15
***Now, onto dressing modestly for the warmer months! I found this skirt I'm wearing in the picture at Zappos. (It was on sale when I bought it and you have to buy it one size smaller than you usually wear.) I love it! It is so comfortable. The first time I wore it was on a walk near our home that Ken and I take every day. At the end of the walk, he said to me, "I like you a lot more in that skirt than in jeans!" I was actually surprised but happy since it's a lot more comfortable. (I wear these soft bike shorts under them for comfort and more modesty.) I used to wear shorts in the warmer months but I'm switching to wearing more dresses and skirts since I do believe they are more modest, especially as I grow older. How do you dress modestly in summer?