Most Devout Evangelicals Support Female Preachers?
Most Devout Evangelicals Support Female Preachers?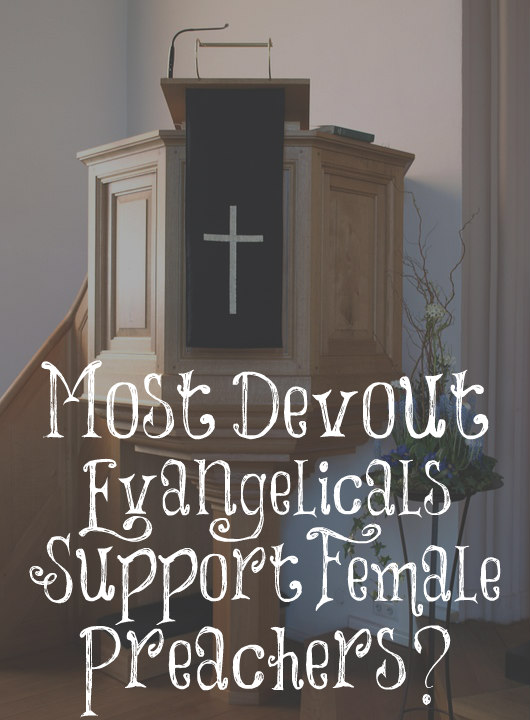 If you ever have a female behind a pulpit preaching a sermon, I encourage you to get up, leave, and never return. Find a church who holds to and obeys all of Scripture. Unfortunately, "three quarters of the most devout evangelicals believe that women should have a place behind the pulpit," according to an article in Christianity Today. Now I understand why I receive so much push back whenever I teach on this topic. Women are not to hold leadership positions in the churches!
God's Word is very clear that women are not to be in leadership positions in the churches. The deacons and elders (the God-ordained authority in the churches) are to be men; "the husband of one wife." What are women's roles in the churches? "Let your women keep silence in the churches: for it is not permitted unto them to speak; but they are commanded to be under obedience as also saith the law. And if they will learn any thing, let them ask their husbands at home: for it is a shame for women to speak in the church" (1 Corinthians 14:34, 35). "Let the woman learn in silence with all subjection" (1 Timothy 2:11).
There isn't ONE woman in the entire Bible who was in a leadership position in a church. The Church wasn't established until after Christ's resurrection, therefore, no women in the Old Testament had authority positions in a church. Junia was of "note among the apostles" so the apostles knew him/her (Romans 16:7). We don't even know if Junia was a man or a woman. There were only 12 apostles plus the apostle Paul. Junia was not an apostle. Jesus only chose men as His apostles. Priscilla was never said to have been in a leadership position in a church. Phoebe was a "servant of the church" and had no leadership position (Romans 16:1).
The reason that the majority of evangelical Christians accept female preachers/pastors is because they don't know the Bible and they aren't being taught truth regarding this matter from the pulpit. Some will ask me, "So what's the big deal?" The big deal is that it's in disobedience to God's Word, and as soon as one begins to compromise on God's commands, it's a slippery slope from there. That's a big deal!
There are two reasons given for women not being in leadership positions in 1 Timothy 2. One was that God made Adam first. He put Adam in charge and secondly, Eve was deceived. Women are more easily deceived as we see so many women following and wholeheartedly supporting female preachers, such as Beth Moore, Joyce Meyer, Christine Caine, Priscilla Shirer, and many more. (You can learn about all of these women and more HERE.)
Whenever I write about this, women will accuse me of preaching. For one thing, I am not in a church. I have never stood behind a pulpit and preached. I have no authority over anyone. I am teaching women the doctrines of biblical womanhood as commanded that I do in Titus 2:3-5. (I made a video on this topic HERE.)
What about 1 Corinthians 11:5 that commands women to cover their heads when they pray or prophecy? Does this mean they can speak in the churches? Here is what Gill's Exposition Commentary wrote about this verse: "But every woman that prayeth or prophesieth,…. Not that a woman was allowed to pray publicly in the congregation, and much less to preach or explain the word, for these things were not permitted them: see 1 Corinthians 14:34 but it designs any woman that joins in public worship with the minister in prayer, and attends on the hearing of the word preached, or sings the praises of God with the congregation, as we have seen, the word prophesying signifies, with her head uncovered."
God's Word never changes. It is the same yesterday, today, and forever. Women haven't changed since the Apostle Paul wrote his instructions about women in the churches either. "Women must stop believing the devil's lie that the only role of significance is that of leadership." (John MacArthur) Our roles in serving the churches, our families, neighbors, friends, and others is every bit as significant as any type of leadership position. Mothers, you are raising the next generation. What can be more important than that?
Through thy precepts I get understanding: therefore I hate every false way. Thy word is a lamp unto my feet, and a light unto my path.
Psalm 119:104,105