Mothers NEED Separation From Their Children to Grow?
Mothers NEED Separation From Their Children to Grow?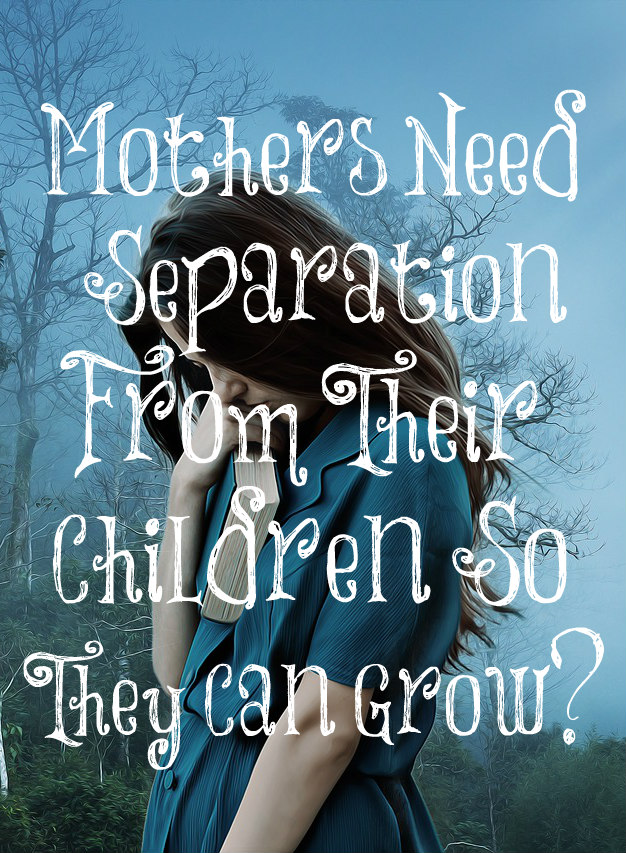 A young mother wrote this recently on her Instagram: "I feel sorry for any mother who can't get a break from their children. Having your kids 24/7 does NOT make you a great mother. It destroys you mentally, you need separation to grow." Not one thing about this statement is biblical, women. I shared this on my Instagram and women asked me if I would write about this since the mindset of "mom needs her own time/getaway" is very strong in our culture.
God commands young women to love their children and be keepers at home. He tells us that godliness with contentment is great gain. I attended a funeral last weekend of a godly woman. One of her daughters shared that while she was living in Norway, she grew depressed being at home with two little ones and the days were dark and rainy. She called her mom and her mom told her, "Motherhood is a private extravagance for Jesus Christ."
Yes, it's hard and monotonous but it's all a mindset. If you daily renew your minds with the truth of this extremely important job that God has giving to you, raising the next generation, then your attitude will change. You will see the value in the mundane. You will be thankful for the blessings that the Lord has entrusted into your care. You will be the one who wants to be with your own children 24/7 watching over them, training, disciplining, loving, and caring for them.
You see, young mothers, God has given you the power to raise happy, secure, and emotionally stable children or unhappy, insecure and emotionally unstable children. It depends upon how you raise them. I'm not telling you this to put a guilt trip upon you but to help you realize the importance of being a mother. God wants you to raise your children in the nurture and the admonition of the Lord and He wants you to protect them from this wicked generation.
I can tell you from experience that raising children isn't easy but oh, young women, the fruit is tremendous. I love my four children dearly. They bring me such joy and there are no greater treasures upon this earth to me than them. Yes, it took a ton of consistency, training, talking to, and work to raise those four children but I was always available to them. I was with them pretty much 24/7 and I wouldn't have wanted it any other way.
Your constant presence in your children's lives is the greatest gift you can give your children. One thing I do want to encourage you about is that you need to make sure your children know that you are the authority in your home, not them. My children went to bed early so I could have some alone time and with my husband. They were in their rooms an hour or so in the afternoon for naps or rest so I could rest. It's okay to want to have some alone time and be able to study God's Word (spending time in His Word is how you will actually grow!), rest, or do what you enjoy doing. There's nothing wrong with this and it helps recharge your batteries, but don't be upset if it doesn't always happen due to sickness or other things. Our lives will never go exactly as we planned. See those interruptions as divine interventions by God and use them wisely.
It also has a lot to do with how you were raised. My mom loved being home with us full time. We all knew she did. I loved being home with my children full time and they knew it. Some young mothers who don't want to go anywhere without their children. They love taking them everywhere and being with them. There's a good reason older women are commanded to teach young women to love their children and be keepers at home. Love your children enough to want to be with them and learn to enjoy them! They are blessings straight from the hands of God. Be a JOYFUL mother of children!
He maketh the barren woman to keep house, and to be a joyful mother of children. Praise ye the LORD.
Psalm 113:9