The Future is Female?
The Future is Female?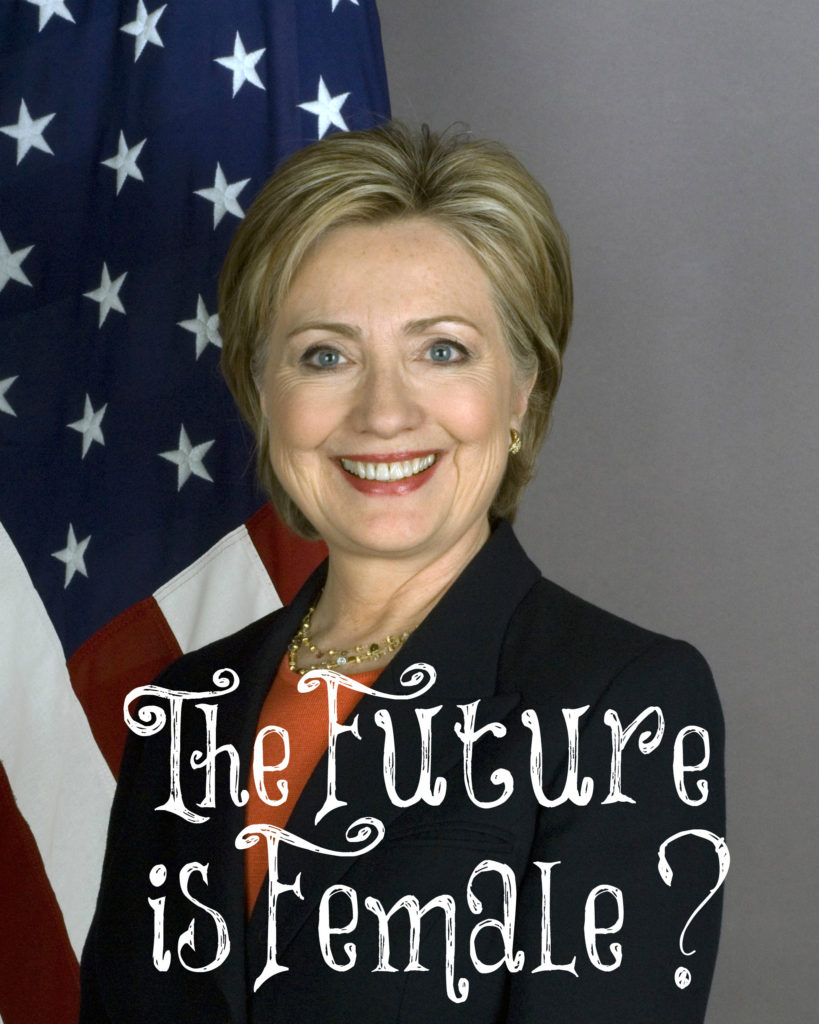 Hillary Clinton has just made a video and she proudly proclaims that "the future is female!" Then she goes on to say how wonderful the Women's March was last month. (You know, the one where women were bare chested with "NO GOD" printed on their chests, wearing vagina hats, and nailed bloody tampons to the wall.) "We need strong women to step out and speak up. We need you to dare greatly and lead boldly…Set an example for every woman out there who worries if our rights, opportunities, and values will endure. And remember, you are the heroes, the history makers, and the glass ceiling breakers of the future…" 
The future is female. I sure hope it is not. We live in the wealthiest country that has ever existed. Hillary almost became president barring a miracle it seemed. Women are senators, in the military, and do almost whatever they want today. Being raised and living in this culture right now, we are the most blessed women anywhere in the world and have the most opportunities but they are still dissatisfied and angry.
As for my people, children are their oppressors, and women rule over them. O my people, they which lead thee cause thee to err, and destroy the way of thy paths. (Isaiah 3:12) God created men first and He created them to be the leaders: Patriarchs, Kings, Prophets, Apostles, Authors of the Bible, and Priests were all men. This is God's perfect plan but Hillary and many like her want to rebel against everything that God says is good. This is the rebelliousness in women: to want to take control in marriages, churches, and in countries. Don't fall for it, women. Fall in line with God's perfect plan for you.
The rights women today are worried about being taken away are the rights to have their unborn babies murdered. Our constitution grants the right to life, yet the least and most innocent don't have this right. This is a cruel and evil fact in our country right now. I have no idea what opportunities she was speaking about since women can do everything a man can do now practically speaking. What values is she speaking about? The right for government paid abortions, free birth control, LGBQT rights, and same sex marriage possibly? Theses values aren't based upon the Word of God but upon a reprobate/depraved mind.
And just as they did not see fit to acknowledge God any longer, God gave them over to a depraved mind, to do those things which are not proper. (Romans 1:28)
Do you see how her values and all those like her are in opposition to God's values? A mother at home spending her life raising her children will have a much greater impact upon the next generation than anything Hillary proposes. This is why the Lord wants women to marry, bear children, and guide the home. He wants women raising their children in the nurture and the admonition of the Lord, meaning they are steeped in the Word of God, so there will be a strong and godly remnant for Him.
Jesus Christ has broken that glass ceiling for us, women. We have complete access to God the Father whenever we want to go to the throne room of grace. We don't need godless women to do this for us in their God-forsaken way. We have all we need to live an abundant life because we have Jesus Christ who paid the penalty for our sin, filled us with His Spirit, and has given us many precious promises. Your work in your home with your children and as a help meet to your husband is beautiful in His sight. Never forget this. Turn off the lies of this culture and dig into the living and active Word of God.
Do all things without murmurings and disputings: That ye may be blameless and harmless, the sons of God, without rebuke, in the midst of a crooked and perverse nation, among whom ye shine as lights in the world.
Philippians 2:14, 15