My Three Wives
My Three Wives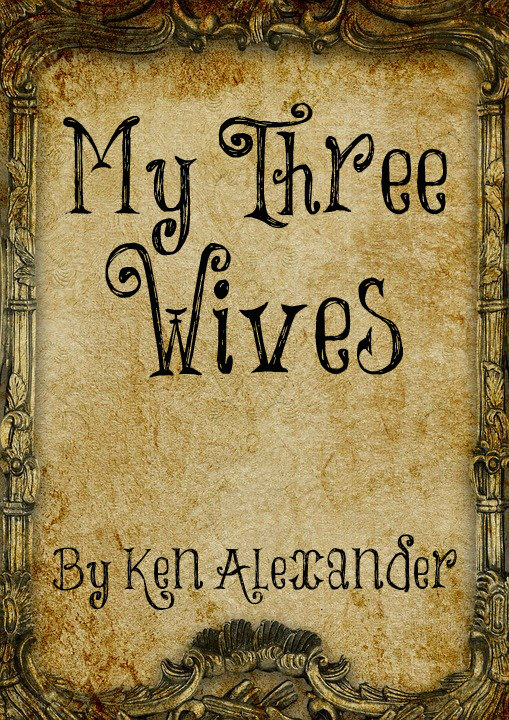 Written By Ken Alexander
On one of our regular two-mile walks yesterday, we ran into a neighbor who began talking about someone who had ten children from three different wives. Ken exclaimed, "Oh, I have been married for 39 years to three different women too!" The man gently patted me on the shoulder and asked, "How you doing?"  Let me tell you about my three wives.
My first wife was very cute and feisty and I reveled at the challenge to compete with her as we bantered back and forth with funny, and sometimes hard-hitting quips. It seems that both of us spoke our mind easily, especially if we didn't like something that was happening in the relationship or in the home. This first wife seemed very hard to figure out what would please her as there were more frowns and pouts on her face than times of joy. The sex was great, but the next thing you know, I had done something wrong again and was paying the penalty until I apologized. I found myself apologizing a lot, especially right before bed time, living under the adage, "Do not let the sun go down on your anger." As the leader of my marriage (Ha!), I had to go make things right and just eat it, even if I wasn't wrong just to make sure the marriage stayed on track.
Somewhere about the seven-year mark, I was listening to a Christian radio show about marriage and the light bulb went off. I thought to myself, "A guy like me can be wrong, but can I be wrong all the time?" Can I be so inept in my marriage that I am always feeling like I am in trouble, or does the problem lie elsewhere? I decided it was time to try and stop living as if I was always wrong and instead just step out and live my own life in my home, even if my wife was not happy about what I ate, when I went to bed, what I watched on TV, and my work schedule. I began to say to my first wife, "You are right, but you're wrong." After all, it was not that she was wrong much, but it was wrong to try to make me live the life she thought would be best to try in order to make me more healthy or successful.
This first wife had lots of cheerleaders as I would hear from her that her sisters and friends agreed with her that I just was not living my life the way I should. So, of course, she had to take the reigns of the relationship and try to control me for my own good, or so she thought. Being an elder in the Church at a young age and wildly successful by any worldly standards proved not enough to satisfy the desires to control built into my feminist taught first wife.
At eight years into marriage, I lost my first wife. I had had enough of being wrong all the time so I just started living a separate life and watched my wife change into a new person. I was traveling much of the year and she was sick much of the time, so like two ships passing in the night, we raised four children together by God's grace in the Church. We found a common bond in our faith and our children, and we were both on the same page about how intentional we needed to be to show our children the joy of the Lord and instill His Word and love into their little hearts and minds. She was super woman who even on her most difficult and painful days would pile the kids in the car for sports, ballet, and especially weekly AWANA Bible memorization. We went from doctor to doctor trying to find a diagnosis and cure for the many things that ailed her. My most vivid memory is the smiles she would give me with her hollowed out eyes in pain as her four children played on her sick bed with her.
My marriage to my second wife did not have the same degree of intense upsets as with my first wife, after all if you are traveling 40 percent of the time and she is sick much of the rest, how much fighting can you do? This wife gave far fewer frowns, moods or crying as she knew it would have little impact on a silent ship slipping through the night. We both hit each other with quips when we didn't like something and any true connection was being lost to the patterns of life we were now living. It took me years to realize that what we lived in was type of "Détente." You know, when Russia and the USA had their missiles aimed at each other for years just ready to go off, but always seeming to avoid pushing the final button.
With my second wife, I became convinced that it was not all my fault, so I sought out answers from my career minister Dad, my own pastor, books, and even psychology trying to figure out how to get my second wife from an uneasy peace to a point of true intimacy. I felt that I had always had a soft heart and I loved the closeness I saw in my Mom and Dad where Mom seemed to adore this man who could do no wrong. Never an argument in front of the kids, lots of PDA, laughter and joy, with most of it coming from Mom and not from a very busy Dad. But they were truly connected and I so badly wanted that connection with my beautiful wife.
The challenge was on and we both seemed to want something more from our marriage so we booked some appointments with my wife's family's Christian counselor. We were the last to arrive at his door but he already seemed to know a lot about us. It only took three sessions with him for my second wife to know that she wanted no more of it. But one thing he said that was very profound and stuck with me even to this day: "Lori, have you ever considered that true intimacy comes from loving and accepting each other just the way you are without trying to change the other?"
My second wife was much calmer than the first and willing to work with me to try and have a deeper, more meaningful marriage. According to her, all I had to do was… 1, 2, 3, 4 things differently and we could have an intimate marriage. None of what she was asking for was hard to do. Pick up the newspaper after reading it, squeegee down the shower, go on long walks with her, be nice to her; each one I tried to check off the list in order to get to the intimacy and deep connections I longed for. Then I found the list would change and the target kept eluding me. "If only you would…" The missiles were rarely fired, but the uneasiness knowing that they could go off in any instant was always with us. I felt inept and as a failure in my own marriage, and not for a lack of trying to please my wife.
Finally, one day after a long hand-in-hand walk of arguing I did what I had told myself I would never do… I played the submission card. Yes, I had convinced myself that no husband worth his salt would ever tell his wife that she was to be submissive to him. No matter how many times we would disagree or get upset, I knew she knew that God had asked her to be submissive, so to play that card would be cruel and unkind I thought. Yet, I had tried everything to get her to see that the root of our marriage problem was not me, but rather her own inability to be vulnerable. Staying in control was a way to keep her from having to give up the fear that she may not get what she wanted and felt she needed from her man and marriage.
"You do know God asks you to be submissive to me," I calmly said as gently as I could. With that she threw my hand down and turned and stared at me square in the eyes and said, "I know, but you can't make me!" I started walking again as I responded, "I know, but you need to talk to God about that."
Three months later, I lost my second wife. I am not sure if it was my truthful comment that she took to heart and took it to God, or if it was just God's mighty work, but three months later my wife died and was resurrected as The Transformed Wife. She read "Created to Be His Help Meet" and something in that book "spanked her" as she says it, and she was devastated having all this time thinking she was a good wife who was submissive, but coming to realize that she was picking and choosing what things to be submissive in and what things "Ken really needs my help to change him."
I have been married to my third wife for about 18 years now and I must say she makes me so very happy. Ironically, I probably do more of the things she wanted me to change in than ever before, but the change in me comes from wanting to please this joyful woman who is willing to accept me and love me just the way I am. She knows how I feel about things and when we disagree, I invite her to speak her mind, yet she disciplines herself to be okay with whatever I decide. I want a terrific, intimate relationship so of course I am trying to please my wife, but now the targets rarely change, because she is happy and content, not feeling like she needs more "honey do's" or "Ken changes" to make her happy. Her trust and joy is in God and His Word which she believes fully and lives out fully to please her Lord Jesus, and in turn her husband is thrilled to live in harmony with her.
So I have been married to three different wives, but the same woman. We have had a long journey of love together and our level of connectedness and intimacy is through the roof! She makes me so very happy and although the first twenty years of marriage were tough ones, I am so happy that we stuck it out together, and thrilled that we found the answers by becoming obedient to God's Word. And if you think all is just perfect it is not. Her health is always in jeopardy and her brain tumor is growing again, but her joy through her anxious thoughts is remarkable.
Can you imagine how many Christian marriages can be completely transformed if both spouses choose to do all things Christian in their marriage? This means a loving, kind, considerate leader of a husband and a joyful, meek, modest and submissive wife who are both seeking to please each other as they please the Lord first and foremost in their lives. I can't wait to see the fourth wife God sends my way and I do hope and pray it will be in the body of the same beautiful, feisty, strong-willed woman I married. For I still love that girl dearly, and even more now than the day I married her, because we both now know what true love and intimacy is all about. Lovingly accepting each other for who we are, all the while moving towards becoming as husband and wife more and more like Jesus asks of us, for His honor and glory, and no longer our own selfish ends.
So many of our churches are turning to psychology and communications skills to try and put a Band-Aid on countless Christian marriages where husband and wife are living on eggshells wondering when the next quip or bomb will explode. Our Churches have given up trusting God at His Word for the prescription for marriage preferring the World's way, and hence why the divorce rate in the Church is just below the World's. We challenge you, Christian, to begin to live up to your name and "do all things Christian in your marriage." It can revolutionize any relationship when you stop putting self-first and start ministering love, joy, peace, patience, kindness, and hope to your spouse. Will you join us today and discover the many rewards for marriage that God has in store for those who want to do it according to the instruction manual He has left us? Take it from us, it is fantastic to be at peace and joy with the one you vowed to love "til death do us part." Your whole world changes when peace, love, and joy reigns brightly in Christ in your marriage.
Love is patient, love is kind and is not jealous; love does not brag and is not arrogant, does not act unbecomingly; it does not seek its own, is not provoked, does not take into account a wrong suffered, does not rejoice in unrighteousness, but rejoices with the truth; bears all things, believes all things, hopes all things, endures all things. Love never fails.
1 Corinthians 13:4-8