One Long Temper Tantrum
One Long Temper Tantrum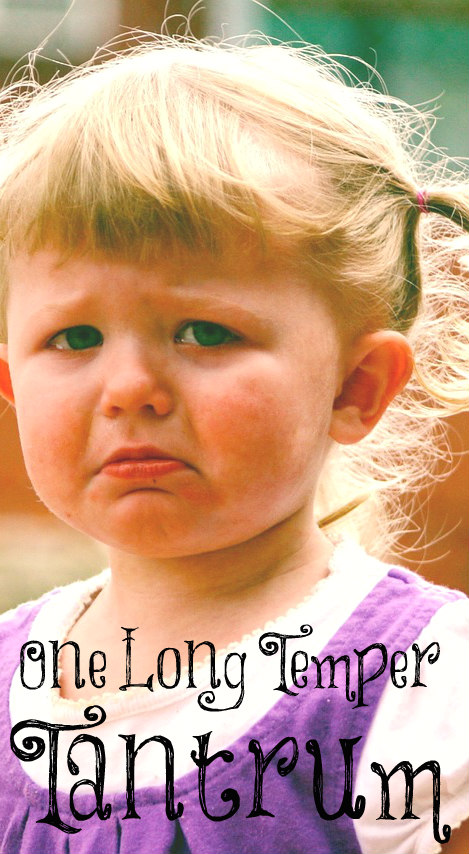 Written By Ken
These past few years as Lori has been blogging she gets men who write looking for help with their difficult wives and she asks me if I can help. One of the things I have discovered is that although the behavior of these wives shows various levels of disdain for their husbands, the root of the contempt is often hurts from their past that get triggered leading to one long temper tantrum against their husbands lasting weeks, months, and for some years.
Bitterness is an evil pill to swallow because once it gets its roots into the life of a person it will grab a hold of many unrelated justifications that make it nearly impossible for any counselor to unravel the twisted thoughts of their minds. There is hope to remove the bitterness from one's life and it is as simple as letting it go. Note that I did not say it was easy, but I did say it was simple. There is no magic pill that can be swallowed, nor a hundred counseling sessions that can do what an honest heart can choose to do at any moment and let it go. Any one of us can take our thoughts captive by grabbing a hold of the negative thoughts we are thinking and place them on the cross for Christ to heal. It begins by acknowledging the truth about oneself and one's bitterness. Admit: 
"I am bitter towards my spouse. I keep making excuses why I am not kind, why I do not desire intimacy and why I keep him/her at a distance from me, but the real problem lies in my heart. I am bitter towards my husband/wife, and worse than that, I have come to enjoy holding onto my bitterness and do not want to let it go. I have been hurt in the past and I want him/her to hurt with me. I am not living according to God's will in my life and God's Spirit has been quenched for a long time. I need to pluck out the root of bitterness from my heart and mind and hand it over to Jesus who can heal me of my sins. They may have at one time been sins committed against me, but they are now all mine."
It's that simple. To release oneself from the bondage of bitterness one must let it go and give it to the Lord. We are told that "the LORD searches every heart and understands every desire and every thought. If you seek him, he will be found by you; but if you forsake him, he will reject you forever." He knows what is in our hearts already. He knows our fears, our desires, our hurts and our pains. He knows every single thing about us, and yet some think they can compartmentalize their lives and hold onto both Jesus and bitterness at the same time. Be careful that you not become the end of the promise and be rejected by God forever.
The men I am presently coaching are married to wives who profess to be Christians and yet to watch their wives' hateful behavior toward their husbands one can find no fruit in their marriage, except for the innocent children caught in the crossfires. The way these wives treat their husbands would not be fit for any marriage, let alone a Christian one. 
One in particular is so messed up by her bitterness that she is constantly lashing out at him and he can do nothing right. If you were to trace the root of the bitterness back it is mainly found in her childhood relationship with an angry Dad, but certainly she feels she deserves a better spot in life as finances are short and the fruit of her own labor scarce. Working 2-3 jobs with long 60 hour weeks, this poor husband comes home to a disaster of a home, nothing picked up or vacuumed, no food on the table and dishes everywhere. If he says anything about it, he is lucky if he just gets an argument or snide remark as he regularly gets a profanity-laced tongue lashing with one irrational comment after another. One moment she says she hates him and at other times she begs for his help. She is unwilling to see her own stubborn bitterness as what is destroying her life and her marriage.
And as you can guess, intimacy is rarely shared anymore in these homes, with one poor soul not even able to touch his wife or hug her without her getting all upset if he touches her with kindness. Here is a good looking, kind, thoughtful and most of all a godly guy, who has set about for over a year to try and win a marriage back. He has paid for a years' worth of couple counseling and all he has to show for it is a wife who tells him he is "rushing things" no matter how he tries to connect with her. She has this warped idea that somehow he is being controlling when he asks her to be a wife to him and have food on the table at least a few evenings a week, and sex once or twice a month. His counselor says he needs to be patient and she acknowledges his efforts. She cannot define her needs or put them in writing, he is just told to be patient as she treats him like an island in his own home.
What we are witnessing is God's Word on the matter that says bitterness makes people into fools, corrosively defiling them and those around them:  
Be not quick in your spirit to become angry, for anger lodges in the bosom of fools. (Ecclesiastes 7:9)
See to it that no one fails to obtain the grace of God; that no root of bitterness springs up and causes trouble, and by it many become defiled.
(Hebrews 12:15)
These are most miserable women and they all share one unique characteristic of an unwillingness to let go of their bitterness. And what we are seeing in these marriages is exactly what the Pearls have said they see. Once the bitterness takes root, these women are then moving into mental/emotional diseases.
Got Questions has a good summary on the subject:  "In its figurative sense bitterness refers to a mental or emotional state that corrodes or "eats away at." Bitterness can affect one experiencing profound grief or anything which acts on the mind in the way poison acts on the body. Bitterness is that state of mind which willfully holds on to angry feelings, ready to take offense, able to break out in anger at any moment. The foremost danger in succumbing to bitterness and allowing it to rule our hearts is that it is a spirit that refuses reconciliation."
When I begin coaching husbands with difficult wives I am always hopeful that their Christian marriage will find a way to move forward into healthy patterns. The beginning of the process is to first be sure that you, as the husband, are not the problem but instead trying to be loving, respectful and considerate towards their wives while making few requests of them.
Be kind, gentle, smiling, and enjoyable.
Never lash out or do anything that is unchristian in your home towards her.
Talk to your wife in an honest and inquisitive way, asking her if there are three things that you could change that would significantly improve your marriage and make a difference about the way she sees in you, what would they be, then go about trying to do those things as best you can the next month or two to see how it helps.
Make no demands of her; help around the house; do anything and everything to see if you are the problem. At times, this works to unlock a difficult wife or one upset over the relationship. But if bitterness is at the root of the problem, no matter what you do she will twist and turn it to make you into her punching bag because she needs you to be upset with her so she can justify staying in her box of bitterness. 
Yes, it's all backwards from what God's Word says with the husband almost taking on a wife's role, but hey, if Jesus can give up His throne for a little while to come live among sinful men, and show them how perfectly one can live, then a husband who loves his wife can, for a time, do anything and everything in his power to show her that he indeed loves her and wants to make a healthy marriage with her. For that matter, many wives have never been modeled what true service and love looks like, so showing them what they can and should do for you is not a bad way to help move a marriage forward.
Unfortunately, when a wife is trapped in her box of bitterness and cannot get out, all that happens when a husband loves her more and serves her seems to be a short period of peace with a self-righteous woman. Then the accusations, foul language and slander begin again and it becomes unbearable at times. Along side the light of a husband's true love a bitter wife's meanness is exposed to the light and she has a choice to let it go, or hold on more tightly. If these were women receiving the snide remarks and behavior these wives give to their husbands we would have many crying "Abuse! Abuse!" And it certainly does border on mental/emotional abuse with these guys leaning on the Lord to pick them up and keep them on their journey to try and be Jesus to their broken wives.
No matter how kind, how loving and considerate these guys will be, the bitterness their wives defiles them and their families day in and day out. We are watching them sink more and more into mental and emotional illness until a perfectly healthy woman will get a label of disease put upon her; BPD, Bipolar, Depression. You bet! For you cannot for long periods of time allow the corrosive effects of bitterness to stay in your heart and mind without it remapping the brain to a point where it no longer accepts logic or love as answers.
Worse yet, how can the Spirit of God work within a person who refuses to give up her bitterness, but prefers to wallow in it? One cannot violate their own stated values day in and day out without becoming very messed up mentally and emotionally. Strangely some are so sure they are good Christian people and can go regularly to Bible Study, post wonderful things about the Lord on-line, some even in Lori's Chat Room, yet they live in a marriage where they treat their husbands worse than their dog. And sadly, this is no exaggeration.
Pastors are impotent in these circumstances with no time for the "he said, she said" stories trying to figure out the truth. These people are very sick, and I do not know how many of them there are across our country attending the local church each Sunday with their husbands, but Jesus calls them hypocrites, "whitewashed tombs, which outwardly appear beautiful, but within are full of dead people's bones and all uncleanness" (Matt 23:27).
Such hypocrisy is not exclusive to wives as there are husbands doing the same things; bitter, angry, aloof, and withholding intimacy and affection from a poor starving soul who all they wanted was a real marriage. Bitterness is not exclusive to women, but it does seem that once a woman grabs a hold of it, it is much harder for her to release it than a man.
So what is the answer and where do these Christians go from here? The answer lies in doing things God's ways and allowing His Spirit into the closed box of bitterness that is the root of the problem. The person must let it go in an instant and hand it to God to heal the wounds, many of which may be self-inflicted. Perhaps the entire prescription is here where God says to:
Humble yourselves, therefore, under God's mighty hand, so that in due time He may exalt you. Cast your cares upon Him, because He cares for you. Be sober-minded and alert. Your adversary the devil prowls around like a roaring lion, seeking someone to devour. (1 Peter 5:6-8)
When sin has taken such long-term root the solution begins with humility and acknowledging our sin to ourselves, our God and those we have harmed. We must cast all of our cares on Jesus, and let him have the whole box of bitter root that is defiling us.
Please Christian, if you think that your unforgiving heart is not being corroded away by bitterness, think again. That devil is out to mangle your mind and he is doing so in thousands of Christian households today in spouses who are refusing to give up their anger and bitterness. Are you angry over something with your spouse today?
And whenever you stand praying, forgive, if you have anything against anyone, so that your Father also who is in heaven may forgive you your trespasses. (Mark 11:25)
Go to your spouse and with humility ask for forgiveness for your part of the messed-up marriage, even if he/she has fault. You cannot change them, but you can allow God to change your heart so that your bitter suffering will end.
Then have them do what all must do in any relationship as we are going up into Christ: We destroy arguments and every lofty opinion raised against the knowledge of God, and take every thought captive to obey Christ (2 Corinthians 10:5).
It is your thought life that is the root of the problem as the lies of Satan are propped up by all your arguments and justifications. Only when we stop justifying our sinful behavior and see it as it is, ugly sin, will be ever be able to get out of our bitter box and not be pushed back in. That devil will tempt you the very next hour, next day or next week with some major blow up where you will want to run back to your bitterness and get entangled again with sin. You can say "NO!" to sin and "YES!" to righteousness, taking every though captive that tries to point you back to bitterness against your spouse. You don't have to go explore your past, but you must be committed to a future without your corrosive negatively.
Once out of the bitterness, and having laid it aside, I propose something perhaps radical to you, but it gets to the heart of the matter. We can simply decide one day to give up our bitterness, but we need help and accountability from those who love us to keep us from returning to it. After we have tearfully begged for forgiveness from those who we have defiled we must by true repentance show them that we are no longer bitter by going out of our way to smile and be joyful around them. We must find ways to serve them and prove that we are now on their side. If you sit back and do not take any different path, you will never heal the heart of others you have defiled.
The greatest change will take place not the first time you ask for forgiveness, but when you go back again the next day, the next week and the next month to say, "Hey, I really am sorry about the things I did to you and I do need you to forgive me. Tell me how can I help you with some housework as my consequences;" or "Can I give you the best sex of your life to show you how much I appreciate you standing by me all those difficult years?" Yes, these would be the two best ways to show a a wife or husband that you love them and feel great remorse for the pain you put them through. After all, there really should be consequences when we treat our spouse so cruelly, especially for so long. Call it penance, which God does not require, but others often do want to see it to understand that your new found life is for real.
Please pray for the husbands who I am coaching. There are four of them now who are really hurting and wondering why they are staying with their rebellious wives, except for their commitment to love God and do things His ways, not wanting to leave their children in the hands of messed of moms. May the Spirit touch these wives and convict them so that they may repent. Only then may they find the love and blessings of their hearts being met by God through loving their husbands. No longer their enemy, but now their lifelong friend.  
I am grateful that Lori, although being difficult with me for years, never allowed bitterness in her life. It would have been easy for her to justify as health issues and a husband seeking success made for a hard life. Not all difficult wives are bitter, but if they are not careful, any real or perceived imperfection in a husband can take root and destroy a relationship, and in turn their whole lives. Decide never to let that be you, for bitterness is exceedingly ugly and sinful.
It is better to dwell in the corner of the housetop, than with a brawling woman in a large house.
Proverbs 21:9