Wifely Submission as it is Fit in the Lord
Wifely Submission as it is Fit in the Lord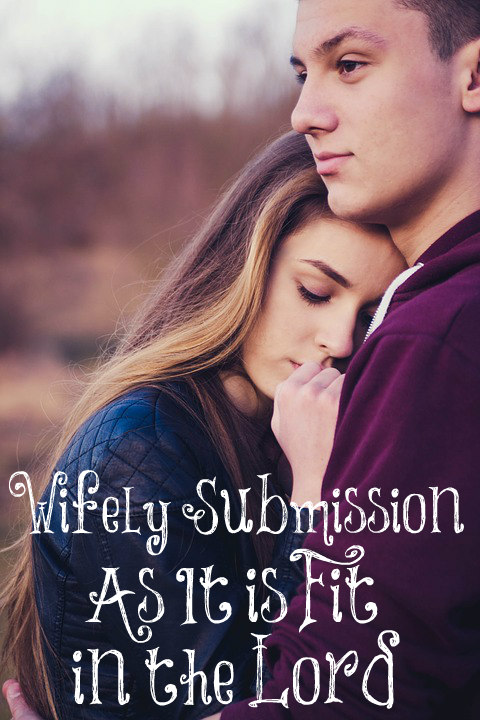 "Wives, submit yourselves unto your own husbands, as it is fit in the Lord" (Colossians 3:18). I love reading and studying the Word every morning. Something new always gets my attention and yesterday morning "as it is fit in the Lord" popped out at me so I looked to see what Gill's Exposition of the Entire Bible had to say about this phrase. (You can't imagine, well yes you can, how much women fight us on this biblical concept!)
"…as it is fit in the Lord; that is, Christ, as the Syriac version reads it. Subjection of wives to their own husbands is 'fit' and proper in its own nature, by reason of the original creation of man, and of the woman from him: man was made first, and then the woman; and the woman was made out of the man, out of one of his ribs; and so, though not to be trampled under his feet, but to be by his side, and an help meet to him, yet not to be head, or to rule over him."
I love this! There is so much in creation that shows the clear order between men and women. Man was made first for a reason. God created man in His own image (So God created man in his own image, in the image of God created he him – Genesis 1:27) and then saw that man needed a help meet, not an equal (meaning same) but someone who could help him in life by making his life better, easier, and more enjoyable. Do you make your husband's life better, easier, and more enjoyable? Women were not created to be the head over men or rule them. It's out of God's created order and is not fit in the Lord, so it will never produce good fruit.
"Moreover, the woman was made for the man, and not the man for the woman; add to this, that the woman was in the transgression, and the means of the fall of man, which gave a fresh reason for, and made the obligation to subjection to him the stronger:"
Women are more easily deceived. This is a fact. Car salesmen or any salesmen are happier when trying to sell to a woman than a man. Who do you think are buying all those gadgets on the TV advertisements? "Women buy more than 80 percent of all U.S. goods and services."  Wise women know that they are more easily deceived, therefore, they should want to be in subjection to their husbands who are not as easily deceived. This is for their protection!
"…and it is also a 'decent' and becoming thing for wives to be subject to their husbands; for as it is giving honour to them, it is a real ornament to themselves, and is one of those good works which women professing godliness should adorn themselves with; and makes more comely and beautiful than broidered hair; gold, pearls, or costly array, yea, than their natural favour and beauty:"
Do you want to be known as a holy woman? Do you want others to know that you love the Lord and can clearly see His work in you? Did you know that by being subject to your husband you are adorning yourself and making your husband look good in the eyes of others? For after this manner in the old time the holy women also, who trusted in God, adorned themselves, being in subjection unto their own husbands (1 Peter 3:5). This is what makes a woman lovely not only to her husband but to others.
I have seen elaborately decorated woman who were rebellious to their husbands and all of their finery didn't profit them at all. Then there are women like Debi Pearl who doesn't wear makeup or finery yet is beautiful in the way that she is submissive to her husband. I have met her and she is a joyful woman who delights in pleasing her husband. I am sure all of you have seen women like this. They respectfully listen when their husbands talk without interrupting. They smile at them often. They praise them and are affectionate with them.
Then there are women who rolls their eyes when their husband's talk, interrupts and corrects them, and shows disdain for their husbands. You can clearly see who the truly beautiful woman is between these two types of women. Do you adorn yourself and bring honor to your husband by being in subjection to him?
"…it is what is fitting 'in the Lord': it is what he requires, not only what the law of God requires, see 1 Corinthians 14:34 and which was enjoined originally, see Genesis 3:16 and was charged as a duty under the legal dispensation; but is what is commanded by Christ under the Gospel dispensation, and is to be observed by all those that are 'in' him, that profess to be new creatures, converted persons, that so the word of God be not blasphemed, and the enemy have no occasion to reproach."
Do you understand what Christ has done for you? If not, study Romans and learn, then decide to live lives worthy of Him. If you are a believer in Christ Jesus, you are in Him and new creatures in Christ. God requires you, as His child, to live in subjection to your husband. If you are not living wholeheartedly in subjection to your husband, you are acting evil against the Word of God. You are showing to a lost world that God is powerless to transform His children. You are pushing others away from knowing the Lord instead of drawing them towards Him. We are to shine the light of Christ to others and one way we do this, women, is by living in subjection to our husbands in everything.
"…see Titus 2:5 though this phrase may also be considered as a restriction and limitation of this subjection; that though it reaches to all things, yet only to such as are agreeable to the will of the Lord, and not contrary to the Gospel of Christ; for in these they are not to be subject to them, but to Christ the Lord; but in all other things they are, even as the church is subject to Christ: and when this is the case, such subjection is regarded by Christ as if it was done to himself; and indeed his honour and glory should be the governing view in it; see Ephesians 5:22."
I am not sure how Titus 2:5 shows a restriction to our subjection to our husbands but yes, if they ask us to participate in evil which is clearly against the Word of God, we are not to participate since Christ is our ultimate authority, although I can tell you that in the thirteen years I have been mentoring women not one woman has told me that her husband has commanded her to do evil.
One woman in the chat room has a husband who wants her to buy him beer and she doesn't want to do this but I told her she must since buying beer isn't evil. If he had asked her to watch porn with him, rob a bank, or get into a car when he is drunk and wants to drive, then she can refuse but make sure that she is obeying him in everything else. Look at Sarah, she even obeyed Abraham twice when he told her to lie and say she was his sister, then she was put into the Kings' harem!
The majority of husbands aren't asking their wives to commit evil. They would like a clean and tidy home, yummy meals to be served, their children to be disciplined and trained, their wives to look pretty, be treated with kindness and respect, and enjoy having sexual relations with them. This is what most husbands would love from their wives. So instead of focusing on all the things you shouldn't submit to your husband, as many love to do these days, focus on all the ways you should be submitting to your husband in everything instead.
Therefore as the church is subject unto Christ, so let the wives be to their own husbands in every thing.
Ephesians 5:24