Our Time is in His Hands
Our Time is in His Hands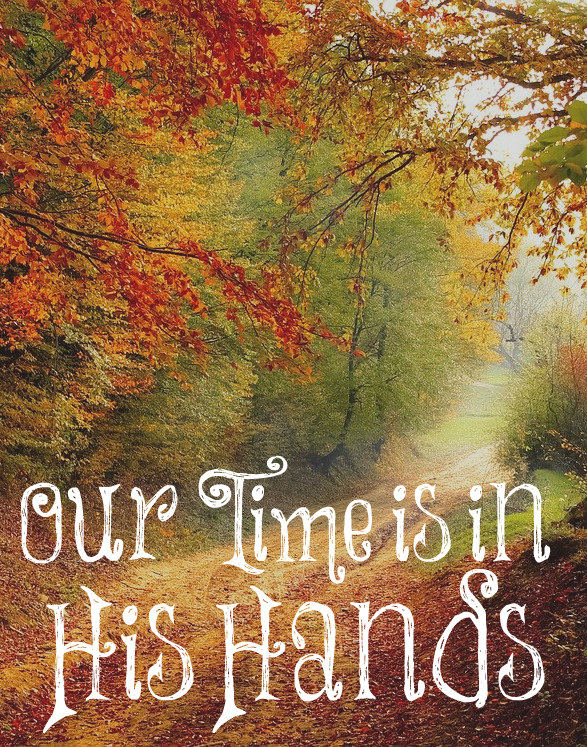 Yesterday, I found out that my brain tumor is growing again. It was disheartening news to say the least, but I do know that my time is in His hands (Psalm 31:15). God is good and His plan for me is good regardless of what that means for me (Romans 8:28).
It's been an almost 17 year journey with this pesky brain tumor now. It began when I was 45 years old when I had my first brain surgery. They were able to remove it all but it grew completely back nine years later so I had to have another brain surgery. It's a meningioma which is not cancer, but it can still be deadly. The substance of it had changed the second time and the surgeon was only able to get a small portion of the tumor, so I had to go for five days of Cyber Knife. This time, I will go for 25 days of something similar. It is so many more days since they can't give me such high doses of radiation, because I have already had it once.
This tumor was most likely caused by trauma I endured at 18 years old when I ran full speed into a sliding door, thinking it was open. I was thrown back onto my back and it broke my nose in three places between my eyes. The pituitary region, where my tumor is growing, sits right back behind this. Many tumors are from trauma. It's a unique place to have this type of tumor.
I wasn't having any symptoms from it this time like I was the past two times when I was very sick. I had no idea it had begun to grow again until I had my follow-up MRI the other day.
The past three months have been extremely busy for me helping my children and their grandchildren. It's been a lot harder to be able to study and write for my blog and social media since I have little time to myself. I love helping and being with my family. There's nothing else I would rather do! With my twelfth grandbaby on the way, I am very blessed.
I am not sure how much I will be writing in the next few months. I love to study, write, and teach women biblical womanhood but I have a lot on my plate now. I know I won't stop until the Lord stops me. This radiation can cause blindness and other side effects. The only side effect I had from the last one was a loss of my tear ducts working and massive headaches for a while afterwards.
If you are inclined to pray for me, I ask that you pray that I am not anxious about these treatments. They make a mask for my face and strap it tightly to the table I am lying on. Then I have to lay there still for the amount of time of radiation. I would love to have a peace about this process this time. I also ask that all of this radiation I have endured and will endure won't cause brain cancer. Lastly, that this time will prevent the tumor from ever growing back.
"Be careful for nothing; but in every thing by prayer and supplication with thanksgiving let your requests be made known unto God" (Philippians 4:6). This is the verse that has been running through my head ever since the doctor told me it was growing again yesterday. Instead of being anxious and worried about what the future holds, I lay my requests at the Lord's feet and trust that He is in control.
"Every millisecond of your pain is producing a peculiar glory you will get because of it" (John Piper). I read this on John Piper's site last night. It's important through our struggles to take every thought captive to the obedience in Christ and continue to walk by faith instead of by fear.
For which cause we faint not; but though our outward man perish, yet the inward man is renewed day by day. For our light affliction, which is but for a moment, worketh for us a far more exceeding and eternal weight of glory.
2 Corinthians 4:16,17