Playing Russian Roulette With Your Children
Playing Russian Roulette With Your Children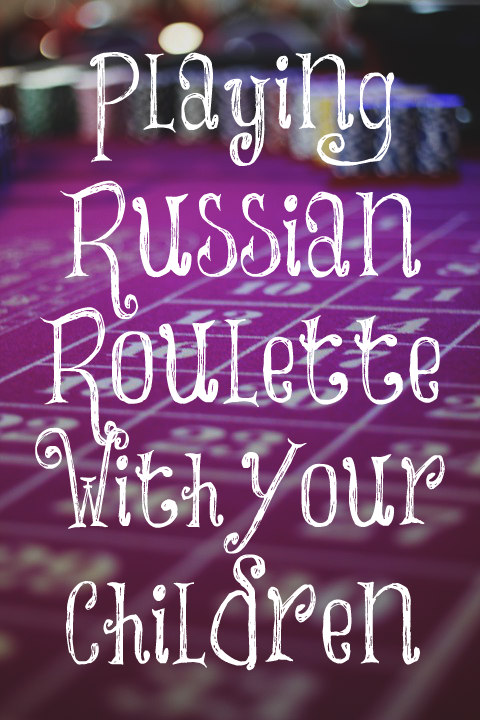 For some reason, the goal of higher education and having a career never appealed to me when I was young even though I attended public schools most of my childhood. When the other girls were talking about what they wanted to be when they grew up, all I could think about was wanting to be a wife and a mother. I did attend college, however, because this is what young women were and are supposed to do. I attended a Christian college but I was not knowledgeable enough in the Word to know whether or not what I was learning was, in fact, biblically accurate. I do know that most Christian colleges seem to start out fairly solid biblically but then gradually grow lukewarm. I wasn't steeped in humanism and leftist policies that most students are today, thankfully.
One of the first characteristics listed in Romans 1 (where we are given the progression of people rejecting the Lord and participating in evil) is the lack of thankfulness. "Because that, when they knew God, they glorified him not as God, neither were thankful; but became vain in their imaginations, and their foolish heart was darkened" (Romans 1:21). Dennis Prager wrote an article entitled Leftism Eradicates Character. "One of the prerequisites of good character—as well as of happiness—is gratitude, and leftism is rooted in ingratitude…When you send your child to college, you are not only playing Russian roulette with their values. You are playing Russian roulette with their character and the way they will treat you…Young people who are transformed into leftists [in college] almost always become less kind, less happy, and more angry."
There are Christian parents who I know personally that this has happened to with their children. They sent their children off to colleges, even supposedly "Christian" colleges, and their children turned away from their faith and all that they were taught growing up. These mothers mourn their decision and are heartbroken with the change in their children. If there is no greater joy to have your children walking in truth (3 John 4), there must be no greater sorrow to have your children walk away from the truth.
Dennis Prager shared the story on his radio program last week about a mother whose daughter came home as a "man" with a beard and low voice. This daughter was miserable, depressed, unthankful, and her mother was in complete shock. Her once cheerful and outgoing daughter had her breasts removed, pumped full of hormones, and all of this happened without her mother's knowledge. This is shameful!
College children who have turned away from the ways of the Lord and everything good are instead taught to worry about everything: the planet, their rights, their entitlements, and all the things that keep them in a continual state of unthankfulness. We are to dwell on the lovely and the good. We are to be thankful for all the blessings the Lord has given us, especially the salvation of our souls, yet most young people are being taught to hate Christianity and all those who teach it.
The Bible is clear in its warnings about sending our children to godless places. We are told that bad company corrupts good morals. We are warned about false teachers in almost every book in the New Testament. We are told to "not be equally yoked together with unbelievers: for what fellowship hath righteousness with unrighteousness? and what communion hath light with darkness?" (2 Corinthians 6:16). We are told to walk with the wise.
Jesus is the One who gives us joy. Happiness is a product of joy. Without Jesus, there is little true happiness or joy. Knowing that Jesus loves us and paid the penalty for our sins is plenty to be thankful about. Out of thankfulness springs joy. A thankful heart can't be joyless. The Truth of God's Word brings thankfulness and joy. Nothing about God is taught in most colleges and if it is, it is twisted and corrupt. These college students think they will find happiness by participating in the evil deeds of the world but they won't. All they will find is disappointment and sorrow. Are you sure you want to play Russian roulette with your children?
Beware lest any man spoil you through philosophy and vain deceit, after the tradition of men, after the rudiments of the world, and not after Christ.
Colossians 2:8