Popular Female Christian Influencers Divorcing
Popular Female Christian Influencers Divorcing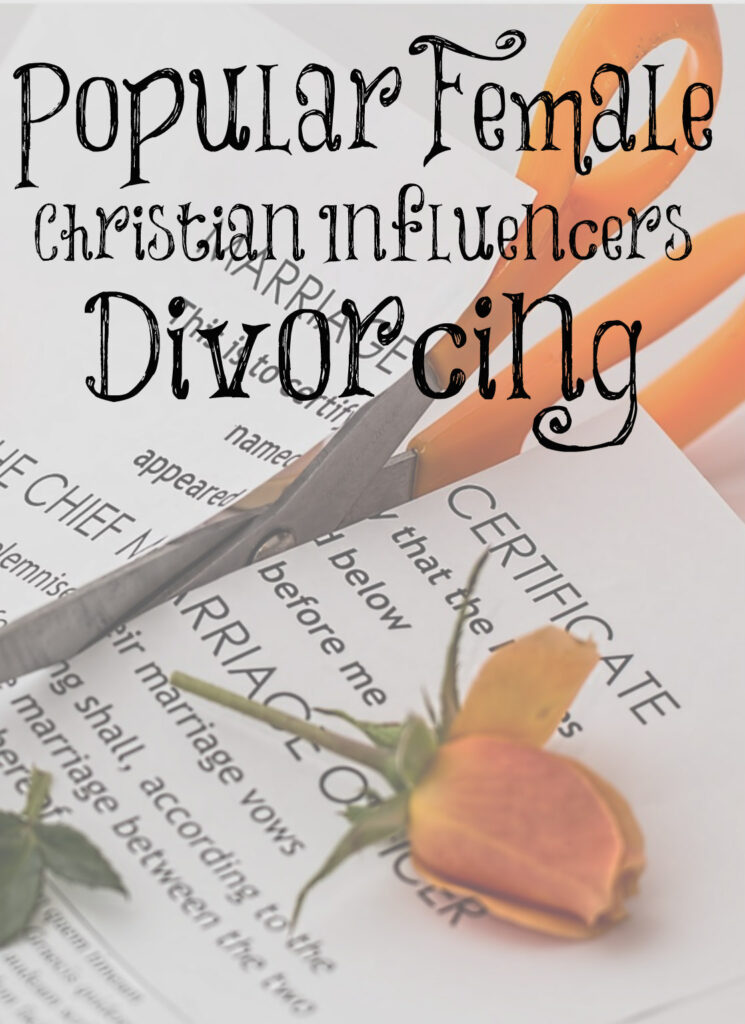 Throughout my years of writing and mentoring women, I have seen a number of hugely popular Christian women getting divorced. They then often congratulate other popular female influencers on their divorce. They give reasons for the divorce and state they had "biblical reasons." This seems all so wrong to me, and I will try to explain to you why.
We should never be celebrating or trying to justify divorce to anyone. The reason God gave for divorce was due to hardened hearts (Matthew 19:8). No Christian should have a hardened heart. We are to forgive others continually as Christ has forgiven us. (***Yes, the Bible does give some exceptions for divorce, but marriage should always be fought for and sought for restoration. Refer to Michael Pearl's book below.)
The one thing we never hear from these women, mostly female preachers, is that we are promised tribulation on this earth. We are promised suffering. They never seem to preach on Hosea or on 1 Peter 2 and 3. They haven't read Connie Hultquist's story of trying to win her very disobedient husband for many, many years. She finally won him, and he is now with Jesus Christ for eternity. Did Connie suffer? YES! She suffered tremendously, but her suffering was not in vain. Her husband will spend eternity on the new earth because of Connie's steadfastness to her marriage vows. She was a covenant keeper through good times and bad.
Many of these women have huge followings and they travel and give conferences. God has never asked them to do this. He commands that they be keepers at home. Their ministries are to their husbands, children, and homes. How can it be good for a family if the mother is often gone and busy with her ministry apart from what God has commanded of her? They may be winning the world but losing their own families. How can female preachers have good marriages when they are completely out of God's ordained authority structure? Do these popular female Christian influencers ever teach young women to be keepers at home? Do they teach them that their ministries are to their husbands and children? God commands older women to be teaching the young women these things!
I have seen too many women who divorced their husbands, then project their experience onto others to help them justify their divorce. This should not be! We need to be always pointing women to Scripture instead. Do they not believe God when He says that godly wives sanctify their husbands? That wives may win their disobedient husbands without a word and with godly behavior? Do they not trust that God is mighty to convict and transform as they obey Him? What about all of this? Instead, they use their own experience to justify divorce and the divorce of others. They will even blame the elders (the men, of course) and the Church on their terrible marriages, thus they are tearing down the Church and marriages. This ought not to be so!
We must always be pointing women to the Word regardless of our own experience. His Word is FAR superior to our experience or what we think is right. Yes, if a woman is being physically abused, she needs to seek protection. Then an older, wise godly woman needs to pour her wisdom and knowledge of God's Word into her life. The young women need to grow up in the Lord and know that they were promised suffering on this earth. They need to pray daily for their husbands and model Christ-like behavior to them whenever they are with them. God is a God of miracles! We can never discount what God will do in a marriage when a wife decides to obey Him.
What therefore God hath joined together, let not man put asunder.
Mark 10:9
***Michael Pearl has an excellent and biblically sound book on Divorce and Remarriage.