Women Leaving Their Posts
Women Leaving Their Posts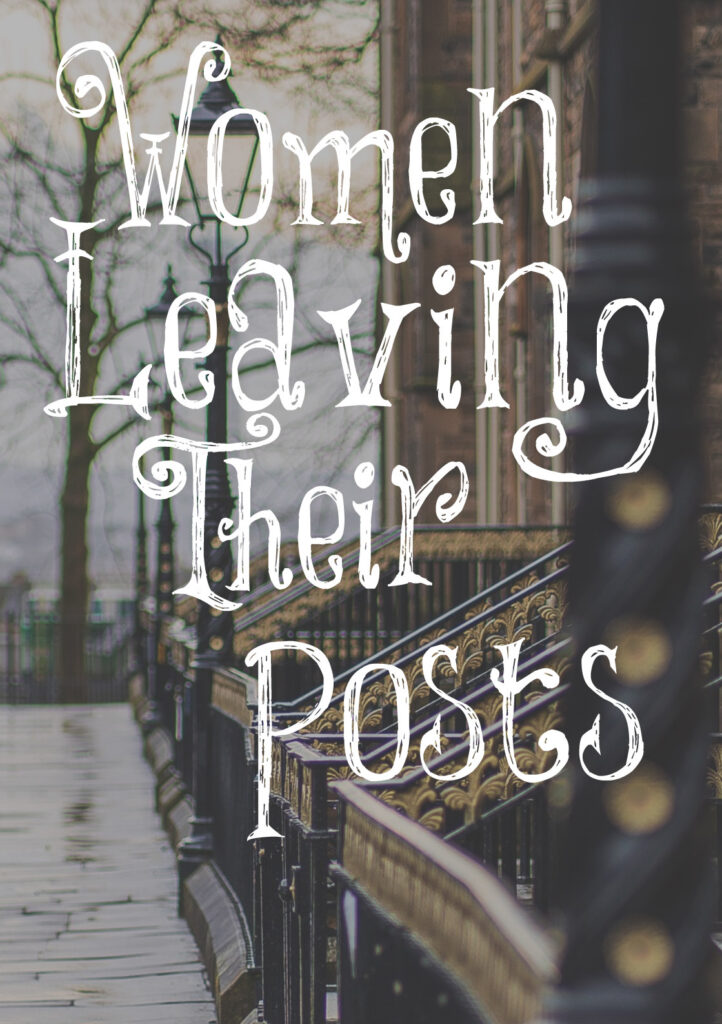 Many women disagreed with me on my post about Popular Female Influencers Divorcing. I knew they would. It's not popular to ever question a woman who is divorcing her husband even when she has "biblical" reasons. I had my reasons for doing so. A woman in the chat room who was a young and popular blogger shared the following. She explains my reasons perfectly.
"When women leave their posts (their calling as wife and mother) and pursue building something else outside of that calling, it will always take them away. I used to be in that blog ministry preaching to all the ladies, even as I had my own children still at home and young, thinking I needed to help others have what I found which was contentment in being a wife and mother.
"Yet, in so doing, at first my motivation was great, but the more I did it, the more I got addicted to it, and I was living vicariously through a dumb blog site. I shoved all my family aside at times to document my day-to-day thoughts and musings, and the things we would do as a family. I see now why her marriage failed.
"The relationships in the home do suffer when a woman leaves her post to minister outside of her calling. You can't do both! One will suffer. And most woman will pick the other commitment. I picked my family and now I am reaping the most glorious fruit! It was hard to let the dumb blog thing go but when I did, I noticed how my 'followers' just moved on to someone else who would feed them. I went to feed my own sheep in my house, because they are the ones that matter most to my calling.
"I could go on for hours telling you why it's not a good thing to be a young, married woman with children and also run a blog ministry about it. Blog ministry is another thing to discuss whether God calls us to do it at all! If it is, it should be the aged woman, who have raised a family. An elderly woman, really. Because even when your children are grown, they still need you! And grandchildren need your presence! And they are your ministry too. How glorious to have that instead of keeping up with what my readers' need and having to be present on social media. It was never meant for a woman to leave her calling so easily and be going door-to-door knowing so much stuff and gossip. And keeping up with all peoples lives like we have today. We are meant to live in small communities, living life together face to face. Hugging and smiling into each other's eyes."
I applaud her honesty. I even examined my motives in blogging and having an online presence while I have grandchildren. I try hard to not allow my ministry keep me away from my family and control me. Yes, I am an older women who has raised her children. It's only my husband and me who live in our home now, but I try to always be available to help my children and grandchildren. Being popular is a big draw with social media. It can be extremely harmful and keep women from what God has called us to do.
I don't travel nor do conferences. I am a keeper at home. I didn't begin my ministry to be popular or make money. I make a little bit of money from my books, but that's it. My purpose for writing is to teach women biblical womanhood per Titus 2:3-5. I try very hard to stick to this goal. Young women, your ministry right now is to your husband, your children, and your home. Don't allow anything to distract you from this important ministry. I am thankful there was no social media when I was raising my children because even for those who don't have online ministries, social media can take away from the ministry that God has called you to do.
We must be wise with our time. The days are evil. Use your time wisely. Invest your life into your family and others. This is storing your treasures in heaven. Don't allow the lure of social media or a ministry outside of your home steal God's best for you. Be committed to His will only. It is perfect. Spend your days building up your marriage and your home. This is the wisest way to use your time, energy, and talents. There is great reward!
Every wise woman buildeth her house: but the foolish plucketh it down with her hands.
Proverbs 14:1