Telling Young Women to Get Married and Have Children is Wrong?
Telling Young Women to Get Married and Have Children is Wrong?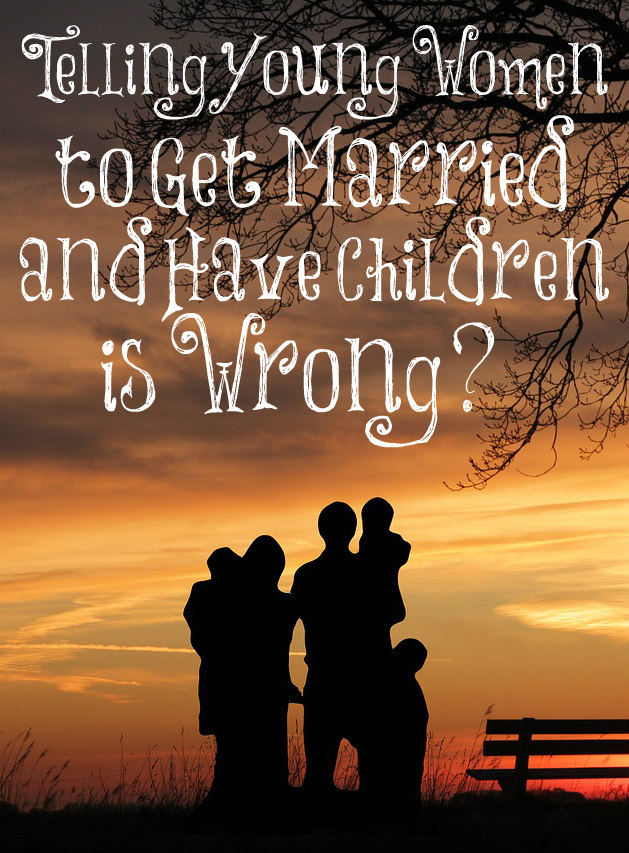 Mary Kassian, in the post I shared last week, ended her article about complementarianism this way: "If you hear someone tell you that complementarity means you have to get married, have dozens of babies, be a stay-at-home housewife, clean toilets, completely forego a career, chuck your brain, tolerate abuse, watch Leave It to Beaver reruns, bury your gifts, deny your personality, and bobble-head nod 'yes' to everything men say, don't believe her. That's a straw (wo)man misrepresentation. It's not complementarianism. I should know. I'm a complementarian. And I helped coin the term."
It sounds like she greatly dislikes biblical womanhood, that's for sure. What about God commanding young women to marry, bear children, and guide the home and give no occasion for the adversary to speak reproachfully (1 Timothy 5:14)? What about older women teaching younger women to love their children and be keepers at home so they don't blaspheme the Word of God (Titus 2:3-5)?
I am sure Mary wrote those words to women like me who take the Bible literally and teach exactly what God commands that I teach. God created marriage and told us it is good. He calls children a blessing and happy is the man with a quiver full. He wants women to guide the home and be keepers at home. The Proverbs 31 woman was known for looking well to the ways of her household, not having a career. Part of being a keeper at home is to clean toilets. Has she ever taught women to be a keeper at home? I seriously doubt it by this comment. She actually seems to mock it.
Yes, I warn women about pursuing careers. The heavy burden of student loan debt hurts them. Many women write and tell me their regrets about this. Young women are unable to stay home with their children because of their debt. Husbands want their wives who have good careers to continue working because of the money it brings in. Young, unmarried women need to carefully consider all of this.
Does she believe that mothers at home don't have a brain? Do only those women who pursue higher education and careers have a brain? It sure seems that this is what she is saying in her quote. I can tell you that I have learned a whole lot more on my own and from godly male preachers of the Word than I ever did in all of my years in the public school system and in the Christian college I attended. There are MANY intelligent women who are home full time with their children!
Who has ever told women to tolerate abuse as Mary claimed? I am accused of this often. I have never written that women should tolerate physical abuse. You see, we must define what abuse means since many women have told me that their husbands abuse them when in fact, they didn't. If they are being physically abused, they need to call the authorities and seek help. If they are being emotionally or mentally abused, they need to seek out a wise, older, godly woman to receive counsel from. She will be able to tell if it truly is abuse. If it is, she can help her and encourage her in the situation. Sometimes it may take a separation but this must only be taken with prayer and wise counsel. It's not a biblical reason to divorce one's husband. I know of a woman who is definitely being emotionally abused but through the wise counsel of a godly, older woman, she is able to bear it and even now thrive. She's not allowing her husband's emotional abuse to control her any longer.
I am not sure what is wrong with Leave It to Beaver reruns or any of the old shows that showed a traditional family that Mary somewhat mocked. I love the old shows where decency was normal, wives were home full time caring for their families, and the husbands were working hard to provide. I see nothing wrong with them at all. They are far superior to any shows on the major networks these days.
Lastly, a mother can use her gifts in her home with her children. Her personality can shine forth in her everyday interaction with her husband, children, and those to whom she comes in contact with. Yes, a wife should be saying "yes" to her husband on a regular basis. This is what submission looks like, for goodness sake. If she termed the word complementarian and it's not anything that I teach, then I must not be a complementarian. I will continue to teach women God's perfect ways for them. Then each woman can decide how she will live her life. Someone needs to be teaching younger women since many women who teach the Bible fail to teach biblical womanhood.
I will therefore that the younger women marry, bear children, guide the house, give none occasion to the adversary to speak reproachfully.
1 Timothy 5:14
Here is a response from Mary Kassian to this post.