Raising Oaks of Righteousness
Raising Oaks of Righteousness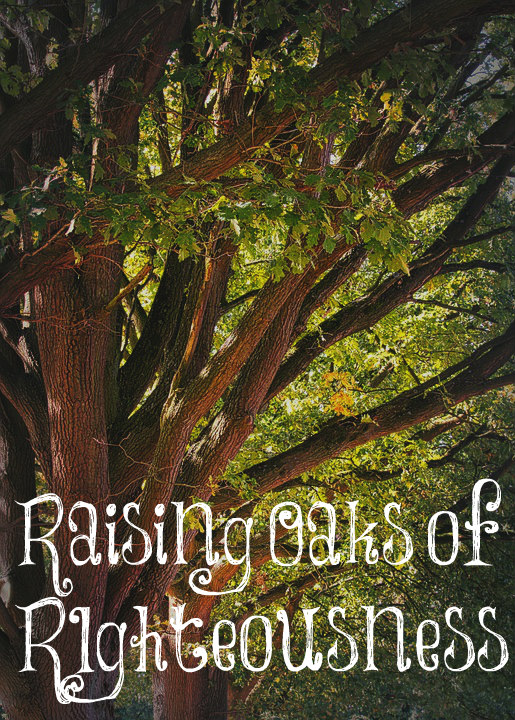 Are you raising oaks of righteousness? Does the Word of God dwell richly in your children? Do your children have deep roots in Jesus? "God is trying to produce oak-tree Christians – Christians with deep roots, who have learned obedience, who have 'strong trunks' that are not easily swayed by the winds or trials" (Linda Dillow).
Our children must learn obedience from a very young age. They must learn what the word "no" means and that if you say "no," you mean "NO!" There must be swift and consistent consequences for all disobedience. We are told in Hebrews that Jesus learned obedience from what He suffered (Hebrews 5:8) and our children must, too. As many of you know, I have suffered greatly throughout my adulthood and I have learned obedience because of my sufferings. The things of this world don't hold as much pull on me anymore. I don't mind the negative and cruel comments that are written about and to me on a regular basis because I know Whom I serve and want to please.
My children saw me suffer and they saw that my suffering never caused me to question my faith. This greatly impacted them for good. Our society balks at the idea of suffering. Most take pills for any type of suffering. Suffering isn't bad. Yes, it's difficult and hard but it isn't bad. God uses if for good in our lives. "For whom the Lord loves he chastens, and scourges every son whom he receives" (Hebrews 12:6). If God loves us so much that He chastens us, we can do no less for our children. (Please look up the words "chasten" and "scourge." No, God is not always a "gentle" Father.)
"Blessed is the man that walketh not in the counsel of the ungodly, nor standeth in the way of sinners, nor sitteth in the seat of the scornful. But his delight is in the law of the Lord; and in his law doth he meditate day and night. And he shall be like a tree planted by the rivers of water, that bringeth forth his fruit in his season; his leaf also shall not wither; and whatsoever he doeth shall prosper" (Psalm 1:1-3).
Parents are commanded to raise their children in the nurture and the admonition of the Lord. If you are putting your children in public schools, I pray you seriously reconsider since your children will walk in the counsel of the ungodly, stand in the way of sinners, and sit in the seat of the scornful. They will spend their childhood with those who are not even allowed to teach the Word of God.
This is another reason why it's so important that mothers be home full time with their children in this wicked and adulterous generation. Your children need your protection. They need your comfort, nurture, and training. No one can take your place in your children's lives. Please, go home, young mothers, and teach your children all about the Lord and His beautiful ways. Impart godly wisdom into them daily. Read the Bible to them consistently so they will have deep roots in the Lord.
"To appoint unto them that mourn in Zion, to give unto them beauty for ashes, the oil of joy for mourning, the garment of praise for the spirit of heaviness; that they might be called trees of righteousness, the planting of the LORD, that he might be glorified" (Isaiah 61:3) We are to raise trees of righteousness – godly offspring. This is a command of the Lord.