Raising the Most Overweight, Addicted, Medicated Generation in History
Raising the Most Overweight, Addicted, Medicated Generation in History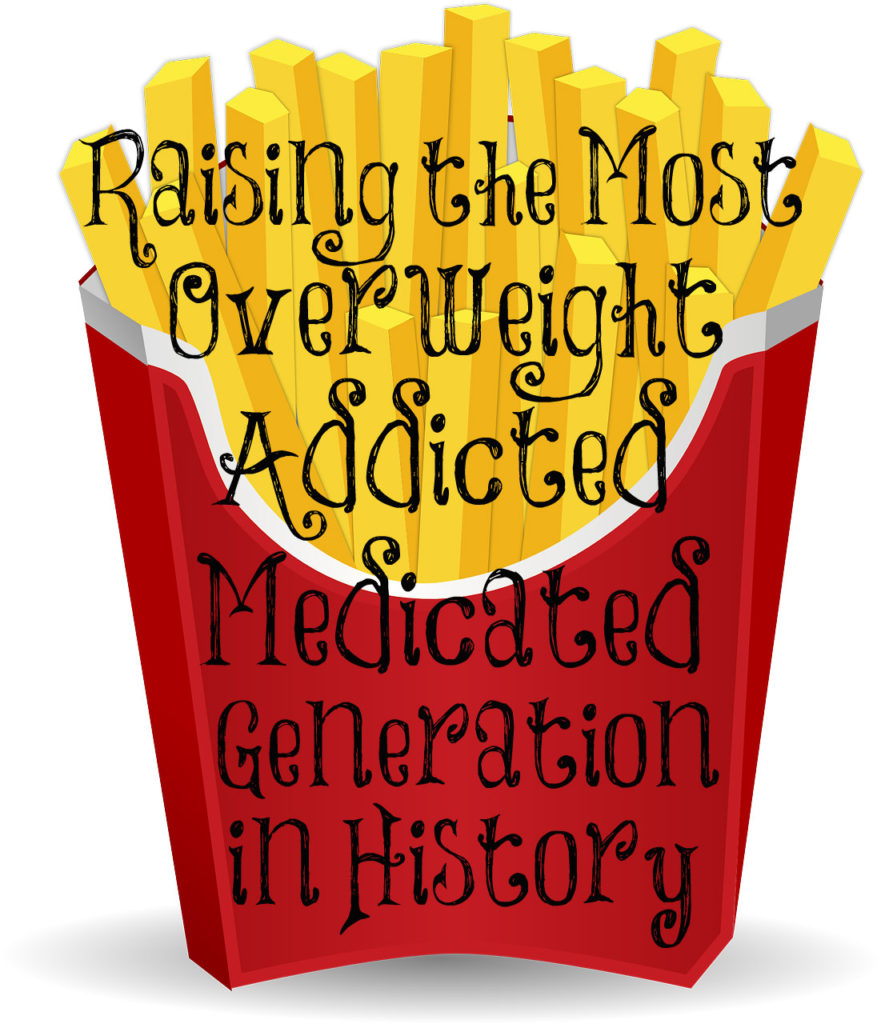 Country Living did an article called Why Parents Today Aren't Strict Enough. "Children were treated like pets or — worse — release-valves for their parents' stresses and fears, then expected to magically transform into healthy, functional adults. Which is why we're the most overweight, addicted, medicated generation in history."
I visited with a neighbor yesterday who raised one son. He was never given any boundaries. He ate what he wanted, when he wanted, watched what he wanted, and went to bed when he wanted. He is in high school now and she is ashamed of him. He has brought so much pain and suffering into their lives. She looked at me and said, "You did it right. You were black and white parents; 'yes' meant 'yes' and 'no' meant 'no.' We were gray parents and we are now paying the price."
We raised our children with a lot of boundaries. We were considered strict parents. They didn't get to choose what and when they ate, what they watched, and when they went to bed. We decided these for them when they were young. I made most of their food from scratch and made sure they ate a lot of fruits, vegetables, and healthy foods. They weren't allowed to watch much television but spent a lot of time outside playing and reading, instead. They were given clear boundaries and disciplined for disobedience. Child raising was a pleasure for us but it took a lot of time and energy when they were very young. It became easier as they got older.
Most parents have no idea how to raise children anymore. They don't discipline them or give them boundaries but allow them to run their homes. Children have become their parents' oppressors. As for my people, children are their oppressors, and women rule over them. O my people, they which lead thee cause thee to err, and destroy the way of thy paths (Isaiah 3:12).
The article gives a few explanations of why children are out of control today. If you don't read it carefully, you will miss one of the reasons that are mentioned. "As parents today, increasingly in dual-income homes, we are stretched thin." It takes a mother home full time to teach, train, nurture, and discipline her children. Children need their mothers to do this job because teachers, nannies, and daycare providers aren't going to do this for them. It takes a lot of work and this job is given to mothers.
Mothers who are home full time should make sure they aren't being stretched too thin by getting involved in a lot of activities outside of the home. Raising children to be godly, hard-working adults needs to be their main priority.
"They (children) crave boundaries. They repeat unwanted behavior, like tantrums and violence, because they're escalating it, waiting for someone to care enough to tell them no." When children are allowed to get away with temper tantrums, they are essentially unloved. God disciplines us because He loves us in the same way we discipline our children.
I know that there are some parenting practices being taught today to never say "no" to your children. This seems like one of the most foolish things parents can do. All throughout life, we will be told "no." God tells us "no" about many things in His Word. Why should we do no less with our own children? The sooner they learn that they won't always get their way in life, the better off they will be.
Denny Kenaston preached a sermon on the Sin of Gluttony and it is a gift to teach your children self-control and disciplining their flesh and its lusts in ALL areas. Your children will have much less chance of being overweight, struggle with addictions, or need medications if they are taught the truth of God's Word, the importance of renewing their minds with truth, and being in control of their thoughts and appetites.
If you raise your children properly, you will enjoy them! God calls children a blessings and so should we. This nation needs godly offspring to spread the light and love of Jesus more than it needs anything else. As Al Mohler said, "Couples are not given the option of chosen childlessness in the biblical revelation. To the contrary, we are commanded to receive children with joy as God's gifts, and to raise them in the nurture and admonition of the Lord. We are to find many of our deepest joys and satisfactions in the raising of children within the context of the family."
Now no chastening for the present seemeth to be joyous, but grievous: nevertheless afterward it yieldeth the peaceable fruit of righteousness unto them which are exercised thereby.
Hebrews 12:11