Ramblings on Affairs and Divorce
Ramblings on Affairs and Divorce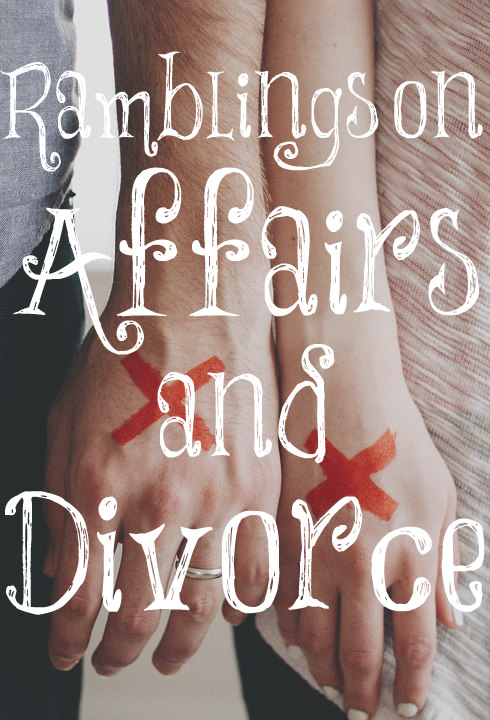 Affairs and divorce seem to be common among Christians these days, and I have some ramblings I want to share with you about them. Divorce is becoming a pretty common thing now unfortunately. As soon as people have a problem in their marriage instead of trying to fix things, they go straight into filing for a divorce.
Keep on reading to hear my ramblings though, in order to do this properly, I am going to tell a fake story with fake names but with many truthful facts that are happening in couples we know personally.
Sue and Jim have been married for fifteen years. They have four children ages six, eight, ten, and twelve. Sue is a stay-at-home wife. She is a rebellious wife. She doesn't keep the home clean. She doesn't fix Jim meals after he gets home from working ten hard hours at work trying to provide a living for his family. She doesn't do his laundry. She hasn't given him sex for six years, since the last child was conceived. She uses foul language often and is a very bitter woman towards Jim.
Jim tries to do what he can to make her happy but to no avail. He is being mentored by godly men and still nothing ever seems to improve. Things just continue to get worse. There's a kind woman at his work who he's been getting to know. She encourages him and they enjoy each other. They finally begin having an affair.
About six months later, Sue finds out about the affair and divorces Jim. She takes half of what he owns and lets everyone know what a horrible husband he was for having an affair and being a covenant breaker. All of their friends feel so badly for Sue and comfort her and give Jim a cold shoulder.
Now, I want you to be honest with me? Who was at the most fault for the destruction of this marriage? Yes, they both sinned against each other but according to our culture, Jim was far worse than Sue since he had an affair and according to Jesus, adultery is a reason for divorce. But Jesus also said that if a man lusts after another woman, he commits adultery in his heart. Therefore, if a man lusts after a woman, his wife can divorce him because he committed adultery in his heart and adultery is a reason for divorce.
If this reasoning stands and Christians believe it to be so, then all wives can divorce their husbands because, most likely, all men have lusted after a woman who is not their wife at one time or another. Here's the conversation Jesus had with the Pharisees about divorce from Matthew 19:
3 The Pharisees also came unto him, tempting him, and saying unto him, Is it lawful for a man to put away his wife for every cause?
4 And he answered and said unto them, Have ye not read, that he which made them at the beginning made them male and female,
5 And said, For this cause shall a man leave father and mother, and shall cleave to his wife: and they twain shall be one flesh?
6 Wherefore they are no more twain, but one flesh. What therefore God hath joined together, let not man put asunder.
7 They say unto him, Why did Moses then command to give a writing of divorcement, and to put her away?
8 He saith unto them, Moses because of the hardness of your hearts suffered you to put away your wives: but from the beginning it was not so.
9 And I say unto you, Whosoever shall put away his wife, except it be for fornication, and shall marry another, committeth adultery: and whoso marrieth her which is put away doth commit adultery.
There's no command there from Jesus to divorce. In fact, he stated that divorce was only given because of the "hardness of your hearts" and "what therefore God hath joined together, let not man put asunder." Look at the book of Hosea; it is an example of Christ being faithful to His Bride even during her unfaithfulness to Him.
What am I trying to get at here? I believe that Sue was every bit as guilty, if not more, in tearing her marriage apart. She refused to submit to her husband's leadership, she failed to be available sexually, and she failed to love, for love is patient and kind. No, it doesn't excuse Jim for having an affair but most women who divorce their husbands because their husbands had an affair fail to give any explanation of how they were as a wife. Were they available as a help meet to their husband? Were they submissive and kind to him? Did they learn what pleased him? Did they follow their husband's leadership as head of their home or were they so busy doing their own thing (in the name of ministry) that they failed to minister to their husband as a priority?
When I mentor women, the first thing most of them do is tell me how horrible their husbands are but then I ask them how they are as a wife? Without fail, there are many things they are doing wrong, too. It almost always takes two to destroy a marriage in the end and neither party is blameless.
This is all I wanted to say. I hate divorce. God hates divorce. It's so destructive not only for the children but for culture and the name of Christ, too. I don't like seeing these famous "Christian" women bloggers/preachers/teachers telling us about divorcing their husbands because their husbands had affairs, yet fail to say anything they did to tear down their marriage. They easily expose all of their husbands' sins but none of their own and I seriously doubt they are completely innocent, then everyone feels so badly for the women and expresses what a jerk their husbands were. It all seems wrong to me, when yes, adultery is wrong, but there is more blame to go around than just on the husbands who had an affair.
At least, be honest about what really happened, give no details at all, or best of all, try to win back their husbands by practicing 1 Peter 3:1-6, for love bears all things, believes all things, and endures all things. Love never fails. Aren't Christians supposed to be different? Aren't we supposed to have strong marriages that are examples to a lost world of Christ's forgiveness and His unending and enduring love for His Church?
The wife is bound by the law as long as her husband liveth; but if her husband be dead, she is at liberty to be married to whom she will; only in the Lord.
1 Corinthians 7:39