Refusing to Submit is Living in Sin
Refusing to Submit is Living in Sin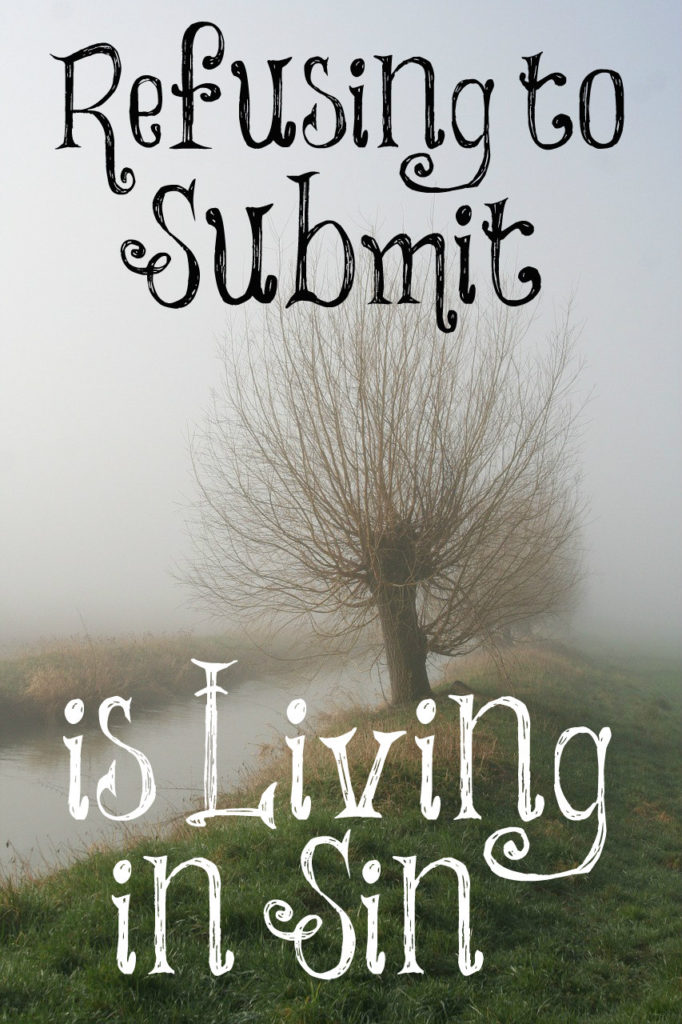 Blogs that make me "feel" good, talk about not judging, and enjoying their "messy" lives don't hold much appeal to me. I love to read blogs that challenge and convict me to become more like Christ. It is why I love the Bible so much. Trey, an older man, comments on my blog once in a while and many times his comments convict and challenge me. This is why I like them. Here's one of his great comments on my post Women Flagrantly Refusing to Submit.
Rebellious wives use every excuse in the world for why they CAN not or WILL not submit to their husbands. They can make all the excuses they want. They can call it anything they wish. God calls it SIN.
If you are a wife who calls herself a Christian yet refuses to submit (in everything) to your husband then you are living in SIN. It's just that simple. Quit thinking you are holy, your not. Quit thinking you are Godly, you're anything but. Quit thinking you are serving Christ; He is not fooled, the only person you are fooling…. is yourself.
If you do not live daily in complete submission to your husband, what you're really doing is blaspheming, maligning, bringing shame upon, reviling, discrediting, dishonoring, and slandering the Word of God. Do you call yourself a Christian woman? Then quit making excuses and start obeying the God you claim to know, love and serve.
Do you really think that you know Jesus Christ? (1 John 2:3) says "We know that we have come to know him if we keep his commands."
What does God command of wives? Read for yourself. (Titus 2:3-5) says "Likewise, teach the older women to be reverent in the way they live, not to be slanderers or addicted to much wine, but to teach what is good. Then they can urge the younger women to love their husbands and children, to be self-controlled and pure, to be busy at home, to be kind, and to be subject to their husbands, so that no one will malign the word of God."
Not convinced? How about this one. (Colossians 3:18) "Wives, submit yourselves to your husbands, as is fitting in the Lord."
Think that you don't have to submit to your husband because he is lost or because he is not living as holy as you think he should be? God knew you would try and use that excuse. (1 Peter 3:1-2) "In the same way, you wives, be submissive to your own husbands so that even if any of them are disobedient to the word, they may be won without a word by the behavior of their wives, as they observe your chaste and respectful behavior."
Still not clear enough? God really spells it out here. (Ephesians 5:22-24) "Wives, submit yourselves to your own husbands as you do to the Lord. For the husband is the head of the wife as Christ is the head of the church, his body, of which he is the Savior. Now as the church submits to Christ, so also wives should submit to their husbands in everything." Do you see that ladies, God not only commands you to submit to your husband, He commands you to submit to your husband in EVERY THING.
You see what God commands you to do. Do you really know him?
Are you claiming that you love God but still refusing to submit to your husband? (John 14:15) says "If you love me, you will keep my commandments."
Do you consider Christ the Lord of your life yet still not submit to your husband? (Luke 6:46) says "Why do you call me, 'Lord, Lord,' and do not do what I say?"
I don't want to come across so harsh but seriously… God only speaks directly to wives in a few places in the Bible and in almost every place, He instructs (commands) them to submit to their husbands. How can any wife call herself a Christian while refusing to obey the PRIMARY command that God gives her? I would submit that she can't.
Little children, let no man deceive you: he that doeth righteousness is righteous, even as he is righteous. He that committeth sin is of the devil; for the devil sinneth from the beginning. For this purpose the Son of God was manifested, that he might destroy the works of the devil.
1 John 3:7, 8