Women Flagrantly Refusing to Submit
Women Flagrantly Refusing to Submit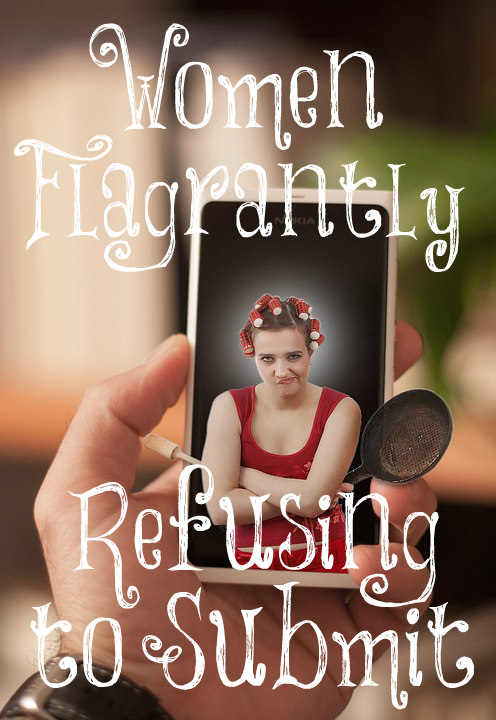 From a comment on Are Wives in Submission to Their Husbands Inferior?
I grew up seeing two generations of women flagrantly refusing to submit, and the effects on their marriages was disastrous. No unity, no sweet companionship, but a very them (men) vs. us (women) mentality. And both men were God-fearing, good men who could never do anything right in their wives' eyes. That just made me all the more ready to respect and submit to my husband when the time came. Why not stop the generations of sin?!
What's presented in the Bible is such a gracious, complementing, honoring, and beautiful thing. Submission is only hard because we don't wish to be humble, or held accountable, or willing to put someone else's wishes above ourselves: pride and selfishness, to be exact. And sometimes a husband is not perfect (well, never until heaven).
Submission is not about feeling good about my place in life, but it's about my obedience to God. Am I willing to throw it all in and do what He has commanded me to do, being obedient and reaping his rewards (husband's praise and children calling her blessed)? Or am I hardened and disobedient, wreaking havoc around me? Are there hard days? Yes. And yes. And yes. Then, I wrestle with God and His Word, until I'm back in submission, ultimately asking Him to teach me to love and submit better.
But, do you know how amazing it is to trust in our Creator? That taking a submissive role/a servant's role (because the greatest of these will be the least and least will be the greatest) opens up a peace that can't be explained. That quiet, knowingness that I am doing God's will is priceless. It's taken years for it to be as easy as breathing, and it will continue to take years for me to master it.
Have I seen the blessings? Most certainly. My husband regularly tells me he couldn't live without me and my kids tell me I'm the best mom ever. So even when I'm asking my honey what he wants to eat this week and making my menu around his likes, or when I ask him if there's anything I can do for him today, or when I make sure I pass all decisions through him because that's what he's asked me to do, none of this is unreasonable. And it's not about him 'winning' or me 'winning', or me feeling oppressed (and I don't, ever. Isn't that amazing!). It's obedience to God. I know I'm doing His work and being a submissive servant. And it is so good.
Therefore as the church is subject unto Christ, so let the wives be to their own husbands in every thing.
Ephesians 5:24