Satan is Doing Everything to Destroy the Home
Satan is Doing Everything to Destroy the Home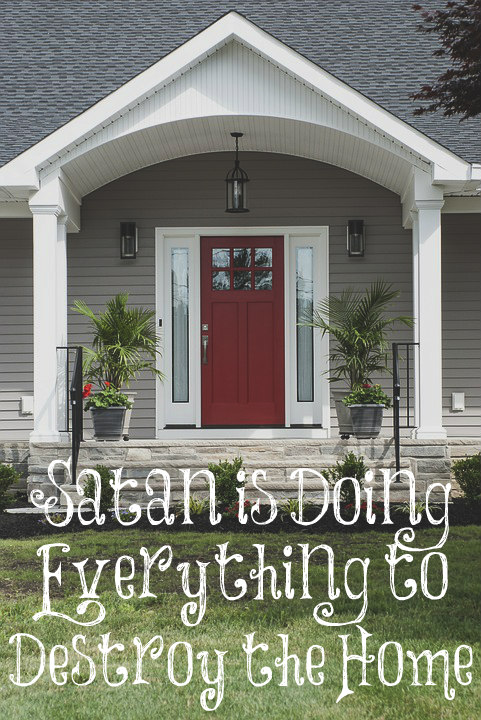 God weaves babies together in the protection of the womb. Satan wants abortion to murder those babies.
God wants mothers home nursing those babies. Satan wants those babies in daycares being given bottles by strangers.
God wants mothers home raising their children up in godliness. Satan wants mothers to have careers and the children to be raised in public schools where God is not allowed to be mentioned.
God wants children to be brought up in the nurture and the admonition of the Lord. Satan wants children to be brought up in the ways of the world.
God created the home and wants it to be a place of peace and warmth. Satan wants to destroy the home by having it sit empty all day long and where strife reigns between the couples at night.
God created marriage between a man and a wife and said it was good. Satan hates marriage and wants perpetually singleness for young adults.
God wants the husband to be head over the wife. Satan wants the wife to rule her husband.
God wants wise women who build their homes up. Satan wants foolish women who tear their homes down.
God wants marriages to last until death do they part. Satan celebrates divorce.
God created the family and loves it. Satan hates the family and wants to destroy it.
God wants a home to be built by wisdom and understanding (Proverbs 24:3). Satan wants it to be built upon foolishness.
God wants children to be raised by mothers and fathers. Satan wants children to be raised without a father.
God calls children a blessing and wants couples to be open to His blessings. Satan convinces couples that children are a burden and an inconvenience, and they need to use birth control to prevent having many, if any, children.
God wants children's salvation to take top priority in a mother's life. Satan wants a mother's career to take top priority.
God wants mothers' hearts turned toward their homes and their families. Satan wants mothers' hearts to be turned toward what society has to offer.
God's will is good, and acceptable, and perfect. Satan's goal is to kill, steal, and destroy.
It looks like Satan is winning on earth, even in the churches, but guess Who will win in the end!
Choose you this day whom ye shall serve but as for me and my house, we shall serve the Lord.
Joshua 24:15