Seeking Sexual Compatibility?
Seeking Sexual Compatibility?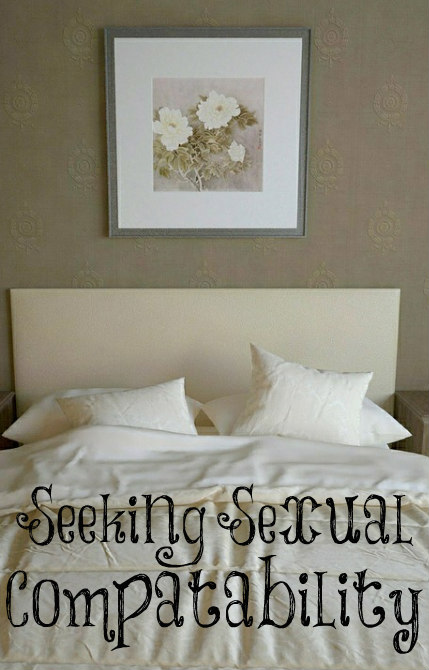 Many have commented on my posts about virginity that this just won't do since couples need to make sure they are "sexually compatible." Some have said they need to "test drive" a potential future spouse before marriage. This mindset is not biblical but satanic. There's NOTHING in God's Word about seeking someone who is sexually compatible nor test driving anyone before marriage. No, God wants us to live lives of being chaste before marriage (no fornication) and after marriage (no adultery).
Someone who goes by the name "Truth Seeker" wrote this on my post Awakening the Beast: "I'll never understand the concept of sexual compatibility. If you save yourself for one person and stay with them for the rest of your life, than what comparison will you have? What factor decides that the two aren't compatible if the only factors are yourself and the other? It just doesn't make sense logically. Sexual compatibility between virgins only makes sense if there's porn involved to base your ideas off of. So by the world's logic, how do I know I'm compatible with the one I want to marry? Easy. There's no such thing because we're both virgins and have nothing to compare each other to. This whole compatibility thing is just another nonexistent concept that excuses sin."
Someone else wrote: "It's true. This thing about having sex before marriage to see if you are sexually compatible, or even living together before marriage to make sure to know if you're compatible is the most stupid thing ever. It is an excuse for the boyfriend or the girlfriend to keep their options open which is why women who had premarital sex with multiples partner or had cohabitate are more likely to get divorced."
Anyone who wants to "test drive" someone before marriage is a fool. Many women willingly give sex before marriage but once married, they have little to no desire to be sexually intimate with their husbands. It's a horrible "test" for a future spouse. Women should be looking for a man who loves the Lord, values purity, is willing to work hard and provide, and loving and kind. Men need to look for a woman who also loves the Lord, values biblical womanhood and living the way that God calls them to live. When a couple gets together with these values and traits, they will learn sexual intimacy together after marriage. They have their whole lives to learn if the Lord blesses them with long life! Besides, true sexual intimacy is a whole lot more than just the act itself.
 Let thy fountain be blessed: and rejoice with the wife of thy youth. Let her be as the loving hind and pleasant roe; let her breasts satisfy thee at all times; and be thou ravished always with her love.
Proverbs 5:18,19