Women Aren't Wired to Be Providers
Women Aren't Wired to Be Providers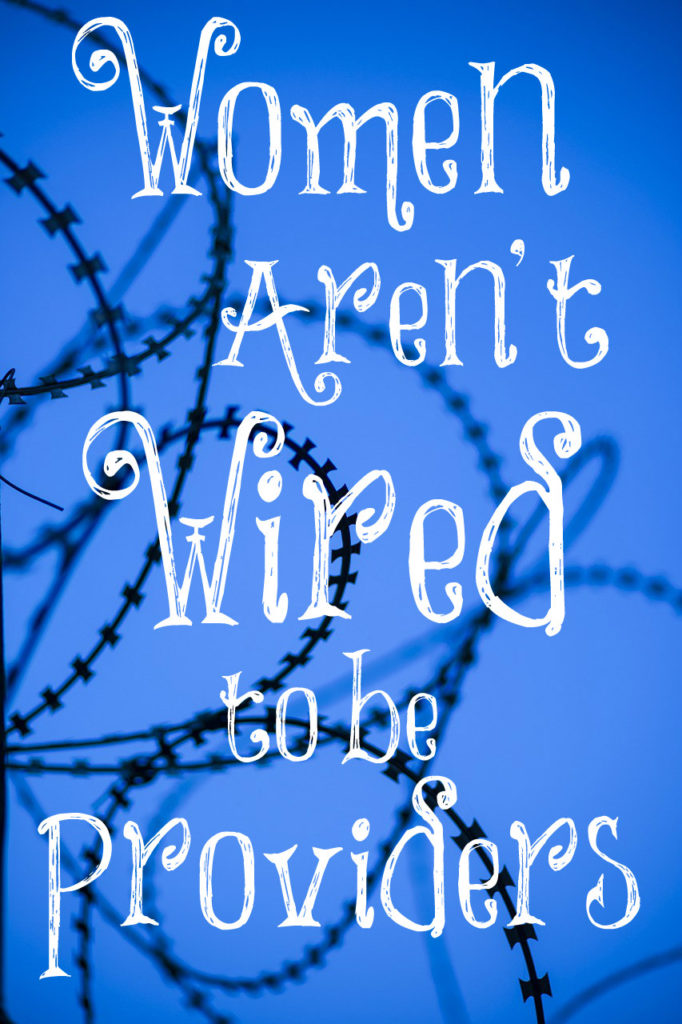 Growing up, I always knew I wanted to just be a wife and mother. I never had any career goals even though we were "supposed" to have them. (Aren't jobs or careers for men so they can provide for their families?) I had every intention of marrying a man who wanted me to have children and be the one home full time with them. I didn't ever want to be the bread winner of my future family so I was careful about marrying a man who wanted the same things that I did. We absolutely talked about it before marriage and Ken was fully on board. He had every intention of being the provider for our family and thankfully, he has been for 37 years.
There are way too many women I hear about who are postponing marriage and having children for their careers. Then when they finally get married, their husbands want them to continue working since they make good money. Reality is proving that this isn't good for marriage. Suzanne Venker wrote about this. "Nevertheless, the new reality of many women outpacing men educationally and sometimes financially has serious implications for marriage." God created men to be the providers and women to be the keepers at home. This is His plan and nothing that men and women do today will every change this.
"In 2013 researchers from Washington University in St. Louis studied data from 200,000 married couples in Denmark. They found that when women earned more than their husbands, they were more likely to use anti-anxiety medications and more likely to suffer from insomnia. One might conclude from this study that women, as a rule, aren't wired to be providers."
No, God did NOT wire women to be men. He didn't wire them to be the providers. Our hormones prove this. Our physical build proves this. Everything about us proves that this is not our role in society no matter how hard feminists have fought to say that it is. They will NEVER outsmart God and His plan for us. Never.
"Husbands, on the other hand, are emboldened when they take on this role. Men are made to provide and protect for their families. When they're stripped of this power, it isn't pretty. As just one example, a 2010 Cornell University study found that a man is more likely to cheat on his partner if he's more financially dependent on her."
Even though many men want their wives to continue working because they see dollar signs instead of a mother at home with her children, it harms the marriage since the husband is last on the totem pole for the wife's attention. She only has so much energy and most of her energy must go to her work to keep it, then to her children, then her home, and nothing is left for her husband. It's too steep of a price to pay for extra money. Way too steep of a price. Men have ten times the testosterone for a reason. They are the ones created by our Creator to go out and "slay the dragons," as Dr. Laura always used to say. Many women who try to do this eventually suffer from burned out adrenals and ill-health.
"A record 25 percent of husbands are now marrying wives who have more education than the man of the house."
Half of medical and dental school students are women these days. This is tragic for the women: for the men whose jobs they are taking away, for the lack of children they will be having, and for their future marriage. Stop the madness, women. Don't pursue a high-powered career that makes a lot of money. Marry a godly husband who wants to work hard and be the provider.
"Hypergamy  (the preference of most women to marry 'up') doesn't exist because women are greedy. (Well, some are, I suppose; but that's a side issue.) It exists because pregnancy, childbirth and the needs of babies invariably make women vulnerable." This is what God intended and there's nothing wrong with it but everything right. Bearing and raising godly offspring while being keepers at home is what children, husbands, and this culture needs more than anything else.
Unto the woman he said, I will greatly multiply thy sorrow and thy conception; in sorrow thou shalt bring forth children; and thy desire shall beto thy husband, and he shall rule over thee.
Genesis 3:16
And unto Adam he said, Because thou hast hearkened unto the voice of thy wife, and hast eaten of the tree, of which I commanded thee, saying, Thou shalt not eat of it: cursed is the ground for thy sake; in sorrow shalt thou eat of it all the days of thy life.
Genesis 3:17