She Wasn't There For Her Son
She Wasn't There For Her Son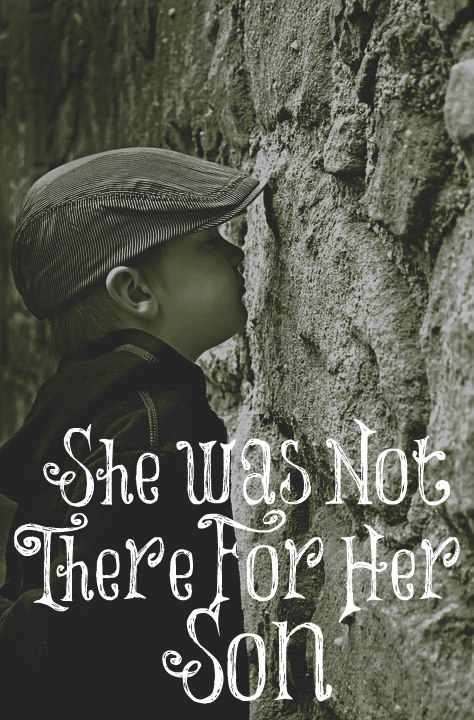 Written by a man who wants to remain anonymous.
"A wife's place is in the home."
"Wives should be keepers at home."
For the greater part of my life, I was always ambiguous and uncommitted to what these sayings mean. When I married my wife, we were both of the opinion that husbands and wives were just equal partners in "the contract," and we never sat down together with a premarital pastoral counselor to hash out exactly what this contract we were entering into meant. No one told us that God has expectations for husbands and expectations for wives, and that these were different from each other in the same way that males and females are different from each other. And, I suspect, that's the way for a lot of us, if not most of us, when we started out. We are young when we make this decision.
My views on this subject changed over the years as I read more of God's word, learned from godly preaching of the word, and older married couples in the Church, and, frankly, from my own experience as I grew older. Ultimately, I came to view marriage as God has defined it in scripture, and especially that the role that God has placed on husbands is different from the role God has ordained for wives.
Unavoidably, this began creating conflict in the marriage when one of us has one view of marriage as an ordered hierarchy that God ordains for marriage, and the other thinks it's a free-for-all.
About ten years ago, I asked a believing couple that we were friends with and whom I respected, if they would sit down with us and discuss this matter. But they decided that they really did not want to get involved and that's okay. Our problems are not their burdens, and I fault them nothing. They have been good friends, and I do not want to burden them with these petty problems.
It came to a head when my wife decided that she was done with the whole arrangement and began preparing for her exit. She began dropping "hints" in front of me and the whole family ("I'm leaving…," "I'm just going to disappear one day, and no one will find me…," "I'm moving out after Christmas is over…," etc). I know that when the last of the kids are grown up and moved out, that's when she is going to leave. I've confronted her on it a number of times, and while she's never confirmed it, she's also never denied it.
I've done all that is in my power to avoid it (including pastoral counselling numerous times even after she walked out of it), and made sure that I am doing what the Lord requires of me, which I can control without focusing on what the Lord requires of her, which I cannot control. But ultimately, the power is not in my hands; it is in hers. If she is determined that she is going to leave, then there is nothing I can do to stop her. So, I focus on my relationship with the Lord and with my brothers and sisters in God's family in the local church, and leave the rest of the matter in God's hands. She abandoned our marital relationship almost seven years ago. This is pretty much permanent, as far as I can tell.
What really made the disagreement stark and plain to me was my youngest son. He was 12 at that time. He is the last of our children still growing up at home. We have two other teenagers, but they have jobs, friends, their own transportation, and are often out of the house. Three others that are adults now and on their own (kind of). So, my youngest son is mostly at home.
My wife has decided that she is going to enroll in college and start working towards a medical degree. Without saying such, I know that this part of her "exodus" plan. And I've been supportive of it. Since I cannot change her behavior then if she's going to leave, I at least want her to be able to provide for herself. I don't want her living alone on minimum wage income into her old age. We are both in our fifties. So, I'm helping and supporting this, against counsel to do so. I'm being told by pastoral counselors that I am aiding and enabling her to sin. But, in the end, I really have her welfare at heart.
So, this final straw was simply one day when I came home for lunch. I live close enough to work that I can get home for lunch, so I often do. This day, Ben was the only one of our children home. My wife told me that she is leaving to go study with her "college study group" and that she will be leaving in about an hour. So, by roughly after noon, she's gone and Ben is at home by himself. I don't have a problem with that. He's old enough to keep himself occupied for a few hours.
But when I finally finish work that evening, and got home at about 10:30 pm, I find the house is dark, and he is still home and completely alone. My wife is still at her "college study group" and Ben has been home alone all day long and all night long from a bit past noon all the way until 10:30 pm at night. I'm a bit peeved at this. That is an understatement. I am intensely angry. I understand going to a study group for a couple of hours, but this has been all day and long into the night with Ben home alone the whole time. It is one thing for her to abandon me. I am used to that, and I am equipped to deal with that but to abandon our children? That is the final straw.
I ask him if he's eaten anything, and he said, "No."
About the same time that I get home, Ben's older brother, who is about 30, shows up at the house with his girlfriend. And he's brought some fast food that they picked up at a restaurant. And I sit there, watching Ben watch his brother eat.
Then Ben says to him, "Can I have any leftovers if there are any?"
And my heart just broke. It took all I had not to cry in front of him. I cannot express in words the grief I felt in knowing what had happened to him all that day while I was at work, unaware of what was happening to him at home. I spent hours at work, completely oblivious to what was happening to him at home because he was alone. I was heartbroken for him. I get home to a dark house, a hungry son, and a missing wife.
Here's a 12 year old boy who has been home all day and all night, alone, basically begging table scraps from his own brother. Why? Because his mother has not been home all day and all night to even so much as prepare a meal for him because she's out pursuing worldly ambitions with her "college study group." I try my best to suppress my outright hostility towards this "college study group" that is so much more important to my wife than her own son, let alone her own husband. I'm a grown man, capable of handling such treachery. But a 12 year old boy?
My heart broke with sadness for my son, and simultaneously burned in anger toward my wife.
I took him to McDonalds to get a burger and fries at almost midnight. And I think to myself, "Where was his mother all this time?" Ben is capable of making a sandwich, or a pizza, or some such, but he hasn't and he shouldn't have to. He has a mother, whom God himself has tasked with the keeping of her husband, her children, and her home. (In fact, she was gone that night until well past 10:30; showing up back at home about 1:30 am the next morning.)
On school days, I ask her if Ben has a lunch prepared for the next day, and she will tell me "No. He knows how to make his own lunch. He can go in kitchen and make a sandwich." But I think, in the long run, when he's an adult, wouldn't he rather look back on his childhood and remember a mom that LOVED and CARED for him, and didn't simply tell him to go forage in the kitchen for himself?
Wives are to be "keepers at home" for this exact reason – to avoid this exact situation. This is the role God has ordained for wives, and laid out explicitly in scripture. I am considered anything from "old fashioned" to outright "abusive" if I bring these truths to light and tell her that I believe God expects us to work in the roles he has designated for each of us.
God has not tasked wives with providing for the family. This is the husband's role. God has tasked the husband with working and providing for the family, not the wife.
And God has tasked wives with taking that providence that God has given the husband, whatever it is (and however much, or however little that may be) and taking that and using it frugally and wisely in running the home. She is not the provider for the home, she is the administrator of the home.
And had the administrator been home, my son would not have been begging table scraps from his older brother.
She looketh well to the ways of her household, and eateth not the bread of idleness.
Proverbs 31:27