You Want Emotionally Healthy Children? Stay Married.
You Want Emotionally Healthy Children? Stay Married.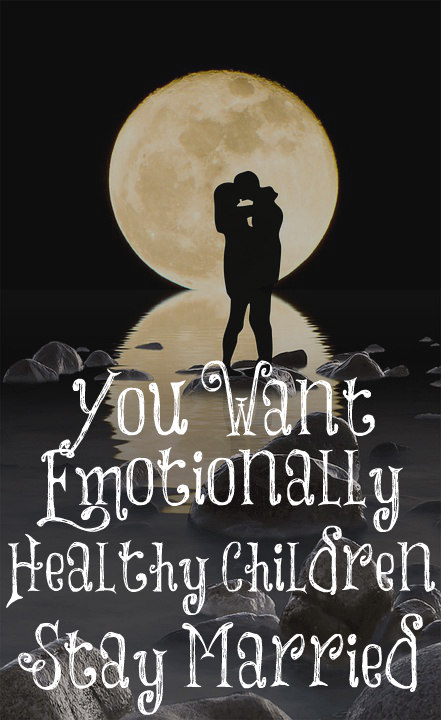 There's an incredibly heartbreaking article written by "Laura" about her life from a divorced home. There is no easy divorce. This is a lie being perpetuated upon our culture to give parents an easy way out of their covenant of marriage. Divorce devastates children and this is why God hates it.
In many posts, I have written about the importance of mothers being keepers at home. It's been proven that children who are raised by full-time mothers grow up to be more emotionally stable and secure than those who are not. Another important ingredient in raising emotionally stable and secure children is to stay married until death do you part.
Laura wrote, "My experience with psychiatry made one thing clear: kids with severe mental health issues rarely come from 'normal' families. Most of us lived with a parent and stepparent; others had single parents; some didn't have parents at all. The kids I went to school with almost all lived with their mother and father; the ones that didn't all had their own demons.
"I coped. I went to college; got some distance from my family; had time to process and figure things out. It still took me a long time to form healthy relationships with other people; I grew up in a world where marriage didn't mean anything, and nobody stuck around for very long."
I asked the women in the chat room what their experience was if they were raised in a divorced family. They were all heartbreaking.
"It was devastating and I was already married with two children when they divorced. My dad had been a preacher and they were married for 28 years, then it seemed like out of nowhere they were getting divorced. Watching my siblings that were still young and at home was terrible. It absolutely destroyed them. My brother who had a call to preach joined a rough biker gang recently. My sister went through countless boyfriends from age 15 -19 then became a lesbian. Now, she is finally turning her life back around and my youngest brother has been in trouble with drugs. My youngest sister sister has turned to sex as a way to cope. It's been awful to watch."
"My parents separated when I was 15 so I was a little older than most. I think they assumed that I could cope with it better since I was a teenager but that wasn't at all true. Neither of them told me they were separating or divorcing; they just told me my dad was moving out forever and they both started dating other people. My mom started clubbing and sleeping around. My dad started dating a woman who was closer to my age than his. It was a nightmare. I went from doing well in school to flunking out, from wanting to wait until marriage to have sex to seeking out random guys for any bit of attention. I was a train wreck. Thank the Lord for saving me at 18 before I could do more permanent damage to myself."
"I was 24 when my parents began their divorce proceedings. It was a very drawn out, awful process. It took about four years to finalize. It destroyed any resemblance of a family that was ever there. My mom and dad have not been in the same room in over 23 years. My one brother hasn't spoken to my dad since. We do separate holidays and birthday parties. My mom wishes my father dead and has bitterness to her core. It has been awful!"
"I don't remember being sat down, but my childhood was HORRIBLE. Devastated. Although it took me YEARS to work through and I still continue to work through the effects it has had on me. (I was six and am now 31.) I do know it has taught me what I do not ever want. My childhood wasn't safe, secure, so ugly, so scary, and so very rocky. I hope my children have none of that to ever recover from. I do say, though, that God has shown me, molded me, and is still working on what He has intended for me. How merciful and graceful He has been to me! I just never want to relive my childhood again."
"I was five so I didn't fully understand. As I grew up, I thought it was fine. They were civil. They lived close to each other so my brother and I got to see them both, and I was thankful for that. However, as an adult, God has begun to reveal to me the deep damage that the divorce caused. It has been a factor in my anxiety/OCD, my relationship struggles/promiscuity, drug addiction, and general distrust before I was saved, and the list goes on and on. It made me very insecure and I felt I had no control in my life. I also know it has impacted my brother in similar ways, though he is not a believer and isn't aware of it.
"I can honestly say now that there is NO such thing as an amicable divorce! Our culture, including the church, has downplayed the deep tragedy that divorce is for parents and especially children. It is TRAUMATIC! We wonder why so many millennials like myself are addicts and can't grow up. They are traumatized! I'm not underestimating our own responsibility just emphasizing the seriousness of broken families."
Women, do all you can to live a godly life and stay married until death do you part for your sake and the sake of your children.
What therefore God hath joined together, let not man put asunder.
Mark 10:9