How Not to Raise Entitled Children
How Not to Raise Entitled Children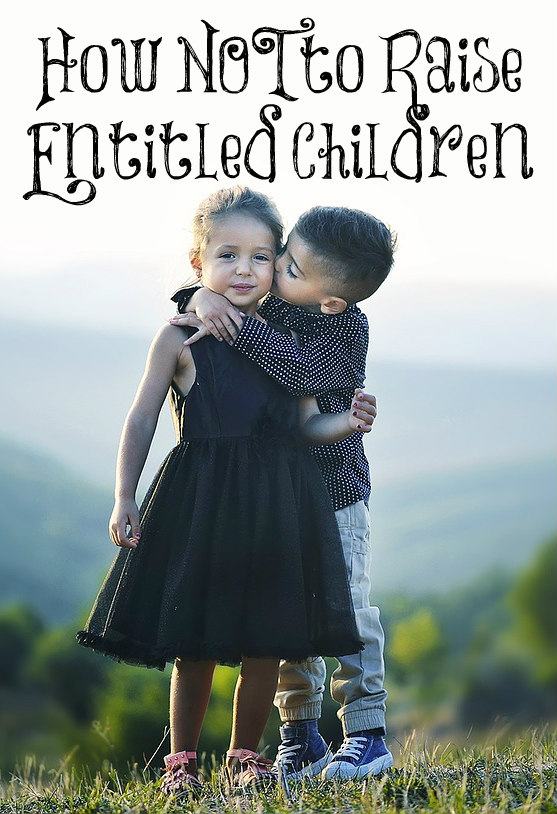 An older, godly friend of mine is giving a talk on how not to raise entitled children to the local MOPS group. She said that she'll be talking to a woman at church and the child will yell to her mom, "I want a donut," and the mom will immediately leave the conversation to get the child a donut. This is how you raise an entitled child.
She teaches that mothers must teach their children to not interrupt them when they are speaking to someone else. They should place their arm on the mother's arm to let her know she wants to speak to her and wait patiently until the mother is done speaking. Teach them to say "thank you" and "please" and to pick up after themselves. Teach them to notice people and things that need help, like seeing some trash that needs to be picked up and thrown away or an old person needing help into a car.
I believe the biggest way to not raise entitled children is to teach them to obey you when they are very young. Teach them to do what you ask of them or stop doing what they are doing the moment you ask them and the first time you ask them. If they learn to be obedient children, then everything else you teach them will be much easier (Ephesians 6:1).
I asked the women in the chat room what they thought were some other ways to raise considerate children and not entitled ones and here are some of their responses.
When they do want something, make them work/save up to get it themselves instead of buying it for them and letting them work it off. This will keep them from the "I want it now!" credit card type of mentality that is pervasive in our culture which accrues large of amounts of debt that keep many in bondage (Proverbs 22:7).
Teach them to play games and not always letting the child win. They need to learn to lose well and be kind in losing. It's more important to learn how to lose than how to win since winning is easy but losing is not. It's teaching them to think more highly of others than they do themselves (Philippians 2:3).
Being an "older woman," I see a lot of disrespect towards us. I see some of them rushing ahead and cutting in front like, "you don't matter." Teach your children to respect authority from a young age. If you teach them to obey you, you are teaching them to respect authority. They need to be taught to respect those in authority over them and parents are their first authority.
Stand up to greet someone (if you are seated), shake firmly, look people in the eye, and speak clearly when greeting someone. Give up your seat for an elder, pregnant woman, disabled person, and young lady. Open doors for people. Take hats off indoors and for the anthem/pledge. Also, Christmas and Easter are about CHRIST. We give gifts, but they are not the focus. These are just a few things we teach our boys in our home.
Don't let them eat between meals or feed them every single time they say that they're hungry. That way, they'll be hungry for whatever is served and not expect a special meal just for them. It's teaching them self-control and not allowing their appetites to control them (Philippians 4:5). Don't give them an allowance. When they're little, they don't need money. When they're older, they can do chores for others like dog sitting or yard work.
We require our children to say "please" or they will not get what they requested and sometimes they still might not get it. We train them to accept the word "no." They must say "thank you" as well. We do not tolerate whining or complaining. We teach them that it comes from an ungrateful heart. We buy gifts only at Christmas and birthdays, but even then, we don't go over-the-top by any means. When they are old enough, they have a set of daily and weekly chores they must do. We do not give an allowance, instead we keep a list of extra chores they can do to earn money. We also try hard to train them to think of others. I think this goes a long way in curbing an entitlement attitude.
I was raised pretty old fashioned, and so was my husband. We were always expected to say "please" and "thank you." Because we were a one income family most of the time, we had to be very careful with our finances. For this reason, our children learned from early on that they couldn't have everything. One thing I believed (and still do) is our children should never hear us gossip or put anyone down. No matter what. We wanted them to have a compassionate heart towards all people. Being critical of others would be contradictory to what we wanted to instill in them. We were careful of their friendships still, of course, but the result has been that they are kind and loving adults now.
Nip temper tantrums in the bud the first time they have one. You don't want temper tantrums to be ingrained in them. It's a lot easier to address and stop if you deal with it immediately the first time you see it happen. Way too many adults are having temper tantrums these days when they don't get what they want and it's just plain ugly. Teach them to learn self-control from an early age and that they will not always get what they want and that's okay. This will go a long way to raising children who are not entitled.
Train up a child in the way he should go: and when he is old, he will not depart from it.
Proverbs 22:6