Silly Women Laden With Sins
Silly Women Laden With Sins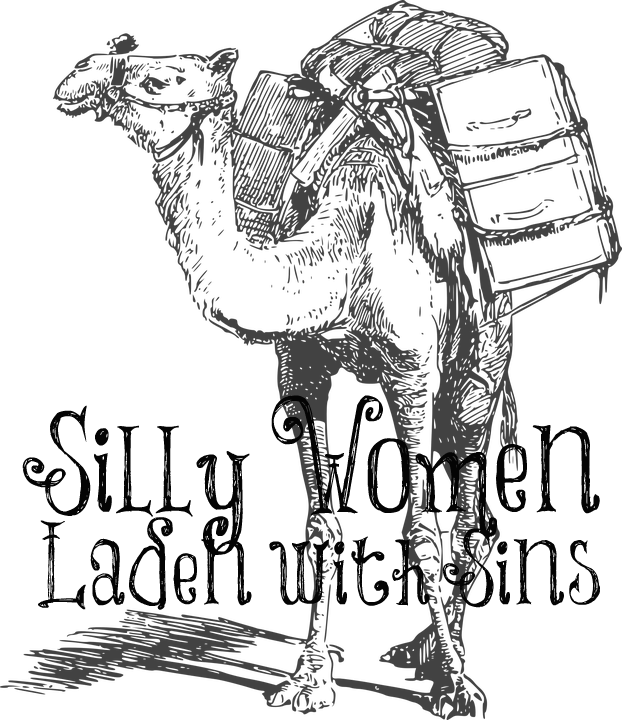 Women do NOT like being told that they are more easily deceived. Are we? We are told in 1 Timothy 2 why women shouldn't teach nor usurp authority over the man but to be in silence. Two reasons are given. One was that Adam was first formed, therefore, this is the way God showed His authority structure on this earth from the beginning. Priests, Levites, Scribes, Major and Minor Prophets, Kings of Israel and Judah, Patriarchs, Authors of Scripture, the Forerunner of Christ (John the Baptist), Christ Himself, Apostles, Elders, and Deacons were all men and are to be men according to the Bible. The second reason is that it wasn't Adam who was deceived but "the woman being deceived was in the transgression" (1 Timothy 2:14). Does this mean that ALL women are more easily deceived?
Let's look at 2 Timothy 3 for some clues. We are told that in the last days "perilous times shall come." Later on, we are told of "silly women laden with sins, led away with divers lusts, ever learning, and never able to come to the knowledge of the truth" (2 Timothy 3:6, 7). From what I have seen, women seem to be more easily deceived with false doctrine. They also allow godless things into their homes via the television set or computer which causes them to lust after things they should not and tear down their homes with their own hands.
I find it very interesting that God chose to use the word "women" in this passage. It's women who He calls silly and led away with different lusts. They are always learning but never come to the knowledge of the truth. Therefore, women who haven't been steeped in the Word of God are more likely to be deceived. Just look at the new women who have been elected to Congress and the mess they are making! They believe babies should be murdered up until after they are born and support all types of things that God calls evil. "The vast majority of our suffering falls at the feet of wicked elitists and their obedient underlings, who arrogantly reject the Creator's love and teaching, and are mostly responsible for the depth of evil in this world." (source)
"When women are let loose to do as they please, away from the authority of men, they have not come up with a cornucopia of great inventions and discoveries. Instead, they have aborted tens of millions of infants, blames all their problems on men, voted leftists into office, become excessively promiscuous, gotten worthless college degrees and demanded equally worthless make-work jobs, believe that wealth falls like manna from heaven, come to believe marriage is temporary, destroyed children's lives through easy divorce and single parenthood, and rationalized every bit of it" (Bob Wallace).
It's also women who are being deceived by popular women preacher/teachers who are teaching things that aren't biblical and many of them are teaching men which is forbidden in God's Word. As I have written before, I don't believe women belong behind pulpits teaching other women the Word of God. God ordained men (elders) to do this and to lead their flocks not women. If the reasons given for women not to teach men (men are the ones to be in authority and women are more easily deceived), then why should they be teaching women? God is clear in His Word exactly what He wants older women teaching young women (Titus 2:3-5) and most of the women preachers/teachers are not teaching biblical womanhood.
We must be women of the Word. We must learn from godly MEN who have studied the Word of God and teach it just as it is written who aren't afraid to teach the truth boldly and without shame. We must not be enticed by television shows and allow its corruption to come into our homes. We must always be on guard against the enemy's tactics and clothe ourselves with the full armor of God so we won't be silly women who are easily deceived but ones who will grow in the wisdom and the knowledge of the Lord.
As for my people, children are their oppressors, and women rule over them. O my people, they which lead thee cause thee to err, and destroy the way of thy paths.
Isaiah 3:12