Women Were Happier When They Were Barefoot and Pregnant in the Home
Women Were Happier When They Were Barefoot and Pregnant in the Home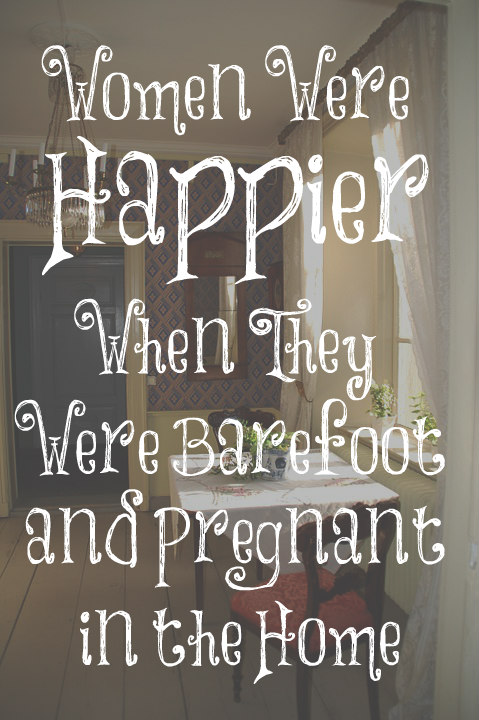 A man named Stefan Molyneux, who is not a believer, wrote on twitter, "Since women gave up being mothers in order to be drone workers under fluorescent lights, female happiness has declined every single decade." This makes sense to me since the farther women go from God's will for them, the more unhappy they will become. However, others very much disagreed. They wanted proof that women are more unhappy.
There's an article titled Gains in Women's Rights Haven't Made Women Happier? Why is That? "Since the 70s, women in the US and Europe have reported feeling less satisfied with their lives…Stevenson and Wolfers discovered that American women rated their overall life satisfaction higher than men in the 1970s. Thereafter, women's happiness scores decreased while men's scores stayed roughly stable. By the 1990s, women were less happy than men…Evidence supports the idea that women's rights and roles in the home in the US and Europe have not moved in step with changes in the workplace. Therefore, because women with jobs often do most of the chores and childcare, they shoulder a dual burden that cuts into their sleep and fun."
So now we come to the gist of why women are more unhappy. They are required to do too much. They have willingly taken on the woman's curse of pain in childbirth along with the man's curse of providing. They have too much housework to do and they still must take care of the children after a long day at work. BUT, they fought for the right to do this! They wanted to have careers, therefore, men should want to do housework, right? Do you realize how many marriages are being destroyed over housework?
No matter how hard feminists have tried to convince us about the "equality" between men and women, it will never work because they are fighting against God's grand design for men and women. Women were created to have children and be keepers at home, men were not.
"Expectations also lie behind the curious finding that performing household chores makes men statistically less likely to become depressed but contributes to depression in women. Taking on housework seems to encourage men to judge themselves as generally likeable, fair-minded dudes, kindly reducing their wives' load. On the other hand, taking on housework seems to make women feel exploited."
This is so terribly sad. The work that God has given women to do makes them feel exploited. Did you notice the word "feel"? It's never wise to be led by one's feelings instead of by God's Word. A woman can either choose to do her housework cheerfully, as unto the Lord, and find joy in it or she can feel like she's being exploited and be constantly miserable. If women understand that the greatest of all is the servant of all and that it is more blessed to give than to receive, their entire attitude would change. (If a husband insists his wife work outside of the home and take care of everything related to the home, then, yes, this is a very heavy burden for a woman. She will have to rely on the Lord's strength to get her through.)
Elizabeth Bernstein in an article called Meet the Marriage Killer has found that nagging causes more divorces than affairs and many women nag their husbands over housework. "But women are more likely to nag, experts say, largely because they are conditioned to feel more responsible for managing home and family life." They are "conditioned" this way because God, their Creator, made them this way! They are the ones with the wombs where the babies grow and the breasts to feed their babies. They can't escape basic biology.
With regards to nagging, this is why there are verses in the Bible warning us about quarreling and contentious wives. Yes, men view nagging as being contentious and disrespectful. They are grown men and don't want to be continually told what to do. It will push their husband away from them faster than almost anything else they can do. "It is better to live in a corner of a roof than in a house shared with a contentious woman" (Proverbs 21:9). As a wife nags her husband about housework, she is tearing her home down.
"As women's rights and opportunities have increased, it seems reasonable that women in industrialized countries have internalized ever more complex and optimistic expectations, and judged reality against these. Asked how satisfied she is with her lot in life, the housewife of the early 1970s probably just reflected on whether things were going well at home. The same question today evokes evaluations across many areas of life."
How can women be happier when their marriages are falling apart and their children are being raised by strangers? How can they be happier after coming home every night exhausted and still having to care for the children and the home? How can those who choose not to get married and have children be happier growing older alone? How can money take the place of loving, warm relationships? It's relationships that make people happy – strong and healthy family relationships yet many women today have been duped into giving this up for the almighty dollar. Women were happier when they were doing what God calls them to do – being barefoot (shoes are probably okay!) and pregnant in the home! God's ways are truly best.
He maketh the barren woman to keep house, and to be a joyful mother of children. Praise ye the LORD.
Psalm 113:9