Snatching Ambiguity From Clarity
Snatching Ambiguity From Clarity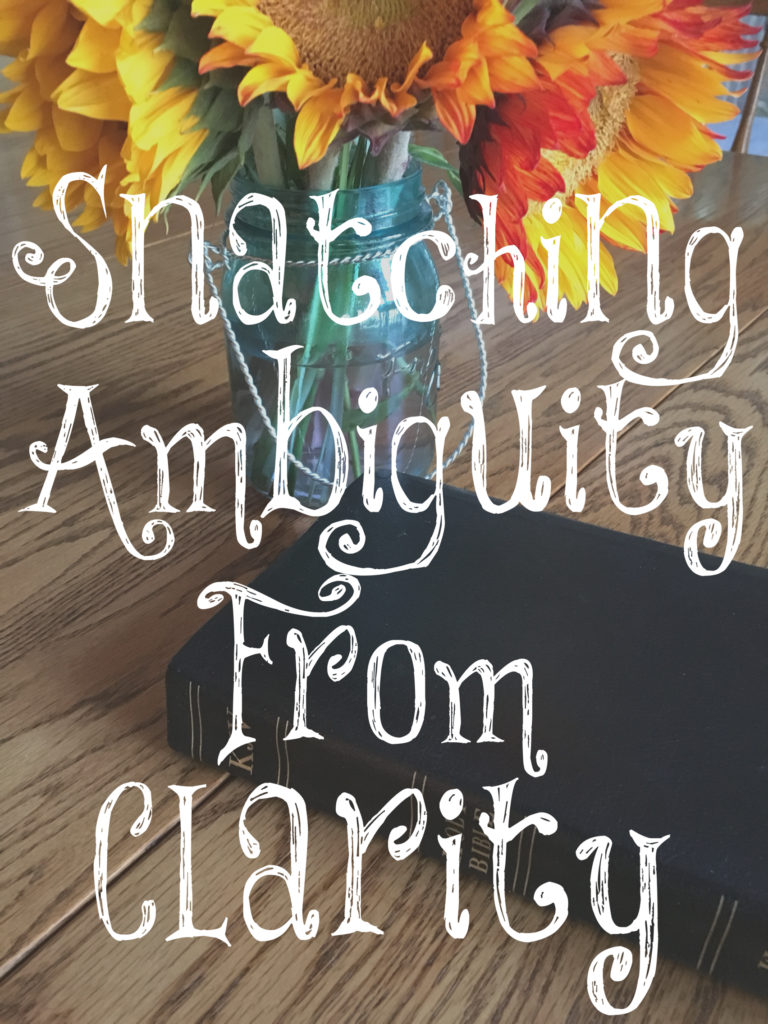 Written By Ken
During the Judge Kavanaugh's hearings, the Judge gave an interesting phrase "snatching ambiguity from clarity" as he discussed textualism, the theory that the interpretation of the law is based primarily on the ordinary meaning of the text when it was written. He was referencing those who want to find every reason why what the law actually says is not what it actually means.
Unfortunately, it seems that we have the same issue in the Church today where too many people want to take what is so clearly stated in the Word and twist and turn, reach and hypothesize, all to conclude that they know the mind of God on matters clearly written in God's Word and they have discovered that God's mind is the opposite of what is clearly stated.
This is especially true concerning modern biblical womanhood where, of course, modern Western thinking is said to have nothing to do with their conclusions as they stretch for ambiguity to try and upend God's intent with the plain meaning and make it say the opposite of what God clearly says. In other words, the are "snatching ambiguity from clarity."
Amiguity means "doubtfulness of uncertainty of significance; double meaning." Some women love to make other women doubt God's clear commands and cause them to be uncertain and question if they are true and relevant for today. Clarity means "clearness" which God's word is to us; most often clear as can be!
I teach women to be submissive to their husbands as it is clearly taught in the text of the word of God but it amazes me how many now love to make it ambiguous. They love to cast doubt on what God has clearly commanded by giving all of the ifs, buts, and exceptions.
"God wouldn't command women to be submissive because it can lead to abuse!" Is your husband abusing you? If so, quickly seek help. A wife's loving and willful submission does not include subjecting herself or her children to abuse. But if your husband is not abusing you, stop using this excuse to wipe out the clear teaching of God's word.
"What if a husband asks a wife to sin?" Is your husband asking you to sin for him or with him? If so, just say no. Submission does not mean we go against God's clear word and sin.
"That was written only to one church, not to the whole church of God!" No, it was written to all churches. Six epistles clearly state that a wife is to be submissive to her husband's leadership. Four were to specific churches who were told to pass them around to other churches, and two were to two of the apostles who were Paul's main proteges, Timothy and Titus, and both were responsible to lead multiple churches.
Perhaps nothing creates more ambiguity with the text than the cry for "mutual submission." God says one time, "submitting yourselves one to another." "See! We don't really have to be submissive to our husbands at all!" They have snatched ambiguity to overturn the clear meaning of seven verses on a wife's submission by appealing to one verse that also tells her to be submissive! That's right, "submitting yourselves one to another." How can such a clear verse now come to mean: "I do not have to submit at all"? These women have in their minds created doubtfulness, uncertainty of significance or a double meaning, and ambiguity; all in an effort to excuse why they refuse to accept the clarity of the text.
The worst case of creating ambiguity with the clear teaching of the word is the massive attempt to justify women holding places of church authority and teaching men in the church even when the plain text says, "Let the woman learn in silence with all subjection. But I suffer not a woman to teach, nor to usurp authority over the man, but to be in silence. For Adam was first formed, then Eve. And Adam was not deceived, but the woman being deceived was in the transgression" (1 Timothy 2:11-14).
"Women were the first to preach to the disciples about Jesus rising from the dead!" How much more ambiguity can you find than a simple message of the resurrection turned into a speaking engagement? Actually, wasn't it an angel who preached to the women and told them to go tell (not preach) to the disciples that Christ had risen?
"What about Deborah, Junia, and Priscilla!?" All great women used by God but we have not one instance of any woman preaching in the churches or a scrap of any message they gave. Did you miss the part where all the priests of the Old Covenant and all of the apostles were men?
"Junia. She's an apostle!" Or maybe she was "of note among the apostles"(Romans 16:7)? Or maybe she wasn't a she at all but Junias, a man? But for those looking to snatch ambiguity from clarity of God's Word on these matters, they have found enough. They have muddied the waters just enough to create a whole theology for women preachers/teachers and leaders in the churches all out of an ambiguous text.
"Those commands were cultural and only for that church." Yes, it is the only possible ambiguity that is not dishonest, but it also is not part of the the actual text. There is no place in scripture that God tells us that one day women would lead the church and do it better than godly men can do it. An appeal to the texts being cultural and no longer applicable to our day presumes that Western culture is superior to all other cultures and that God in all His ambiguity could not have clearly given us instructions for marriage and the Church that could endure throughout the church age. No, what was good for almost 2,000 years is no longer good for today as feminism has freed the church from its yoke of biblical culture.
But here's the "cultural" catch. The apostle Paul's justification for why a woman was not to exercise authority over a man or teach him predates culture. Paul takes us back to a time before culture began and only Adam and Eve were in the garden. Did Paul lie to us? Or was God giving us His will and His way in a clear manner explaining why He wants male leadership in Christian homes and churches? And if you say Paul lied or was mistaken in his words, you have just opened the slippery slide that will take you away from all of the churches' teachings leaving you with nothing more than the red letters of Jesus. All these years the Bible could not be trusted by the Church, and you just discovered that for us by all your ambiguities? I do not think so, and we have the mind of Christ (1 Corinthians 2:16) who founded His church upon His apostles as stated in His word.
We live in a culture where everyone has an excuse and a justification for why they will not do the right things in life. Divorce is rampant. Children are left in daycare are all day. Debt is skyrocketing. The unborn are being killed for getting in the way, and every form of sexual sin is being thrust upon us by a pleasure-seeking society where everyone is doing what is right in their own eyes. But some of you want us to believe that this culture is so much better than the culture that Peter and Paul preached to and admonished. That we have progressed to an evolutionary point in the church where we can adapt the Church to this sinful culture and make it better. This world needs Jesus and God's instructions to us more than ever. Don't throw out God's clear admonitions but embrace them as a people called to be separate and holy, set aside for God. His ways are always best.
God is clear what he wants for the role of women in the churches and it is for our good. The clarity of the plain speaking word of God is far more valid than any ambiguity can challenge. Take God at His word, dear women. The New Covenant teachings begin in Acts when the Church was established by the apostles. Everything we need for life and godliness is found in God's word, not in wishful thinking and a stretch for ambiguity. The New Covenant and the New Testament are our guide giving us all we need for life and godliness. Let us not allow culture to dictate what God's word says, but rather let us allow God's word to influence us to stand firm against modern culture by studying it and obeying God!