Celebrating Obesity
Celebrating Obesity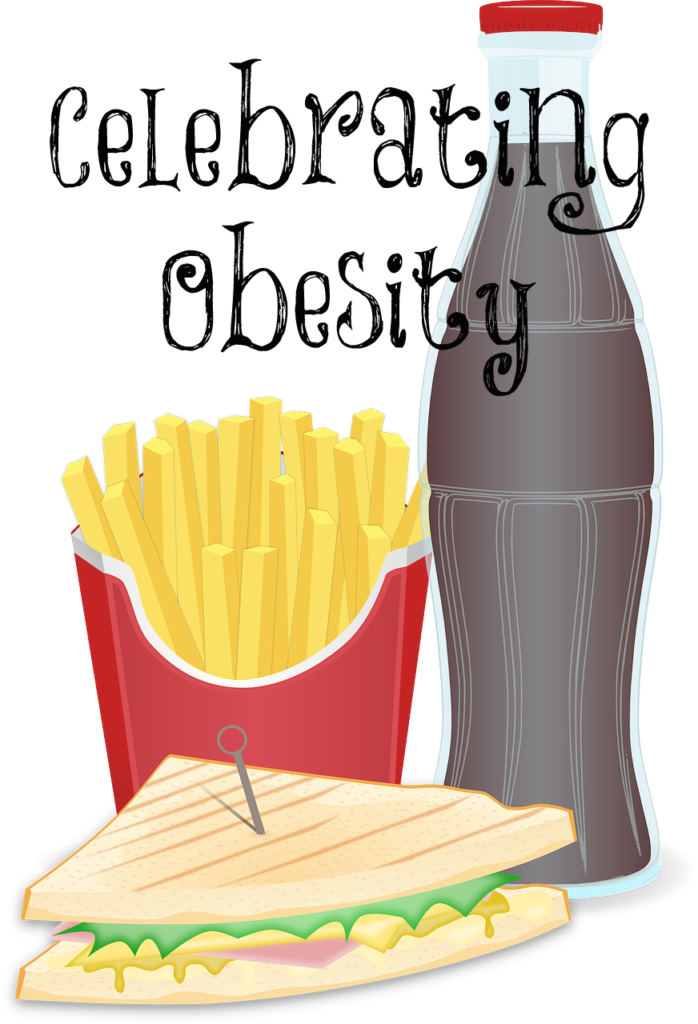 The more wicked our culture becomes, the more they will celebrate sin and hate what is good. "Woe unto them that call evil good, and good evil; that put darkness for light, and light for darkness; that put bitter for sweet, and sweet for bitter! Woe unto them that are wise in their own eyes, and prudent in their own sight!" (Isaiah 4:20-21).
On a cover of a popular magazine recently was a picture of an immodestly dressed obese woman. Our culture is trying to normalize obesity and even celebrate it. You can see this happening with other sins as well. We must never fall into their trap, dear women. We must never try to normalize something that God clearly calls sin.
Many cultures have few obese people because the portions they eat are much smaller than in America plus they are a lot more active. Supersize Cokes, fries, and all-you-can-eat buffets may look attractive to the budget but the diseases caused by carrying an extra 50-100 pounds and eating junk food will rob us of a full life. Hence, God tells us not to be gluttons and overeat. All of His commands are for our good!
Our bodies are the temples of the Holy Spirit and as such, we are called to discipline our bodies and make them our slaves. I know it's difficult in this day where there is an abundance of food but we must still never give up the struggle. I have four close friends around my age who have struggled with their weight their entire lives until a few years ago or so. How did they finally manage to not overeat and be overweight? They all joined Weight Watchers or had some other type of accountability group because having accountability and learning the value of portion control are extremely important in the battle over weight. Without these two things, it will likely be impossible for most of you to ever achieve the weight you desire.
Gluttony means "excess in eating; extravagant indulgence of the appetite for food." If you are overeating on a regular basis, you are sinning the sin of gluttony and need to confess it to someone and ask for accountability. The ideal accountability partner can be your spouse who is with you the most or consider Weight Watchers and go on a regular basis. Learn to eat in moderation nutritious and healthy foods.
If you have a hypothyroid, as I do, seek medical attention, walk forty or so minutes a day, and give up all sugar. These are the things that have allowed me to keep excess weight off yet understanding it is a constant battle that requires a regular daily approach of eating right, portion control, and exercise. When you give up sugar, you give up a lot of junk food. Thankfully, I still have my healthy chocolate but still have to be careful to eat it in moderation!
All sins that we struggle with need to be confessed and we must ask others to keep us accountable if we are unable to do it on our own. Other sins like drinking excess alcohol, sexual sins, and bitterness are just as destructive or worse than gluttony and are often hidden but need the same approach of making our body our slave, repentance, and accountability, instead of being a slave to our flesh.
The believer knows that her flesh was dead and buried in Christ Jesus: "But ye are not in the flesh, but in the Spirit, if so be that the Spirit of God dwell in you" (Romans 8:9). It is not that we will never struggle with our dead fleshly desires, but rather we now can say "no" to the flesh and "yes" to righteousness in everything! And we can attain this, as we are promised, since we can do ALL things through Christ who strengthens us. All of us have or had sins we have struggled to overcome and we can either live a life of excuses or we can believe God at His Word and begin to say "no" to sin.
When we have control over our flesh we are so much happier! Lack of self-control is frustrating and leads to a feeling of failure. Remember, it is not about our past but our present and future that God is most concerned about so accept God's love and grace and listen to the Lord who is telling you to "go and sin no more!"
I seriously doubt any of you are celebrating obesity as this magazine cover is trying to portray. If you are significantly overweight, I am sure you don't like it and want badly to get into shape to feel better. You've tried many diet plans but continue to fail. I encourage you to find your identity in Christ by reading and studying Romans 6 and 8. Learn from preachers and teachers of the Word who explain your new lives in Christ like Andrew Farley and Michael Pearl. You don't need to live as if you have no control over your flesh; for Christ died to free you from sin!
Find accountability and learn to eat healthy with a regular exercise routine and moderation. Never give up! My four friends didn't and they all look great now. You can do it, too! And never forget that God is in your struggle with you full of grace and love. He will give you His strength and will power but only if you take the first steps of faith. Believing and trusting God does not mean sitting back and waiting for Him to deliver you; for He has already delivered you from sin and made you His child. All you have to do now is get up off the couch, exercise whenever possible, and begin practicing moderation in your eating. Listen to the apostle and follow God's ways in order to reap His many blessings on this earth and in the world to come.
One of my friends just posted this on her Facebook wall and she looks amazing!
"Celebrating one year of being free from my addiction to processed sugar and other empty carbohydrates!
"It was Labor Day 2017 when God showed me I was being mastered by it through His Word thou shalt be mastered by nothing' (1 Corinthians 6:12). I knew I loved chocolate and even used to joke about being a chocoholic but I had no idea I had allowed it to 'master' me.
"I confessed my sugar addiction as a sin against Him, I professed to eat only healthy sweets, asked God to give me the strength to surrender to His Will, and asked several friends (hubby and Celebrate Recovery) to help hold me accountable. He was faithful to my plea although it was not easy at first to deny myself brownies, etc. and instead turn to His way of satisfying my natural desire for sweets.
"Now I love eating apples, sweet potatoes and baking with maple syrup, stevia, etc. I've lost 25 pounds although that was not my goal. I feel more energetic and mentally alert but nothing beats the feeling of being set FREE from the hold that junk had on me!!!
"Praise the Lord! Amen! ?"
But I keep under my body, and bring it into subjection: lest that by any means, when I have preached to others, I myself should be a castaway.
1 Corinthians 9:27