All the Reasons Why Women Don't Need to Be Silent in the Churches
All the Reasons Why Women Don't Need to Be Silent in the Churches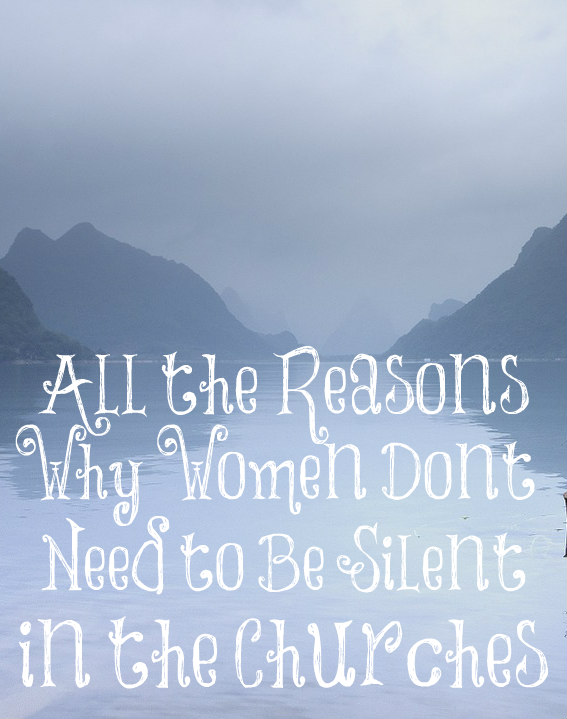 Last Saturday, I published this handwritten post on Facebook and of course, women just loved it! Not.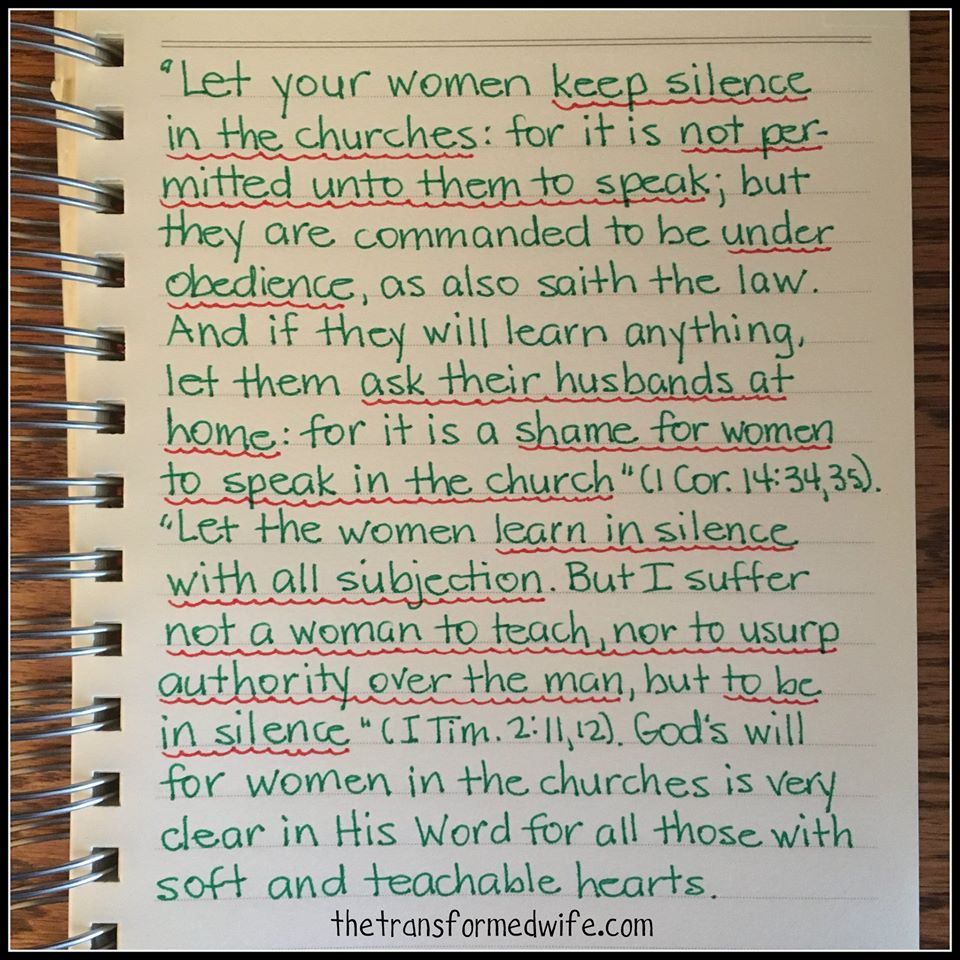 If you look at the comment section, you will see many reasons given why women aren't to be silent in the churches. I am going to go over them with you so that you will have a good defense for your faith. We must know God's Word and be able to defend it against false teaching.
Some said those verses were written to rebellious women in the churches back then, uneducated women, or because women were being oppressed and separated from the men. Are any of these true? There certainly are no Bible verses to support these reasons. In fact, in 1 Timothy 2, God goes all the way back to Creation as to why women are to "learn in silence with all subjection." The first reason is that Adam was created first, therefore, he's the one God ordained to be in authority. The second reason is that Eve was deceived. This washes away ALL of the cultural excuses why these verses are irrelevant for today.
Others gave this verse: "And it shall be in the last days says God, 'That I will pour out My Spirit upon ALL mankind; And your sons and your DAUGHTERS shall prophesy, And your young men shall see [divinely prompted] visions , And your old men shall dream [divinely prompted] dreams ; Even on My bond-servants, both men and WOMEN, I will in those days pour out My Spirit And they shall prophesy" (Acts 2:17‭, ‬18). These were already fulfilled. "Daughters shall prophesy; fulfilled in Anna the prophetess, Luke 2:36, and in the four daughters of Philip, Luke 21:9." (Matthew Poole's Commentary). Other commentaries say it is that women and men would be filled with the Holy Spirit but it certainly doesn't negate the verses about women being silent in the churches.
"Can't be right translation as, Anna the prophetess/priestess outside the Temple saw Mary bring Jesus and called him Christ. Isaac's wife Rebekah was also a prophetess who shows great godly boldness where Isaac was silent. God also told Abraham to listen to his wife Sarah." The Church was not even established at the time that these women were mentioned in God's Word. The Apostle Paul is the one who set up the Church and explained in detail how it is to run.
"What about those women who have been called by God into ministry?" God never calls women to do what He has clearly forbidden in His Word. Any woman who is preaching/teaching/leading in a church is in clear disobedience to God's word since He commands them to "learn in silence with all subjection."
"What do you think about men who say women should not talk in the church, for example, not even ask prayer requests, give announcements, testimonies, etc.? They can only sing and pray quietly, if they have a request they should write it down and a leader will read it for them." I believe they are absolutely correct as I shared in this video recently. I would rather err on the side of taking the Bible too literally rather than too liberally.
One woman felt that if there are not godly men to lead, then women should lead. No, this isn't biblical. Plus, there are plenty of good and godly men to lead and teach in the churches. "As for my people, children are their oppressors, and women rule over them. O my people, they which lead thee cause thee to err, and destroy the way of thy paths" (Isaiah 3:12).
Then all female preachers I know use this one. "Mary went and preached to the disciples that Jesus had risen again." No, the angel told Mary to go "tell" the disciples so she went and "told" them what she was told to tell them. She wasn't told to preach. NO women in the Bible were told to preach. This ministry has been given to men. Besides, the Church wasn't even set up when this happened.
"The Transformed Wife, did you know the Hebrew word for woman is Ezer? It's roots mean strong and benevolent and the closest translation we have is warrior. It's used 16 times in the Bible to refer to God, often used in a military context, and twice to refer to Eve. Submissive and silent….Really??" My husband answered this one. "No, go back and do further study on this. The word 'ezer' means helper. The word is never used to mean woman, but rather it does reference a wife as a 'helper.' The word for woman is 'ishshah,' which means woman, wife, or female and is used 674 times in the Bible, not just two to three times you reference of ezer. Ishshah comes from the word 'ish' which means man. So Ishshah comes from man and is man's female complement.
"It is quite disingenuous of the authors you have read to say that because 'ezer' is used of 'God as our help' that somehow woman is to be considered as if she has the strength of God. She does not. She does have the strength to do those things that God asks of her, but it is far from saving armies and nations. Instead, it is to obey God's commands to her IF one has the heart to please God, instead of arguing with Him with fallacious logic and mischaracterizing words and passages. The word ezer could not disqualify the plain commands of God, even if one could find that a woman is to be strong."
Some women will say it's okay for women to preach/teach in Sunday morning services as long as they are under the leadership of the elders. This isn't biblical. It's forgetting all of the admonitions for women to be silent in the churches and not teach men. God is above elders and God commands that women not speak in the churches.
Finally, there is this verse that women think disqualifies all of these commands for women to be silent in the churches. "But every woman that prayeth or prophesieth with her head uncovered dishonoureth her head: for that is even all one as if she were shaven" (1 Corinthians 11:5). A few chapters later in 1 Corinthians 14, the Apostle Paul gives clear instructions on how church services are to run. He speaks about men praying, prophesying, and speaking in tongues with an interpreter, then we are given these verses at the end of the exhortation which clearly prove that women are forbidden from prophesying out loud in the church gathering:
For God is not the author of confusion, but of peace, as in all churches of the saints. Let your women keep silence in the churches: for it is not permitted unto them to speak; but they are commanded to be under obedience as also saith the law. And if they will learn any thing, let them ask their husbands at home: for it is a shame for women to speak in the church.
1 Corinthians 14:33-35