Something to Ponder Before You Divorce
Something to Ponder Before You Divorce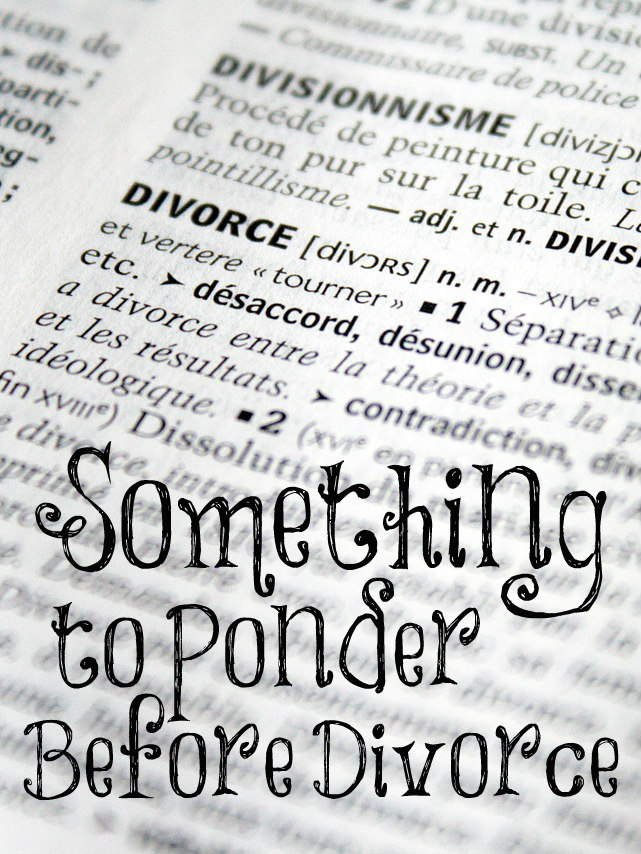 Written By Michael Davis
One question I would ask a woman who's thinking about divorcing a man simply because they've "grown apart" is, "In what way is your life going to be improved by divorce? This is presumably the man who knows you better than any other person on the planet, has accepted you as you are, has raised children with you, has provided for you, has been faithful to you, and has given you a home. So what situation do you think you're going into that will be better than what you have now?"
Let's do away with the pretense and the divorce porn peddled by the feminists. Women who seek divorce because they've "grown apart" are presumably over 40.
Well, I hope you have some job skills, because when you've taken that faithful man to the cleaners, you're going to be trying to finance two households on the income that used to comfortably finance only one. Get ready to take a serious downgrade to your standard of living.
Also, your youth, fertility, and looks have diminished. The men your age who are single have probably been burned already by divorce and don't have money, and if they've never married and DO have money, they've probably been playing the field this whole time and are only interested in dating much younger women.
Let's face the real issue. Your kids are out of the house and you're bored. Or worse, you probably buried yourself in the role of "mother" so hard for so long that you can't relate to your husband any more. You treated that man like an ATM in order to buy the right house and the right car so that you could impress the other women in the right neighborhood. He probably stayed with you for the sake of the children, and then he resigned himself that his prime was past and he was willing to "make it work." But you're motivated by some dream of greener pastures now that you've drained his wallet.
Good luck. You're probably going to wind up cashiering at Walmart and in a crappy apartment collecting cats until you get too old for that. Hopefully at that point, one of your kids will take you in. Your husband, on the other hand, will keep working and continue to put up with his situation just like he's been doing for a few of decades now. Maybe, he'll actually get some fishing or chess or poker in with some buddies. At least, it'll be quiet after you've left.
For the woman which hath an husband is bound by the law to her husband so long as he liveth.
Romans 7:2