Trusting God With Her Fertility
Trusting God With Her Fertility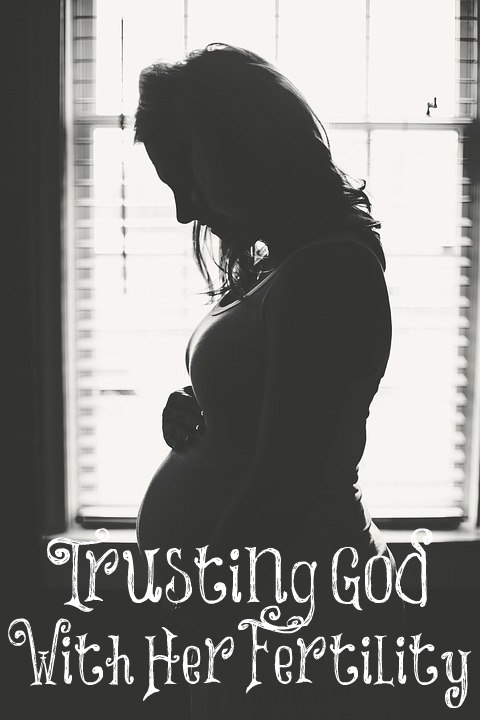 Written By Karissa Collins
Because you can never share your testimony enough…
When I got married, I went on birth control. It is "the responsible thing to do." It is what we are taught to do. Honestly, I had NO IDEA there was even another option. I was told to live life for my dreams, plans, and desires. And I never questioned it. Being raised in a Christian home and going to Bible college, why would I question what was so easily taught and accepted in the church?
Mandrae and I went into marriage with a five-year plan. Enjoy each other for five years. Do everything you can before you even consider thinking about children. I was never big on kids in the first place. I had serious dreams. Dreams to start a singing career. Dreams to make loads of money and be outrageously "successful" and admired.
After about a year into our marriage, God started to stir our hearts. We listened to sermon after sermon about trusting God. One day, we left a church service hearing the same thing. Why aren't we trusting God to give us a child in His time? That day changed everything. Not just my views on family planning. But literally everything. God started to reveal so much truth. He began to send me so many verses and revelations of what trusting Him really looks like.
We decided that day to trust God with our family. To not interfere with His plans. To allow Him to give us children as He pleases.
After three children came rather quickly, my husband started to doubt that this was really what God wanted. Of course, he did. It is so scary when you are literally the only person you know that lives like this. I fought fear but knew it was how God was asking us as Christ followers, fully surrendered, to live.
My husband struggled through years of doubt and fear. Fear of not being able to provide. Fear of giving our children the life they deserve. Fear of lacking time with each child. Fear of limiting the love we were able to give. Fear of being called irresponsible. Fear of comments and judgment.
He even told me multiple times that he was getting a vasectomy. It was the core of many of our fights. Not being on the same page with your spouse is so hard. Especially when you know without a doubt, what God is calling you to do. He consulted pastor after pastor who informed him that we should be "done." That we are being irresponsible.
I ended up taking birth control as the lesser of two in exchange for his vasectomy. After two weeks taking the pill, I decided to stop and leave it in my husband's hands.
And on top of it all, I was struggling with my health. The doctor told me I couldn't and shouldn't have any more children. I was having blackouts, mini-strokes, heart issues, and eventually was diagnosed with MS. (I found out that these issues were all caused by my Yaz birth control.) This made convincing my husband and the continuation to trust God with our womb even harder. But I knew I was to trust God alone.
I spent years trying to convince my husband of what I knew God's will was. One day, I felt as if God said…"Stop!" Stop pushing him and get on your knees. So I finally surrendered my fear of him getting a vasectomy and spent years in my prayer closet.
I got pregnant with baby number four and life got harder. There was a bleed in the sac and a threatened miscarriage. I knew I had to repent of the birth control and God healed my baby. Then my husband lost his job right after we bought a new house and a new car to fit our soon to be family of six. I was nine months pregnant, working evenings, and I knew God wanted me to quit my job.
And we did it. We trusted God. We had no income and more bills than ever in our life. And God provided every single step of the way by making sure that every bill was paid timely. It was the most amazing experience of our lives. In fact, my husband stopped using a spreadsheet to track our finances because what was coming in and going out didn't make sense to him. We learned that God's provision can't be measured! Seeing God's provision when we simply blindly obeyed the impossible path God called us to is unexplainable. I was still having health issues and once I quit my job and quit seeking medical assistance, God fully healed me. Yes…FULLY.
My husband was still on the fence in continuing to trust God with our womb. I quickly got pregnant after baby four and ended up having a blighted ovum. A pregnancy where the egg never develops into an embryo but you continue to grow a sac. You experience every symptom. The morning sickness, the big belly, and all that comes with it except the baby. I ended up miscarrying the sac at almost 18 weeks and almost died in the Emergency room. Despite the trauma, God continued to speak to my soul and ask me to trust Him.
We then got pregnant with baby number five.
We constantly get asked if we are "done." And one day when we were out and about someone asked us this question. And my husband immediately replied, "We trust God to give us however many He allows."
I almost passed out. I began to tear up. God did it. God changed his heart. God spoke His truth so clearly to my husband. The ministry God revealed to me six years prior was starting to come to fruition.
The things God has done since then are mind-blowing. I got to experience a pain-free supernatural (completely med free) birth with our sixth child. And then with our seventh baby, He saved her life many times in the pregnancy. He has proven His Word to be true. COMPLETELY true in every sense of the word. He has proven to be our ultimate (ALWAYS) healer. He has proven to be our provider. He has proven to be our strength. He has proven to be our comforter. He has proven to be our rock. He has proven to be our Savior and truth giver. And He has opened our eyes to so much more.
Trusting God with your womb is about so much more than having babies (warriors, disciples, arrows) for Christ. It is about a life fully surrendered. A life fully committed to doing whatever God says and whatever God wants. Yes, it is possible to trust God with how many children you have and not rely on Him in other areas. But that just proves to be an impossible life. Our quest to trusting Him with our womb has opened the door and forced us to look at everything deeper. With more faith (the mustard seed that we didn't have in all areas) and trust than ever.
It has not been an easy road. We haven't had support in this area for years. But when we put our trust in Him alone, He sent us all the support we needed and more. He is so faithful to give as we trust and obey.
And now with our eighth baby on the way, we are discovering God as our anchor. He is teaching us boldness. He is teaching us how to truly die to our flesh, feelings, and love for man's approval. He is teaching us to rely on Him alone.
If what God is calling you to today seems impossible or too hard, don't give up. Stay on your knees in prayer to God. He is a heart changer. He is faithful. His word stands the test of time. His love never fails. Stay in His Word and pray His word. He WILL not fail you. I put my life on it.
Psalm 9:10
"Those who know your name trust in you, for you, LORD, have never forsaken those who seek you."
Proverbs 3:5,6
"Trust in the LORD with all your heart and lean not on your own understanding; in all your ways submit to him, and he will make your paths straight."